One question that tends to catch applicants off-guard during a flight attendant job interview is, "What do you consider to be the most challenging aspect of being a flight attendant?" This question is a critical one during a cabin crew job interview because it allows the recruiter to determine whether you understand the challenges of the job and can handle them without hesitation.
After all, flight attendants are responsible for the safety and comfort of passengers during a flight. This can mean dealing with difficult passengers, ensuring that all regulations are followed, helping to resolve customer complaints and issues, operating emergency equipment, and much more. It is important to demonstrate an understanding of these duties and the dedication required to fulfill them in order to be successful in this role
We will provide tips on how to answer this question effectively, provide sample answers, and offer some practical advice.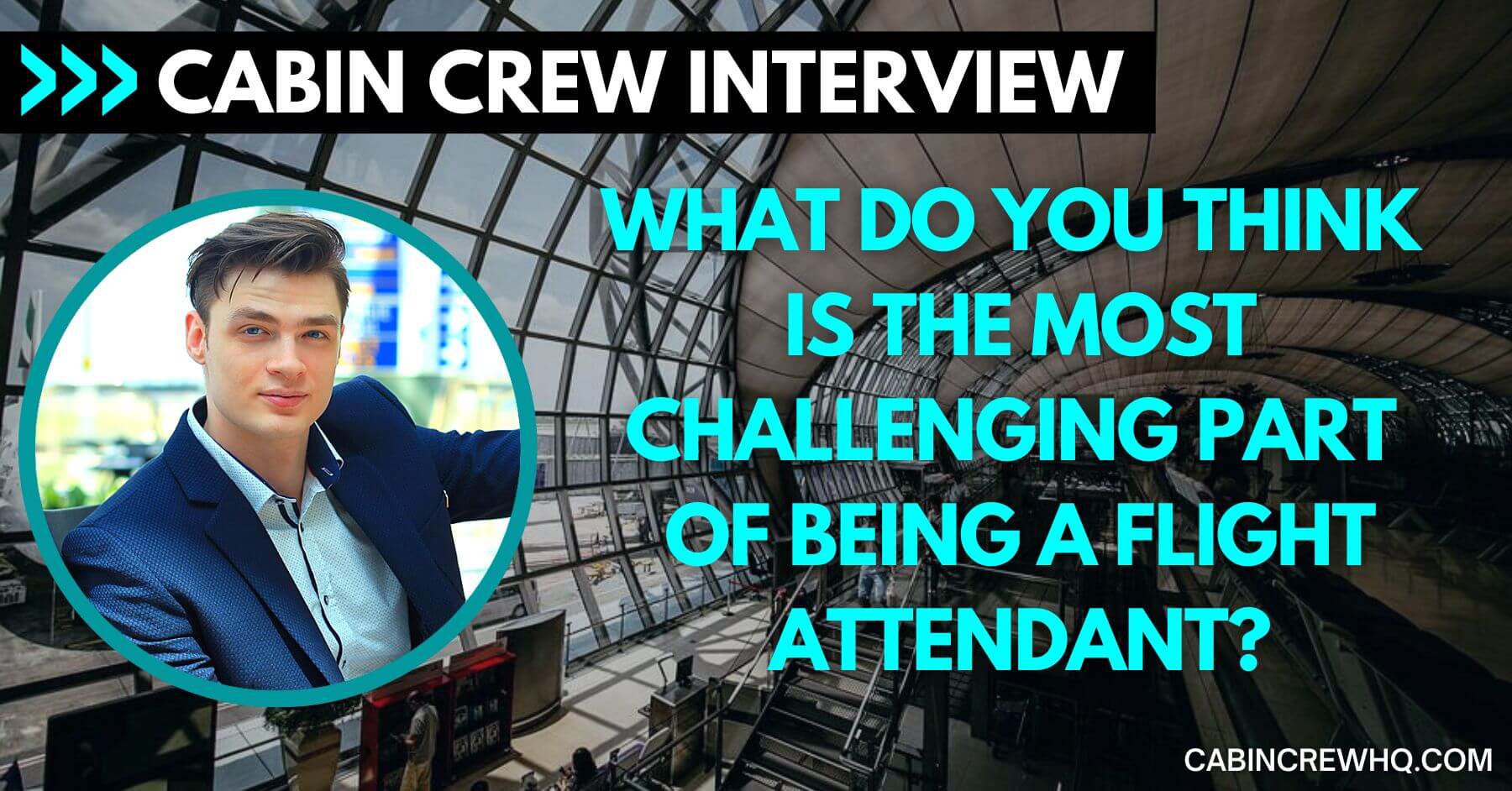 Why are airline company recruiters asking you this question?
The reason recruiters ask this question is to gauge the applicant's level of understanding of the realities of the job. The answer to this question helps them determine whether the candidate is prepared to handle the job's challenges, which are dynamic and constantly changing.
The interviewer uses this question to gather insight into how the applicant can handle high-pressure scenarios, as this is a vital part of the job to stay motivated as a flight attendant.
On another note, this is also beneficial for you to research the job responsibilities and see if the job of a flight attendant is fit for you or not.
Self-awareness is key to this question, as it allows you to be honest with yourself about the job's challenges and how well you can handle them.
Other Variations to This Question
This question may also be phrased differently during the interview. Here are some other ways recruiters may ask it:
What do you think is the greatest challenge of being a flight attendant, and how would you handle it?
How would you go about tackling the most difficult aspects of this job?
What is the hardest part about the job of a cabin crew?
What challenges do you think a flight attendant might face?
Step-by-Step Procedure for Answering the Question
When answering the question, "What do you consider to be the most challenging aspect of being a flight attendant?" you can follow the following steps in order to craft the best possible response:
Think about the challenges you have faced or expect to face on the job.
Gather examples of how you handled difficult scenarios in the past, if applicable.
Choose a challenge that comes with being a flight attendant and explain why it is challenging.
Describe how you have personally dealt with this challenge in your own experience as a flight attendant or how you plan to handle it should it arise in the future.
Be sure to mention any training or techniques you use to stay calm under pressure during difficult scenarios on flights.
Sample Answers: Challenging Parts of the Flight Attendant Job
I find dealing with difficult passengers consistently challenging. It can be challenging to provide excellent customer service in the face of a disruptive passenger, but I've learned how to defuse situations and provide exceptional service despite these challenges.
Working long hours and being away from loved ones can be tough to deal with. However, I'm incredibly adaptable and am willing to make sacrifices as I see the job's value in allowing me to travel and experience new places.
The physical aspect of the job, like standing for long periods, can be quite challenging. However, I prepare beforehand by stretching and doing more cardio exercises to ensure I can perform to the best of my abilities onboard.
The constant change in sleep patterns can be a real challenge for me. To keep up, I have developed strategies such as turning off electronics an hour before bedtime, changing into comfortable clothes, and using eye masks and earplugs to ensure I get enough rest.
Sometimes passengers can be demanding, and it can be a challenge to meet their needs. However, I've learned how to stay calm under pressure and work effectively to resolve the situation as quickly as possible with the resources on board.
I find the regional airline's tight schedules to be among the challenging aspects of the job. However, I have a routine that helps me manage my time effectively and ensures that I have ample time to prepare for each flight.
I find dealing with passengers who have a fear of flying to be challenging, but I understand that providing reassurance and empathy can be incredibly effective in comforting them during their flight.
As you notice, the answers above have a 'closing' or a 'resolution' on how you handle these challenges so the recruiter can be assured that you are prepared to take on the tasks associated with being a flight attendant and build a successful career.
Tips About How to Answer the Question
Here are some additional tips to keep in mind when answering the question:
Be concise yet specific in your answer.
Provide examples to illustrate your answer.
Demonstrate your ability to manage challenging situations.
Focus on aspects that you can control and manage.
Show empathy towards passengers and their needs.
Questions to Ask Yourself to Help You Answer These Questions
Here are some questions you can ask yourself to help you answer this question:
What are the day-to-day responsibilities of a flight attendant?
What potential challenges or stressors come with the job?
What aspect of the job do I find challenging but manageable?
How can I approach this challenging aspect proactively?
Have I dealt with a similar situation in the past? If so, how did I handle it, and what did I learn?
How do I handle difficult passengers or situations onboard?
How do I manage long hours away from home?
Am I prepared for the physical demands of the job?
Am I able to adjust to different sleep patterns and time zones quickly?
Do I have strategies in place to deal with demanding passengers or situations effectively?
Can I remain calm during high-pressure scenarios and make sound decisions quickly?
These questions can help you identify which aspects of the job may be challenging, as well as your personal strategies for managing those challenges. By asking yourself these questions, you can better prepare to answer the question of what makes the job of a flight attendant challenging in a meaningful and thoughtful way.
Examples of Bad Answers
While we've gathered some good samples you can answer above, to give you a better insight, here are some examples of weak and bad answers that you should avoid when it comes to answering this question:
"I don't think there is anything particularly challenging about being a flight attendant." This answer shows a lack of insight and understanding of the job's challenges, which can indicate a lack of preparedness for the role.
"I hate turbulence; it makes me feel sick." This answer is too personal and does not speak to the job's day-to-day challenges or the abilities that the candidate has to manage them.
"I don't like dealing with unruly passengers." While truthful, this answer is not specific enough and could apply to any customer service role.
"It's not really that hard, and I just do my best to stay on top of things." This answer lacks detail and does not provide any real insight into the candidate's ability to manage the job's demands.
"The only challenge I can think of is dealing with difficult passengers." This answer is too focused on the negative aspects of the job and does not illustrate how the candidate can manage these challenges.
The interviewer is looking for you to be able to articulate your understanding of the challenges and show that you are capable of managing these issues to turn them into your strengths. By outlining your strategies and experiences, you can demonstrate your readiness to take on this role effectively.
Effective and Practical Tips
When answering this question, make sure that your answer is short and to the point while also conveying that you understand the challenges of the job. Here are some tips for how to do this:
Demonstrate confidence in your abilities – Show that you are aware of the challenges and can handle them without hesitation.
Focus on the positives – Discuss how you will use your qualities and skills to overcome any potential obstacles.
Avoid negative language – Do not focus on the issues that could potentially arise, but rather discuss what steps you would take to address them if necessary.
Provide examples – If you have dealt with a similar situation in the past, provide an example of how you handled it and what you learned from it.
Be prepared to answer follow-up questions – Depending on your answer, the interviewer may ask more detailed or specific questions about how you will approach potential challenges.
Research the airline company's culture and values – This is to help you better understand what they prioritize in their flight attendants. By doing so, you can tailor your answer to showcase how your values align with the company's values and how you can add value to the company in fulfilling its mission.
When answering this question, it's essential to show a level of self-awareness by acknowledging the job's potential challenges while also demonstrating your ability to manage effectively.
Video: What Challenges Do You See in This Role?
Check out this video by Job Majestic where they share some great tips on how to answer the question "What Challenges do You See in This Role?".
This video provides a helpful overview of how to tackle this question. It also shares practical tips for answering this question, such as being prepared with specific examples from previous experiences and researching the company culture and values so that your answer is tailored to their needs. The video emphasizes the importance of having confidence in your abilities when discussing potential challenges, as well as avoiding negative language or focusing too much on the difficulties associated
Summary
Answering the question, "What do you consider to be the most challenging aspect of being a flight attendant?" requires thoughtful reflection, specific examples, and a level of self-awareness.
By following the steps outlined in this post, providing sample answers, and incorporating practical tips, you can impress the recruiter and increase your chances of landing the job. Remember, being a flight attendant is a rewarding and challenging career, and with the right mindset and approach, you can excel in the role.