If you want to become a flight attendant for Jetstar, there are a few requirements you'll need to meet. First, you must be at least 18 years old. You'll also need to be able to pass a background check and drug test. In addition, you must be able to swim 50 meters unassisted and have basic first aid training. If you meet all of these requirements, you'll be well on your way to joining the Jetstar team.
Jetstar is looking for warm, pleasant, and passionate cabin crew members who are dedicated enough to provide a safe and happy onboard experience for its valued customers. This airline has been flying since 2004, and they are known to be one of the safest airlines in its class. If you are attentive, beautiful, and customer-oriented, Jetstar would love to see your application.
Also Read: 9-Day Trip to Greece: Athens, Santorini, and Milos
Before you step into any fleet, always remember that all personnel represents the company. It is not an easy task, but if you do it successfully, it's rewarding. Jetstar is looking for employees that are enthusiastic about providing excellent customer service and have a natural sense of safety and potential hazards. If you believe you have what it takes, keep reading to learn how to apply.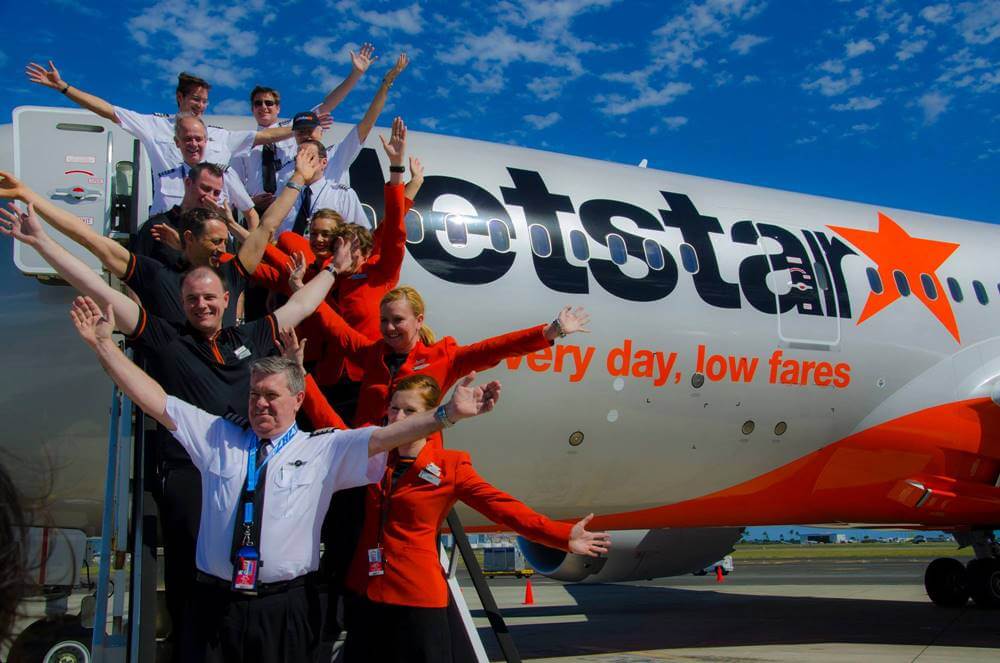 List of Requirements and Qualifications to Become a Jetstar Cabin Crew
You must be at least 18 years old.
A 210 cm reach is required.
A comprehensive medical examination, including vision and hearing exams, is required.
A good level of health and fitness is required.
The ability to swim 50 meters is required.
Must be fluent in English.
Grooming standards must be perfect. You have to be neat and presentable at all times.
Must be willing to live 90 minutes away from the base of operations.
A current First Aid Certificate with a validity period of 12 months is required.
There must be no visible tattoos or piercings.
Must be versatile and flexible, with a commitment to providing outstanding service.
Customer service or face-to-face direct selling expertise is required.
Must have a track record of punctuality, dependability, and attendance in their previous position.
Note: Finding the best individuals takes time, thus the Jetstar cabin crew recruitment and assessment process has multiple phases. All qualified applicants must pass a full security background check as well as a cabin crew-specific pre-employment medical at their own expense. There are numerous factors that we examine, therefore in order to be successful, you must be present at all stages of the assessment process.
Responsibilities:
Greeting people as they embark and deplane
Inspecting the condition and availability of emergency equipment and passenger information
Displaying emergency equipment and procedures for safety
providing first aid
Rescuing for any possible emergency situations
Directing guests to their seats and paying special attention to specific passengers, such as the elderly or disabled
providing food and beverages
Distributing newspapers, magazines, and in-flight entertainment to passengers
Marketing duty-free commercial items and aiming for sales goals
You also need to prepare written flight reports, after each flight.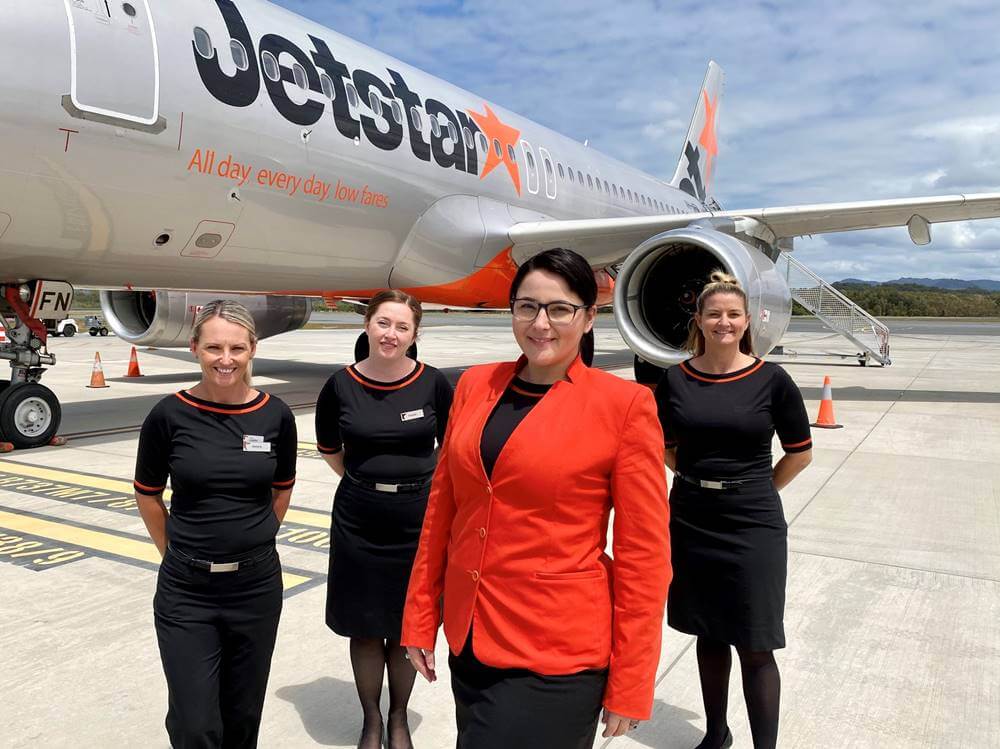 Application Process
Here is an overview of the application process to become a cabin crew member of Jetstar Airlines:
Step 1:  Go to their website and look for cabin crew hiring positions on the career page. You can go here: https://www.jetstar.com/au/en/careers/cabin-crew/
Complete the application form and review  before submitting.
Step 2: After this, you will be invited for a video interview. If the interview was successful, they will ask you to go to the assessment center for further exams and drills.
Step 3: Jetstar will conduct a background check before you proceed to the next step. After passing this, you can finally proceed to the medical examination.
Step 4: The final phase of the application process is completing all pre-employment documents for review and assessment. You need to apply for an ASIC and settle security and police permits.
Step 5: If everything was settled and approved by the airlines, you will now proceed to the Ground School Training and Assessment Program. This will last for 5 weeks.
Salary and Benefits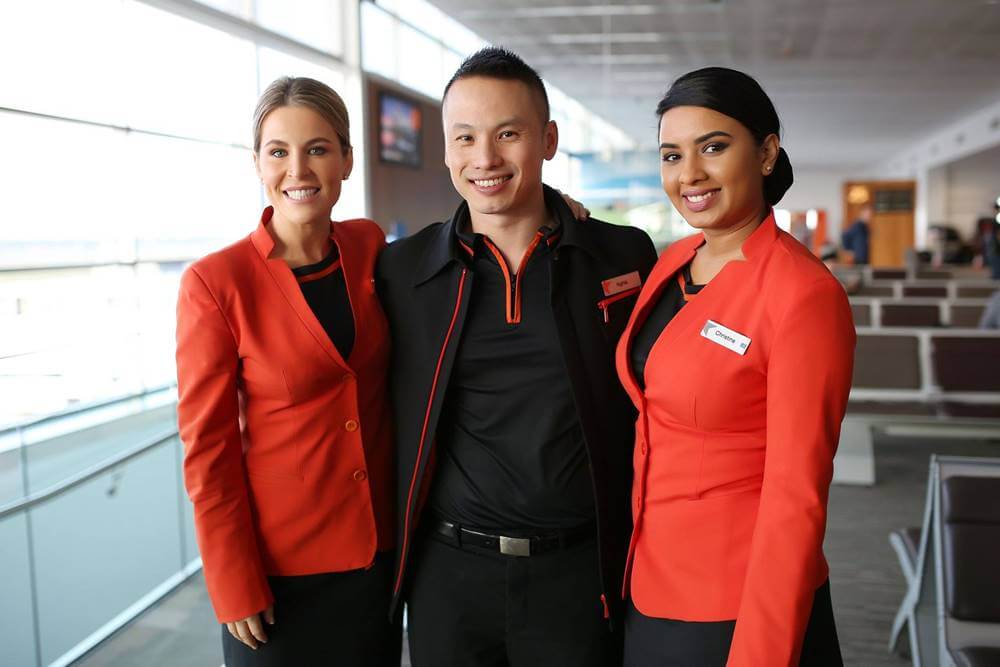 Starting salary is around AUD 2400 per month. For the first month, you will get a basic rate of $650, then it goes up to $750 in the second month and $850 after a year. The hourly rate ranges from $5 to $11, depending on the length of duty per month.
Video: Jetstar – Cabin Crew Questions
This video shows some of Jetstar's cabin crews answering different questions about their job. Most of them describe being a cabin crew as fun and exciting. Some say it is a challenging job in a good way. But mostly, what they love about it is their chance to see lovely places around the world.
We hope the video gives you a better idea of what it is like to work as a cabin crew for Jetstar Airlines. Good luck on your application!
Photos: Jetstar Airlines Cabin Crew Uniforms
Check out these pictures of Jetstar Airlines crew so you can see what they look like in uniforms:
Frequently Asked Questions
Here are some common questions about the requirements for Jetstar:
1. Is the training for Jetstar complicated?
The rigorous program includes topics such as customer service, aircraft and personal safety, medical aviation, and emergency procedures. It's intensive, but professional trainers offer it in a pleasant and interesting way in a group setting with your new coworkers. It will ensure that you are confident and ready to fly.
If you need to relocate to your new base, you must do so before beginning training. Jetstar cannot help with relocation or lodging expenses. However, if your training ground school is not in your base area, Jetstar will cover the costs of your flights and accommodations.
2. Will Jetstar cover the pre-employment medical examination?
No. You will do it at your own expense.
3. Is the 5-week training compensated?
The Ground School Training and Evaluation Program is the final stage of the assessment period, therefore, no compensation will be provided for the duration of the Training and Assessment Program. Candidates who will successfully complete the Ground School Training and Assessment Program can get a $1,500 graduation incentive.
4. What are the physical exams that I need to pass?
A medical examination includes vision and hearing exams.
5. I have a First Aid Certificate, but the validity left is only 5 months, will they accept it?
Jetstar requires a 12-months validity period for a First Aid Certificate.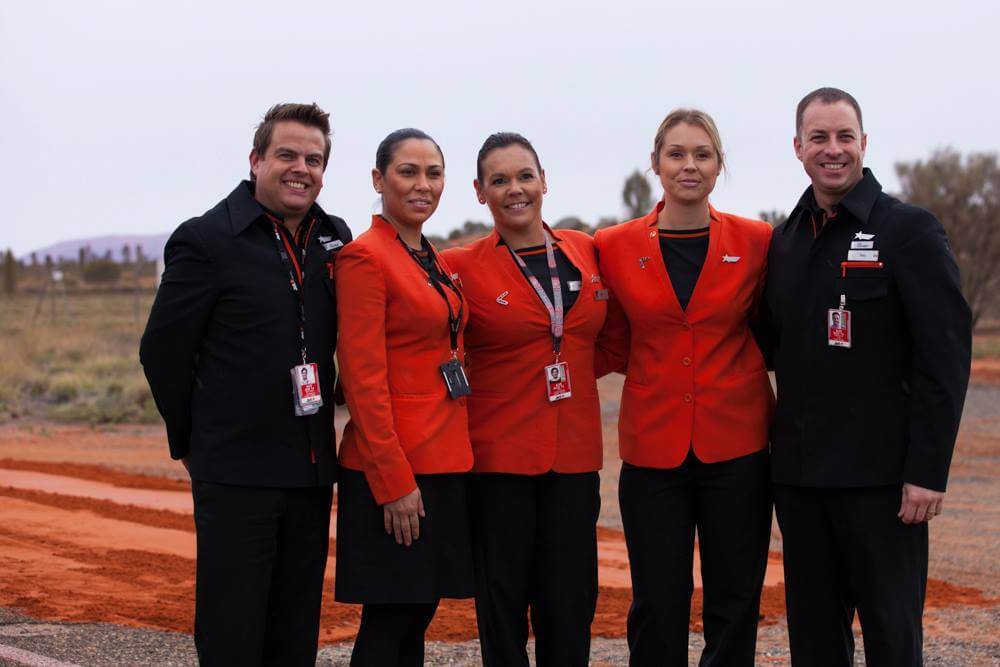 Summary
Jetstar flight attendants are responsible for the safety and comfort of passengers onboard our aircraft. They provide excellent customer service, ensure the cabin is clean and tidy, and help to resolve any passenger's queries or concerns. In addition, flight attendants also play an important role in emergency situations, providing guidance and reassurance to passengers during moments of turbulence or distress. If you are passionate about customer service and want to work in a fast-paced, challenging environment, then a job as a Jetstar flight attendant may be the perfect career choice for you.
Jetstar is one of the safest and most low-cost airlines in the world. If you are searching for an airline to start or continue your aviation career, this deserves a shot. It's not impossible to be one of Jetstar's cabin crew members – if you have what it takes, then go for it.