The Spirit Airlines flight attendant uniform consists of a fitted black dress with a vibrant yellow accent belt, giving it a modish and eye-catching look. To complete their attire, flight attendants wear matching black blazers with the Spirit Airlines logo embroidered on the breast pocket.
Also Read: Spirit Airlines Flight Attendant Requirements and Qualifications
In addition to their uniform, Spirit Airlines flight attendants wear black heels with cushioned insoles and sturdy soles for long hours. They also wear a gold pin with the airline logo on their lapels, adding sophistication to their uniform.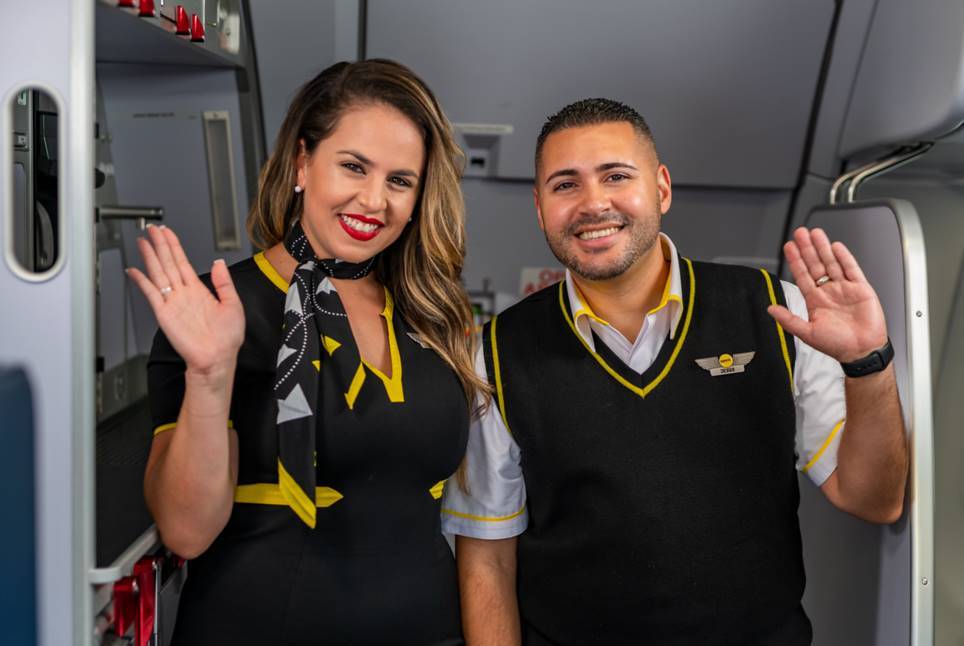 Features of Spirit Airlines Flight Attendant Uniform
Each airline company in the aviation industry has its unique identification, including its signature color and style, which are closely aligned with its uniform design and identification accessories. Below are some of the notable features of Spirit Airlines flight attendant uniforms that set them apart from other airlines.
Yellow and black two-tone uniform colors and an inner white garment.
A black dress with a yellow line
Yellow and black scarf
A white polo shirt with a one-inch yellow line at the arm sleeve
Black formal shoes for men, together with black socks
Black heel shoes for women and black hosiery (only if needed)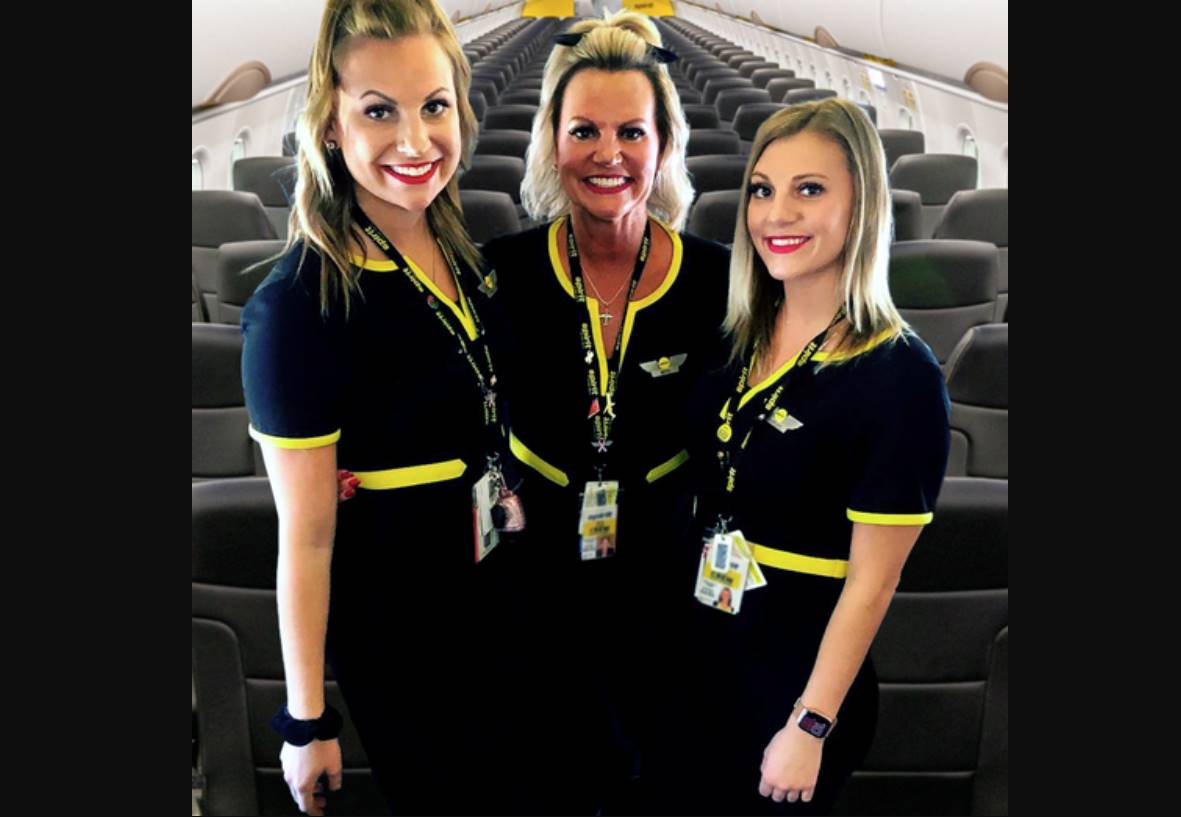 Female Spirit Airlines Cabin Crew Uniform
Female Flight Attendants of Spirit Airlines require two sets of complete uniforms, which are composed of three tops, one bottom pair of complete uniforms, and one dress. Below is the complete list of the required items for the female flight attendants' uniforms at Spirit Airlines.
Name tag
long sleeve or short sleeve polo shirt
Pair of wings
Formal Slacks
Apron
Skirt
Trench Coat
Watch
Dress
Necklace
Scarf
Lanyard
Sweater
Belt (if only needed)
Earrings
Sweater vest (optional)
Shoes
Maternity uniform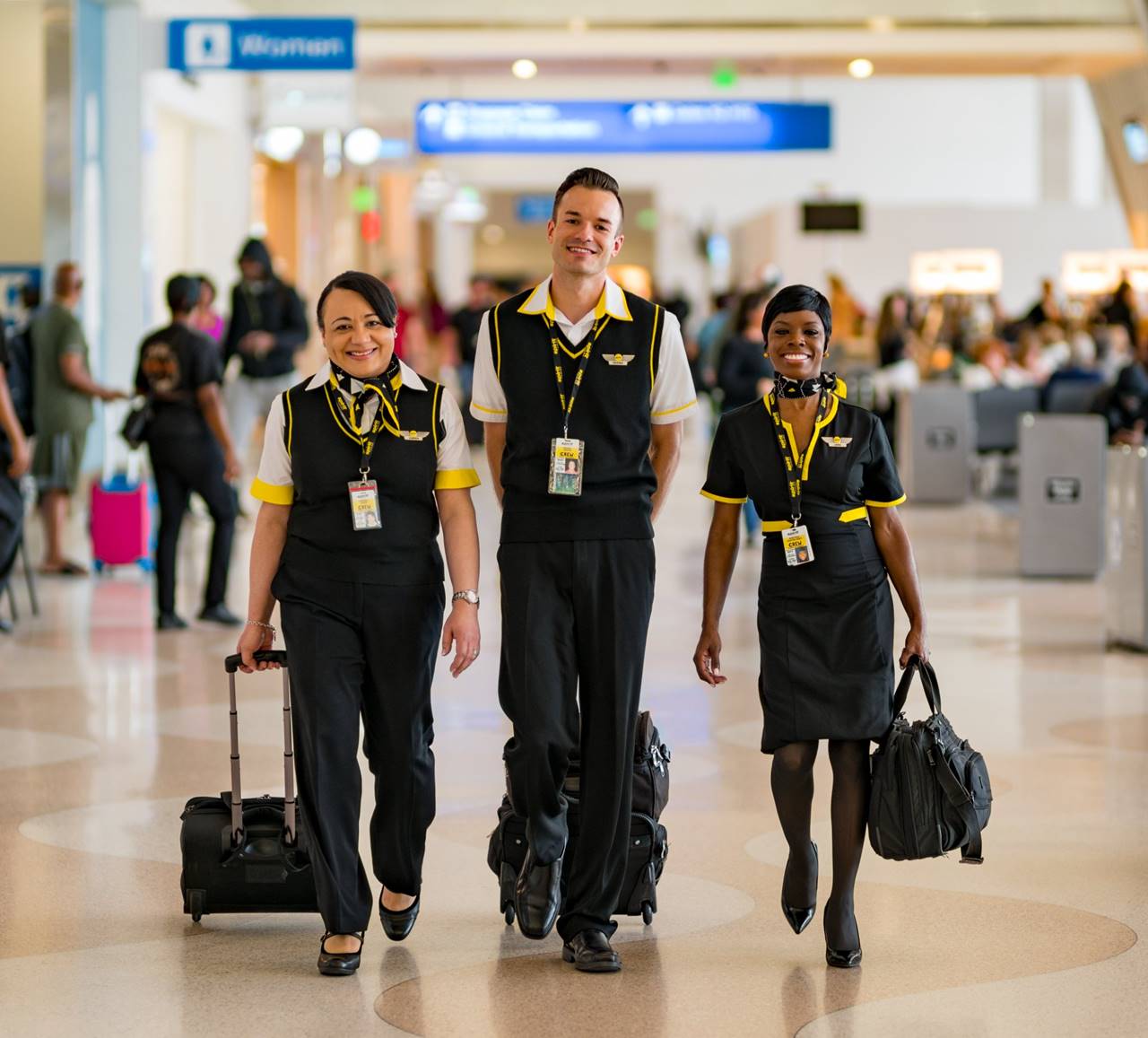 Male Spirit Airlines Cabin Crew Uniform
A similar number of uniform sets (2 complete uniforms) are being required for the male flight attendant at Spirit Airlines, which is composed of three tops and one bottom piece of clothing. The male flight attendant's uniform at Spirit Airlines consists of three tops, including a long-sleeved shirt, a vest, and a blazer, along with a pair of pants as the bottom piece. This ensures that each male flight attendant has enough options to maintain a pleasing appearance throughout their shifts. The requirement of two complete uniforms guarantees that they always have a fresh set available while the other is being laundered.
Here is the complete list of male flight attendants at Spirit Airlines.
Name tag
Long sleeve or short sleeve polo shirt
Pair of wings
Formal slack/s
Apron
Watch
Trench coat
Lanyard
Formal close shoes
Socks
Sweater
Sweater vest (optional)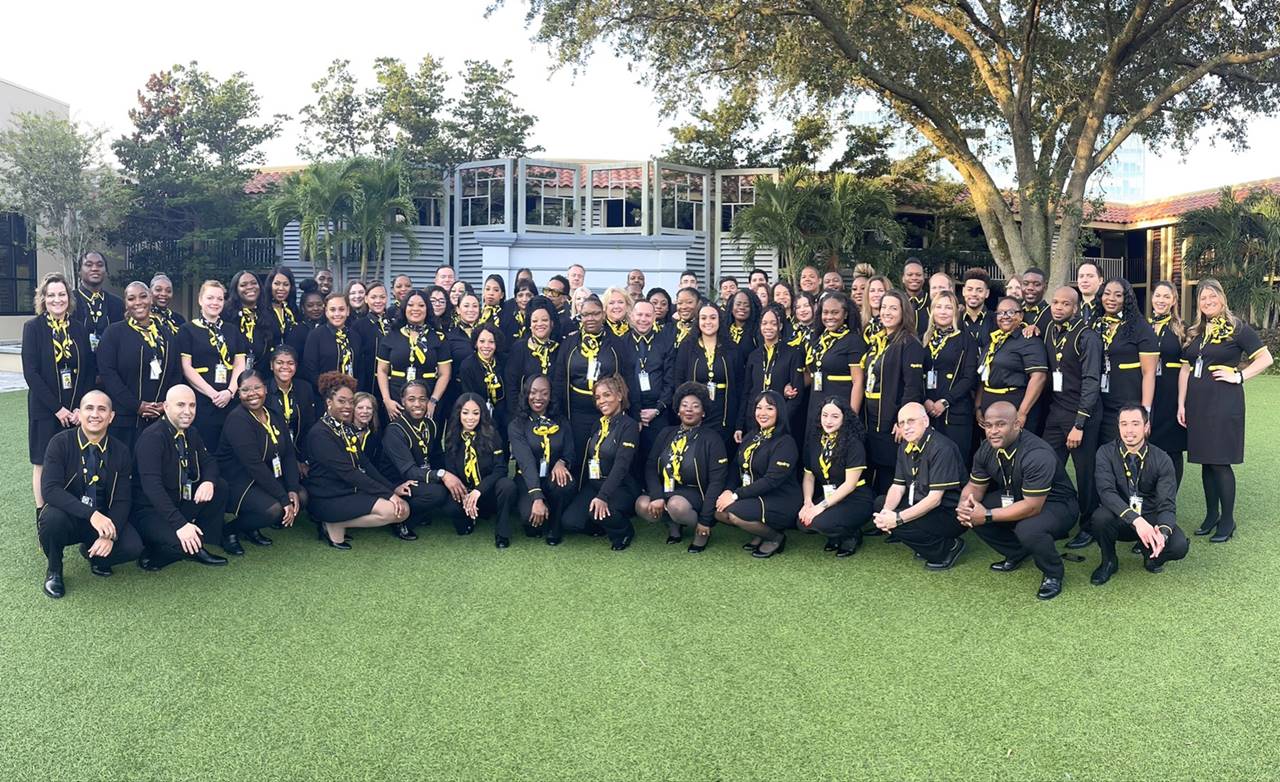 Presentation and Grooming Policy
Aside from the standards and guidelines that flight attendant needs to follow in terms of wearing their work uniform, they also need to maintain the appearance standards required of them. This includes their grooming policy and performance standards that are highly observed, especially in delivering services to their passengers.
Personal and Performance Appearance
Uniforms are a representation of the company brand. Thus, wearing them with pride and confidence could maybe acquire a long-lasting impression on the passenger. Walking down the aisle of the aircraft with a friendly aura and a genuine smile creates positive vibes for the people that we are dealing with, so that is why high-standard specialized skills must be highly required.
Personal Grooming
The hairstyle should be neat and well-combined with the exact amount of hair gel or wax. For male flight attendants, it requires a formal form of haircut that adheres to the professional look and complements the nature of the masculine look. For female flight attendants who have long hair, a proper hairstyle or hair tie is strictly observed.
Fingernails should be properly trimmed and polished. It is also important that it is clean and well-manicured. Polish color is also possible for women, but it must complement the uniform color and design.
Cosmetics and makeup for girls are also possible, provided that in applying, they consider the heaviness and lightness of the shade of makeup color they apply that will complement their skin color to achieve a natural look.
In wearing accessories, company-approved sizes are strictly observed, especially earrings, rings, necklaces, wristwatches, and bracelets. They should avoid long earrings and bracelets, including necklaces, that may cause destructive incidents during their duty.
Personal hygiene should also be maintained, like taking a bath and cleaning the whole body regularly, to maintain cleanliness and neatness. Be mindful when applying perfume, especially with its scent, because maybe other passengers are allergic to the scent.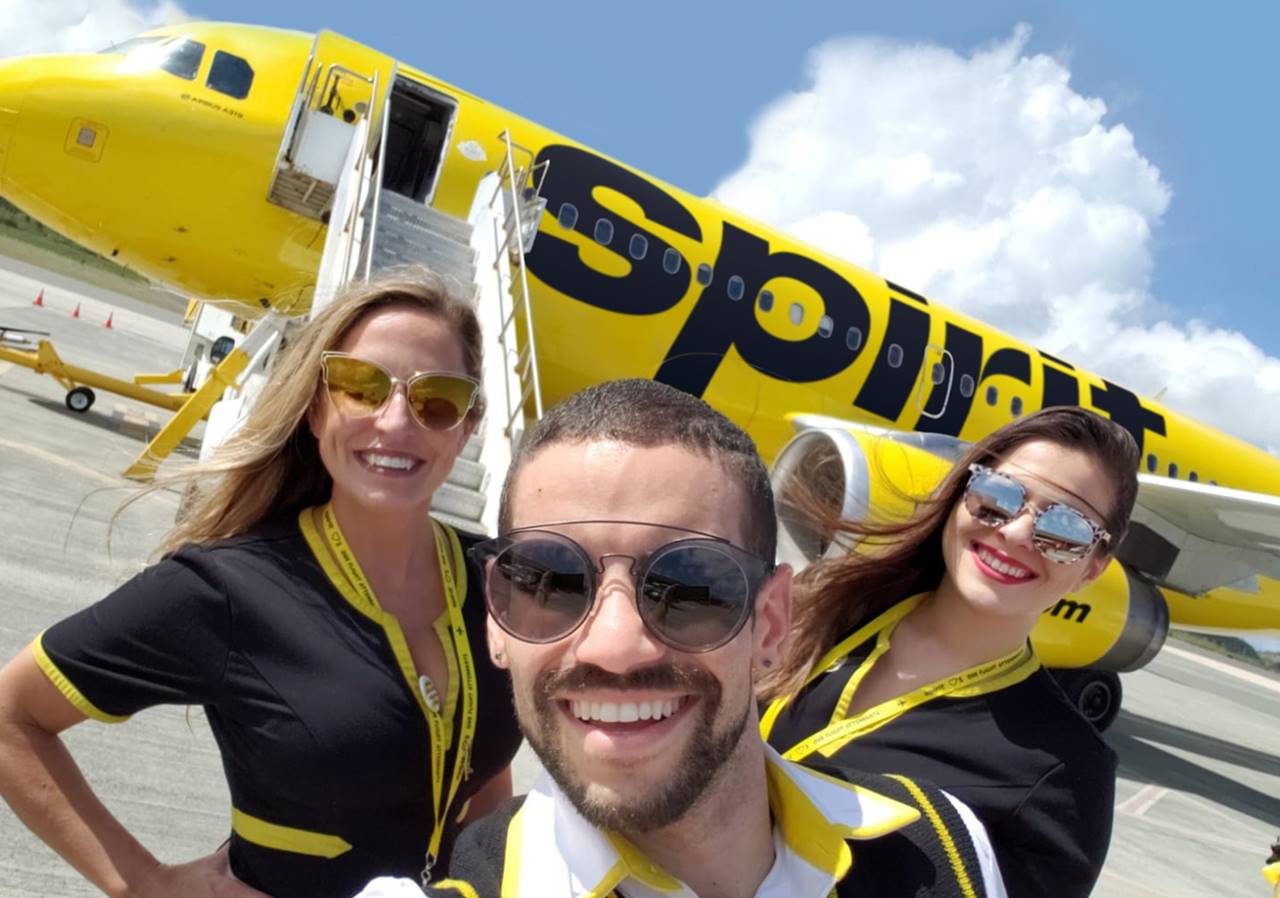 Important Notes to Remember
Flight attendants are the ones who will purchase their uniforms during their initial training.
The company will refund or repair their belongings if the flight attendant uniform or luggage is lost and damaged while on duty (except if it is the Flight Attendant's fault or negligence) as verified by the FA's manager or officer in charge.
If a major change in the flight attendant uniform happens, the company will replace the uniform of those FAs that are currently affected by the change.
In addition to their personal belongings, FAs must have their luggage anchored to the given size, color, design, and instruction of the said airline company because it is not shoulder by Spirit Airlines.
Cabin crew members are expected to follow the company uniform regulations and standard appearance.
FAs also need to ensure the cleanliness and neatness of their uniforms. Length and body fitness of the company uniform are strictly observed.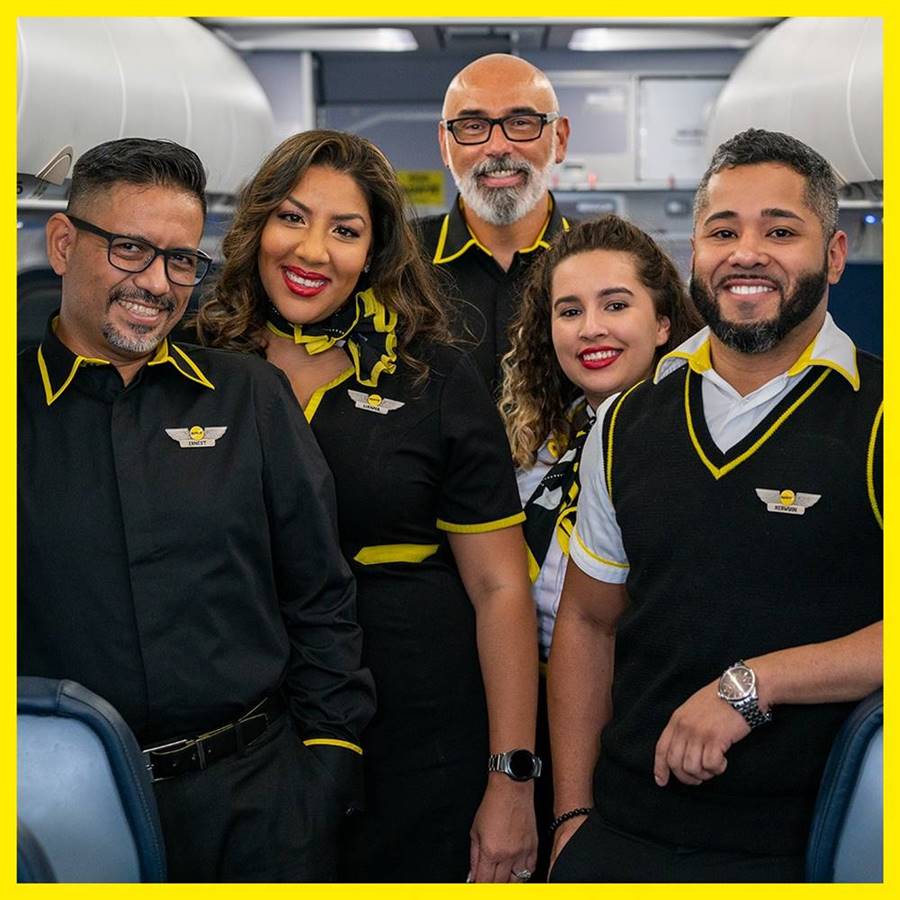 Video: Spirit Airlines- Employee Uniform Catalog Shoot- Behind the Scene Videos
In this video, you will be able to see the behind-the-scenes shoot of Spirit Airlines employee uniforms. The shoot took place at Fort Lauderdale International Airport with the airline company's pilots, ground crew, and flight attendants. This is also to inform the public of the features of their uniform and how they will confidently wear it.
Summary
In summary, Spirit Airlines' flight attendant uniform features a fitted black dress with a vibrant yellow accent belt. Matching black blazers with the airline's logo embroidered on the breast pocket adds to their appearance. The uniform is designed to be both chic and comfortable, allowing flight attendants to move easily throughout the cabin.