Contour Airlines is the regional airline brand of its parent company, Contour Aviation, which is currently headquartered in Smyrna, TN. Founded in 1982 as a private jet charter company, Contour Airlines grew to include FBO services, aircraft maintenance, and aircraft sales and management over the years. Currently, the airline is now part of the 10 largest Part 135 Charter operators in the United States and the biggest in the Southeast. 
Also Read: How to Apply Contour Airlines Flight Attendant Hiring
In the present landscape, Contour Airlines operates as a scheduled and charter carrier that connects underserved communities with larger cities and key travel hubs. Its focus on global connectivity and low-airfare offerings has made it a crucial key player in bridging the transportation gap for travelers who don't have easy access to major airports.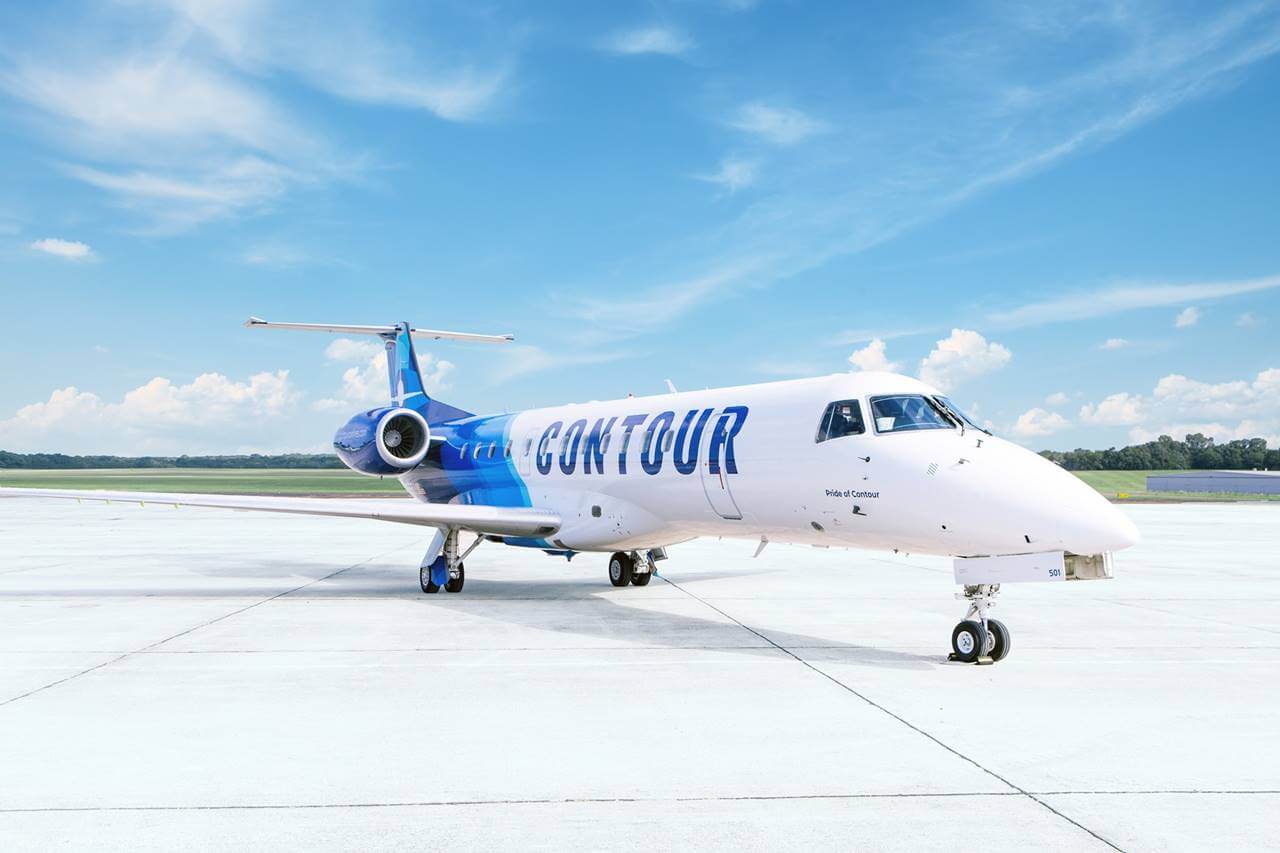 Quick Facts
Airline Name

: Contour Airlines

Airline IATA Code

: LF

Headquarters:

Smyrna, Tennessee, U.S.A.

Founded:

2016

Number of Destinations

: 28

Fleet Size:

18

Fleet Types:

Embraer ERJ-135, Embraer ERJ-140, Embraer ERJ-145

Location Hubs/Bases

: Nashville International Airport (Nashville), Charlotte Douglas International Airport (Charlotte, North Carolina), Philadelphia International Airport (Philadelphia, Pennsylvania), Chicago O'Hare International Airport (Chicago, Illinois), Phoenix Sky Harbor International Airport (Phoenix, Arizona), Middle Georgia Regional Airport (Macon, Georgia), Oakland International Airport (Oakland, California)
Brief History Overview
Contour Airlines' history spans all the way back to 1982 when Contour Aviation was initially built as a private jet charter company. During these years, the airline primarily served the southeastern United States, offering charter services to different destinations to cater to both leisure and business travelers. Contour then transitioned to offering scheduled passenger services in the early 2010s, focusing more on regional routes to connect smaller airports with larger hubs. The airline aimed to provide reliable and convenient travel options to communities that were often underserved by major carriers. 
It was officially rebranded as Contour Airlines in 2016, growing to include aircraft sales and management, aircraft maintenance, and FBO services over time. As it expanded its operations, it also gradually increased and diversified its fleet size. In 2019, Contour Airlines successfully carried over 250 000 passengers and completed over 17 000 hours of flight operations on its aircraft. Its continued dedication to customer safety and satisfaction has earned it a Platinum rating by ARG/US, which is the highest safety rating for private jet operators in the industry.
Products & Services
Scheduled Flights

. Contour Airlines operates scheduled flights to various destinations, linking smaller airports to major hubs. 

Regional Routes.

The airline specializes in serving regional routes to provide convenient flight connections for travelers to and from underserved communities. 

Charter Services

. Contour offers efficient charter flight solutions perfect for sports teams, tours, school groups, and events. 

Comfortable Cabins.

Contour's ERJ 135 & 145 aircraft ensure that each passenger gets a comfortable flying experience with amenities such as class-leading legroom and aft lavatories. 

Complimentary drinks and snacks

. The airline also offers onboard services such as in-flight beverages and snacks.

Online Check-in or Booking.

Passengers can use Contour Airline's website and its application to search for flights, view flight schedules, and book their tickets online for a more seamless process. 

Frequent Flyer Program

. The airline offers a frequent flyer program that allows frequent travelers to redeem and score points every time they travel. 

Partner and Codeshare agreements.

Passengers can enjoy a seamless travel experience upon booking with their partner airlines. This gives them access to destinations beyond the routes that Contour operates. 
Work Culture
Contour, like many airlines,  fosters a work culture that promotes safety, teamwork, and professionalism. Operating in the aviation industry, the company emphasizes a customer-centric approach to ensure that passengers' needs are consistently met while maintaining accountability and transparency with employees. Its commitment to safety and integrity are core values maintained throughout its lines of business, fostering a supportive work environment for everyone. 
The airline also recognizes the importance of strength in unity and how important it is for them to work together as a team to accomplish collective success. Contour acknowledges the value of each employee's contribution regardless of their role and invests in their growth through training and development programs.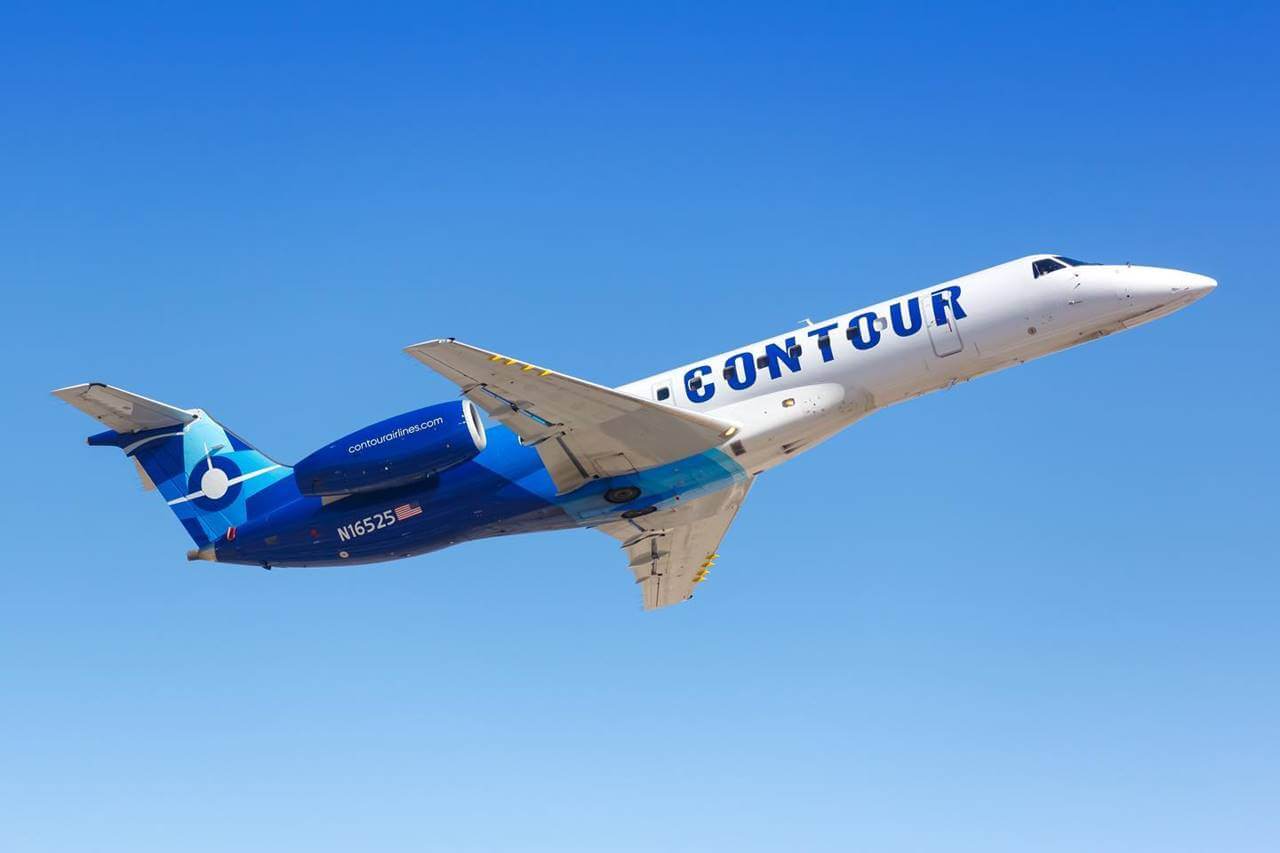 Benefits for Employees
Competitive Compensation.

Employees receive competitive base salaries aligned with the industry standards and their respective job roles. 

Retirement Plans.

Contour offers retirement plans like 401(k) programs, allowing employees to save for their years post-work. 

Health Benefits

. The airline offers comprehensive health and wellness benefits such as medical, dental, and vision insurance plans to make sure employees' health needs are covered. 

Travel Perks.

Employees at Contour Airlines receive travel perks such as discounted or free flights on the airline's routes. 

Paid Time Of

f. Contour allows its employees to take care of their well-being by offering them various options to get that much-needed time off. 

Training and Professional Development. Contour invests in the growth of its employees by providing training and development programs to help them advance their careers and upskill. 
Video: Contour Airlines at IND | Launching October 2021 
The video shows a comprehensive overview of the introduction of Contour Airlines' services to the Indianapolis International Airport. It mainly revolves around the preparation for the company's operations for its launch at the airport in October 2021. It also showcased the benefits that the airline's entry brings to travelers and the local community, such as easy connectivity for local residents and visitors. 
Summary
Contour Airlines is a long-established aviation services company that boasts diverse capabilities, including scheduled airline flights, on-demand charter, aircraft maintenance, aircraft management, and component overhaul services. Its 30-aircraft fleet operates almost 20 000 flights per year, earning its rank as one of the ten biggest Part 135 operators in the country. Contour's growth throughout the years is a testament to its dedication to providing exceptional aviation services, making it a significant player in the industry.
Contact Information
Company Name: Contour Airlines
Address: 808 Blue Angel Way, Smyrna, TN 37167, USA
Telephone Number: 1 (888) 33-CONTOUR (332-6686)
Website: https://www.contourairlines.com/
Facebook: https://www.facebook.com/contourairlines
Instagram: https://www.instagram.com/iflycontour/
Twitter: https://twitter.com/ContourAirlines