Mesa Airlines is one of the leading regional airlines based in Phoenix, Arizona. It operates a fleet of regional jets and narrow-body aircraft on behalf of its partners, including United Airlines, DHL Express, and Alaska Airlines. Initially serving as a small charter airline, the company quickly expanded its operations and embarked on a journey of growth and innovation.
This American regional carrier has consistently contributed to the evolution of air transportation, connecting communities and passengers across the United States. With a commitment to safety, efficiency, and customer satisfaction, the airline has become a key partner for major airlines, enabling them to extend their networks and serve smaller markets.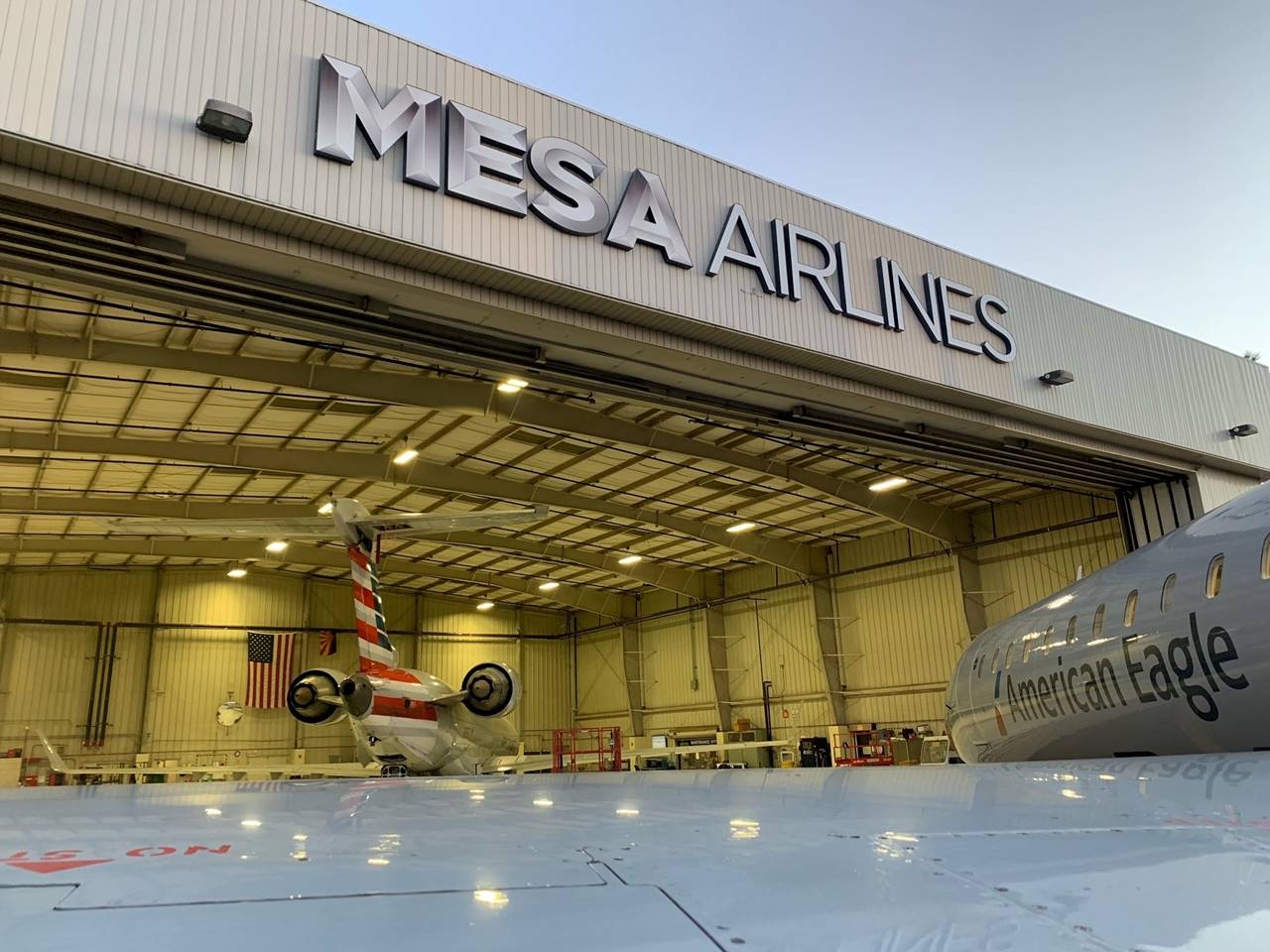 Quick Facts
Airline Name:

Mesa Airlines

Airline IATA Code:

YV

Headquarters:

Phoenix, Arizona

Founded:

1980

Number of Destinations:

200

Fleet Size:

106

Fleet Types:

Bombardier CRJ-900, Embraer E175, Boeing 736

Location Hubs/Bases:

Cincinnati/Northern Kentucky International

Airport (Cincinnati, Kentucky), George Bush Intercontinental Airport (Houston, Texas), Washington-Dulles International Airport (Washington DC, Virginia), Phoenix Sky Harbor International Airport (Phoenix, Arizona), Louisville Muhammad Ali International Airport (Louisville, Kentucky), Dallas/Fort Worth International Airport (Dallas, Texas), Denver International Airport (Denver, Colorado)
Brief History Overview
Founded in 1980 by Larry and Janie Risley in Farmington, New Mexico, Mesa Airlines embarked on a journey to shape the landscape of regional aviation. Starting with humble beginnings, the airline initially operated as Mesa Air Shuttle, utilizing Beechcraft 99 turboprop aircraft to provide essential air service between Farmington and Albuquerque. As the 1980s progressed, the airline's strategic decisions marked the airline's trajectory, redefining regional air travel.
Over the years, the airline transitioned from turboprop aircraft to regional jets, focusing on the Embraer E175. This strategic shift allowed the company to enhance operational efficiency, passenger comfort, and overall performance. Adopting modern aircraft reinforced the airline's commitment to quality and innovation.
Products and Services
Regional Air Travel:

Mesa Airlines provides essential regional air travel services, connecting smaller cities and towns to major hubs. The airline operates under codeshare agreements with major carriers like American Airlines and United Airlines. This partnership enables passengers to book flights seamlessly, often under the banner of the major airline, while benefiting from the efficiency and convenience of regional travel.

Wide Network of Destinations: The airline

's code-sharing agreements allow passengers to access a wider network of destinations beyond what the airline operates directly. This interconnected approach simplifies the travel process, providing travelers with a single booking experience even when flying on multiple carriers. It also enables passengers to access more flight options and routes, enhancing the flexibility of their travel plans.

Comfortable Cabin Experience:

Whether traveling for business or leisure, passengers can expect a comfortable cabin environment aboard the airline's modern Embraer E175 regional jets. Spacious seating, ample legroom, and a welcoming atmosphere contribute to a pleasant journey.

Customer Support: The company

 offers customer support services to assist passengers with reservations, booking changes, and other inquiries. Travelers can access information about their flights, baggage policies, and further essential details through the airline's customer service channels.

Cargo Services:

The airline and DHL Express have a partnership in which Mesa operates two Boeing 737-400 converted freighters for DHL. The partnership began in October 2020 and is for five years. The company is the first regional airline to operate narrow-body aircraft as large as the 737 in the air cargo market. Under the partnership, the airline flies cargo between several cities in the United States and DHL's North American hub at Cincinnati/Northern Kentucky International Airport.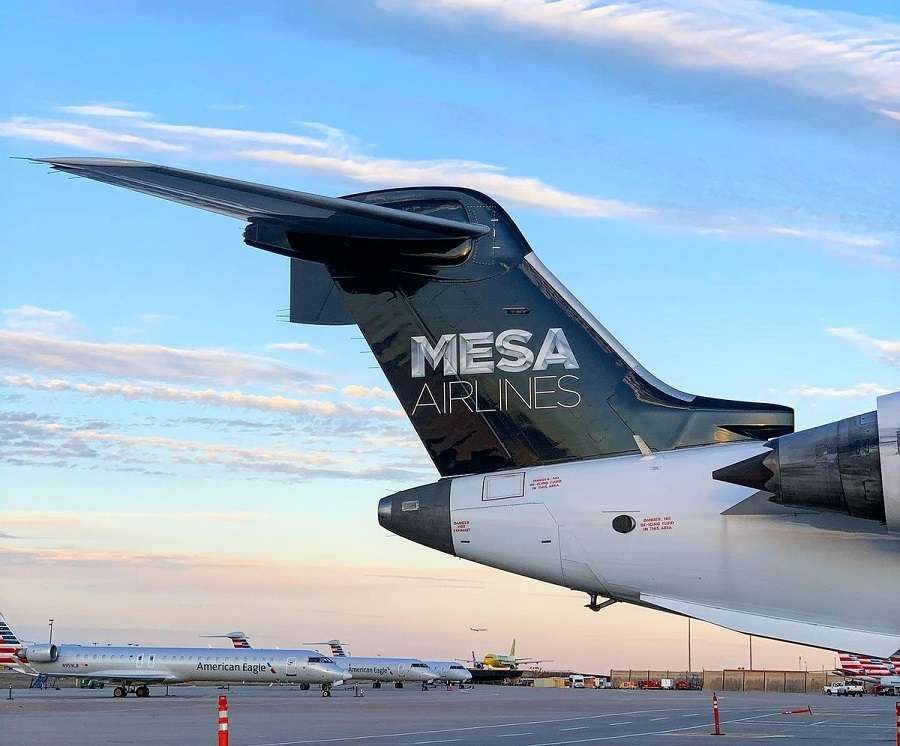 Work Culture
Mesa Airlines' work culture commits to fostering an environment of respect, collaboration, and growth. The airline recognizes that its success comes from the dedication and well-being of its employees. It invests in its workforce by providing training, educational opportunities, and pathways for advancement. 
The company's commitment to employee development not only enhances individual skills but also contributes to the overall competence and professionalism of the team.
It also recognizes the strength of a diverse team and is dedicated to providing an inclusive workplace where all employees feel valued and respected, regardless of their backgrounds or identities. This commitment enriches the work culture and enhances the airline's ability to connect with passengers and communities.
Benefits for Employees
Flight Benefits:

As an airline, it often provides travel privileges for employees and their selected guests, allowing them to enjoy unlimited discounted or complimentary flights on the airline's routes. Aside from flying with this airline, employees may also enjoy discounts when flying with its partner airlines.

Health and Wellness Benefits:

The company typically offers comprehensive health and wellness benefits, including medical, dental, and vision insurance. These benefits provide employees access to healthcare services, preventive care, and coverage for medical expenses. Aside from healthcare coverage, Mesa Airlines also offer its employees long-term disability and life insurance.

Employer-Sponsored 401k Retirement Plan:

The airline often provides retirement savings plans, such as a 401(k) plan, allowing employees to save for their future and potentially receive employer contributions or matching contributions.

Vacation Buy Plan:

Employees who participate in a vacation buy plan can often choose to purchase a specified number of extra vacation days beyond their regular allotted time off. It gives them greater flexibility to take extended vacations or enjoy more time away from work. 
Video: Celebrating 40 Years of Mesa Airlines in The Industry
This video looks back on the early years of the airline, from having a single plane going to New Mexico and growing its fleet through the years. From Mesa Air Shuttle, it changed its name to Mesa Airlines. Years later, it connected with huge airline companies and grew its network across the USA. Today, the airline became one of the best regional airlines, covering passenger flights and cargo services.
Summary
This airline goes beyond its role as a regional carrier, offering a comprehensive suite of products and services designed to enhance the travel experience for its passengers. Through its partnerships, employee empowerment, and dedication to customer service, the company continues to shape the regional aviation industry while uplifting the communities it serves.
Contact Information
Company Name: Mesa Airlines
Address: 410 N 44th St Ste 700, Phoenix, AZ
Telephone No.: (602) 685-4000
Website: https://www.mesa-air.com/
Facebook: https://www.facebook.com/MesaAirlines/
Instagram: https://www.instagram.com/mesaairlines_/
Twitter: https://twitter.com/MesaAirlines