People's Airline was founded in 2010 as "People's Viennaline", yet the first flight took place in 2011. For several years, People's only operated a single scheduled route between its home base and Vienna, Austria. However, some seasonal and charter services have been added to the route network. The airline was tagged as the World's Shortest International Jet Route in 2016.
Also Read: Venice Layover Guide: Best Things to Do in 24 Hours
If you haven't ever imagined a flight taking few minutes, People's will give you the reality. Did you know that flight from St. Gallen-Altenrhein Airport in Switzerland to Friedrichshafen Airport in Germany will only take eight minutes? Yes, literally a short and fast flight. Politicians and environmental groups choose People's because of this 8-minute time frame. If you want to work in an airline where there is small amount of passengers to assist and serve, choosing a fleet like People's is the best option.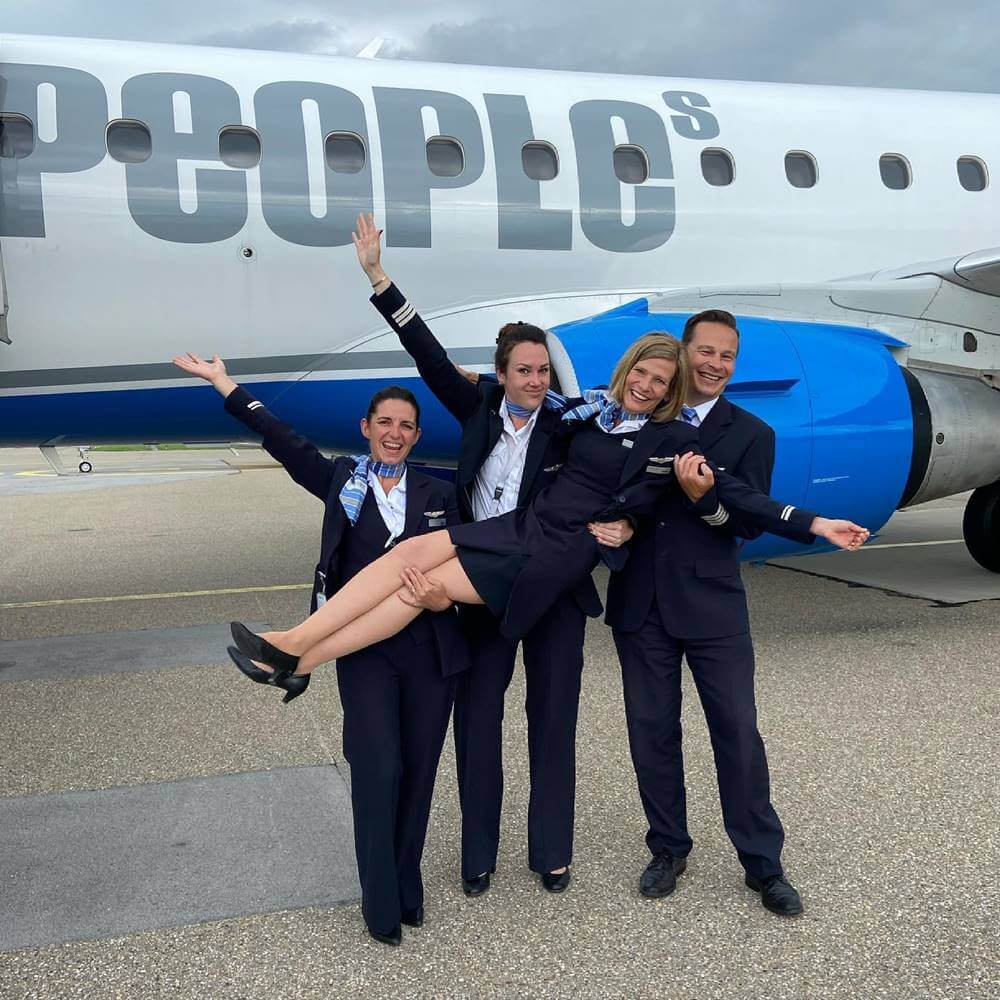 List of Requirements and Qualifications to Become a People's (Hahn Air) Flight Attendant
Must be at least 18 years old.
Swiss nationality or EU Passport.
If you are not a local, you must be willing to relocate near the area.
Driver's license category B.
Must be proficient in both German and English language.
Good mental and physical health.
Must have the ability to swim a specific length.
Outstanding customer and service orientation.
Ability to work during irregular hours
Good manners and a positive attitude.
Must be tidy and presentable at all times.
Sociability, empathy, teamwork, and adaptability.
Responsibilities:
In charge of ensuring that safety regulations are followed on board.
Provide the best possible service to passengers.
Ensure that the aircraft cabin is arranged well.
Service process organization in the galley and cabin.
Serve food and beverages.
Create flight reports.
Things you need to know about Peoples:
People's top priority is safety.
People's believe that employees are the people behind their company's success.
The airline is a service providers who care for people.
Everyone inside the fleet  needs to provide a consistent quality service and a very accommodating attitude to guests.
Being small provides an opportunity to make processes easier, more convenient, less complicated, and more personal for customers.
People's speak to guests in a personal, familiar, authentic, direct, and honest manner.
You must establish and maintain professional and friendly relationships with customers and co-workers.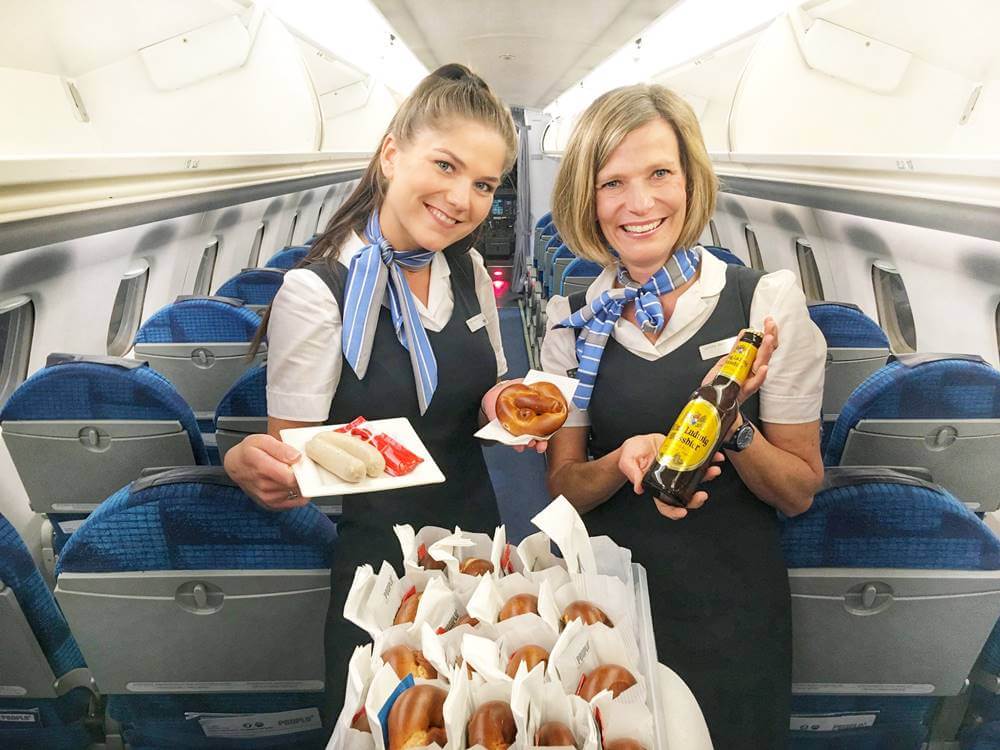 Application Process
Step 1: Prepare all the requirements or documentations needed for your application.
Step 2: To get a job inside Peoples, you can visit its social media accounts or official website for job postings. Their official website has a Job vacancy page ready where you will be able to check active vacancies and at the same time  send an application for that specific job.
To access People's Careers Page, you can go here: https://peoples.ch/jobs
Step 3: If the Cabin Crew position is available, click on it. Once a job post is open, apply for the position. Send your complete and comprehensive application documents only via email to bewerbung@peoples.ch
Step 4: When completing an online application for Cabin Crew position, make sure to provide true and correct details about yourself. Double check your details before submitting the form.
Step 5: The recruitment team will send you a notification through call or email once you were shortlisted. Make sure to keep your lines up and always check for their message.
Step 6: You need to pass the initial interview so you can proceed to the next phase of the hiring process.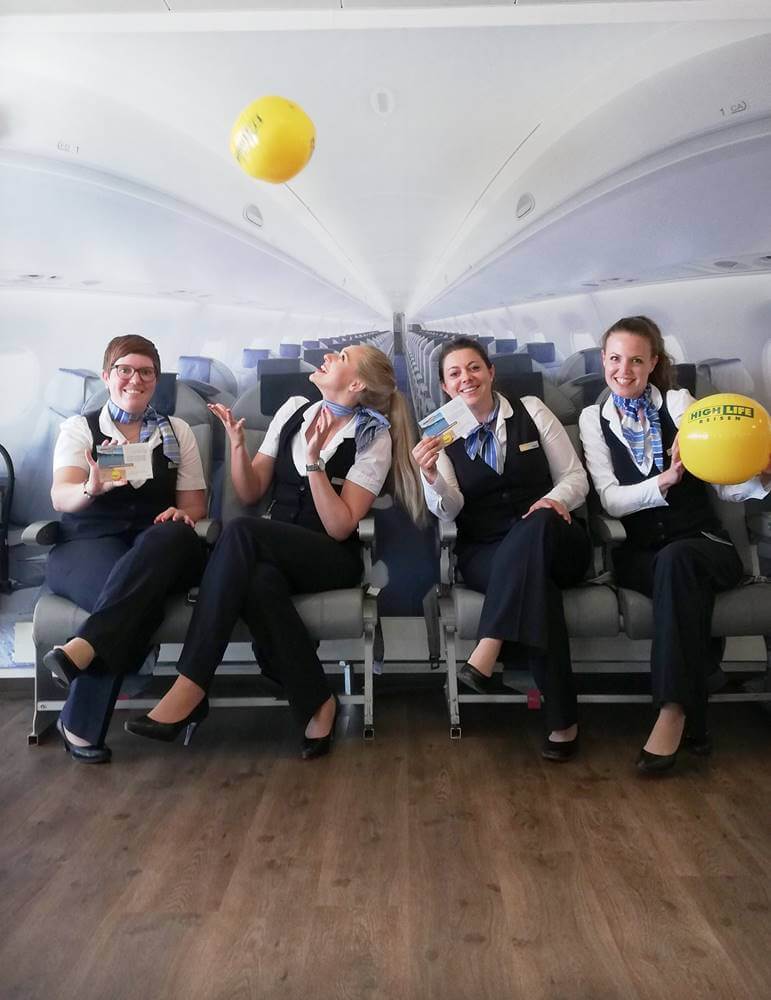 Salary and Benefits
In Austria, a Flight Attendant typically earns approximately 2,690 EUR per month. Salaries range between 1,320 and 4,200 EUR. This is the average monthly salary, which includes housing, transportation, and other perks. Flight attendant pay varies greatly depending on experience, skills and location.
A fantastic working environment in a fast-paced company
A long-term employment contract with progressive working conditions
Video: TRIPREPORT | People's ViennaLine (ECONOMY) | Vienna – Altenrhein | Embraer 170
This is a flight report of People's airline in an Economy type flight. This shows what's inside the People's plane and how it feels to be in Austria's little known one-route.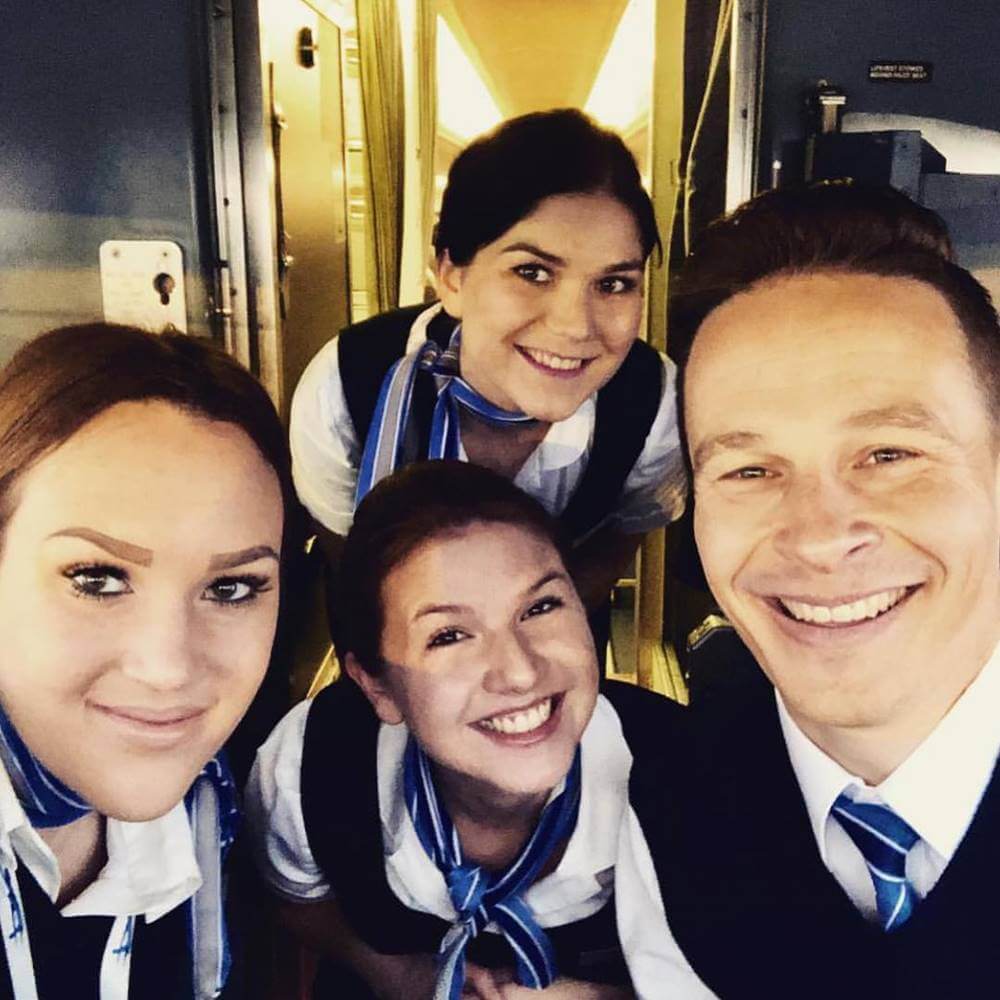 Photos: People's Airline Cabin Crew Uniforms
Check out these pictures of People's Airline crew so you can see what they look like in uniforms:
Frequently Asked Questions
The following are some of the common questions asked about People's Airline:
1. Is People's Airline a reputable airline?
Peoples might be a small airline in Austria, but it is trusted by professionals, politicians, and different organizations in and out of the country. The airline takes pride in providing not just personal but excellent service to its passengers.
2. Is there anything I can do to give myself an advantage over other candidates?
Always check you CV or Resume if it contains the latest information about you. Make your CV/Resume outstanding, this is the first thing you need to do. Make sure to prepare well for the interview questions, learn about the company, as well as the duties and responsibilities of a flight attendant on board.
3. What other abilities they are looking for?
Everything positive that's in you must be possessed. Think about how people should see a flight attendant on board. In addition, you must be able to swim, have excellent communication and interpersonal skills, remain calm in emergency situations, and perform well under pressure.
4. How much is the monthly salary of People's Flight Attendants?
In Austria, a Flight Attendant typically earns approximately 2,690 EUR per month. Salaries range between 1,320 and 4,200 EUR.
5. Does People's Airline care about its employees?
Yes, of course. In fact, even if the company is considered as a tiny airline, they give employees valuable contracts. They even treat their employees as the key to their success.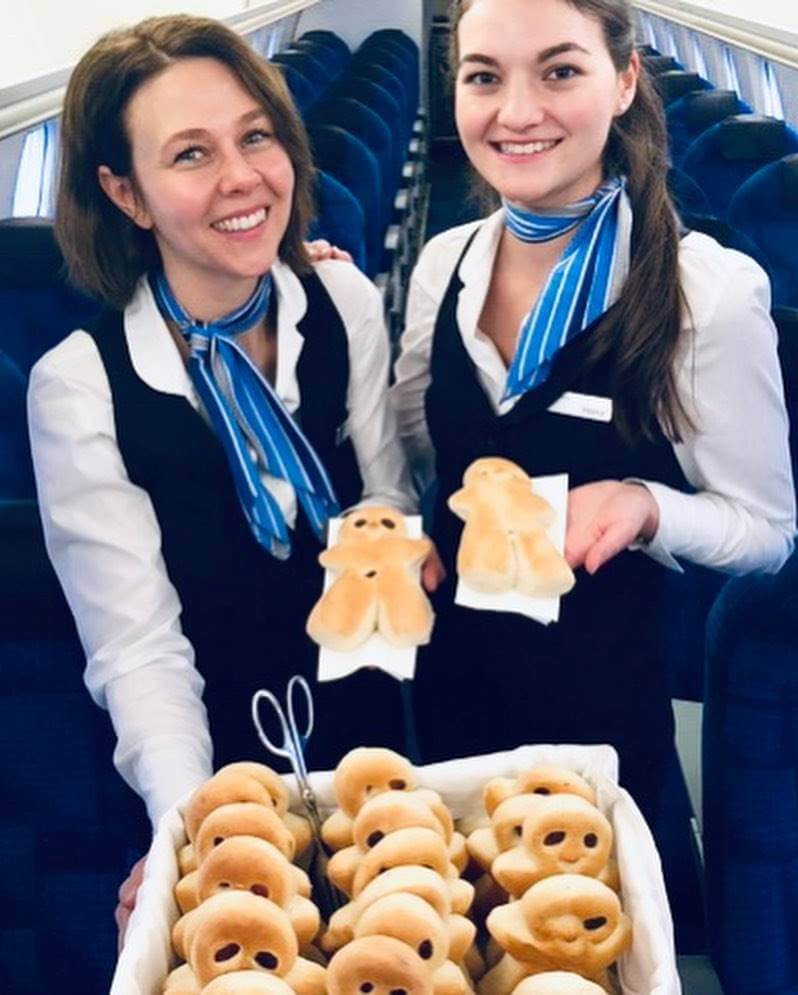 Summary
People's Airline is quite too far from other huge airlines around the world. But this airline remains pure and excellent to its service. It is trusted by politicians, organizations, business men, and ordinary people who wants to have a safe yet less crowded flight. The airline also offer charter flights. Now, if you have perfect customer service skills that will work for an FA duty, then you have accepted a challenge. Try your luck now in this small airline in Austria!