Piedmont Airlines is a regional airline headquartered in Salisbury, Maryland. It is a wholly-owned subsidiary of the American Airlines Group and operates flights to nearly 50 destinations in the eastern United States. It was one of the predecessors of today's American Airlines and was acquired by American Airlines Group in 1989. It continues to operate today as a regional carrier for American Airlines under the American Eagle brand.
Throughout its history, this airline gained a reputation for its exceptional customer service and commitment to safety. These principles formed the core of the company experience, setting it apart from its peers.  The airline has had a perfect safety record since 2000 and has been awarded the Diamond Award of Excellence by Federal Aviation Administration.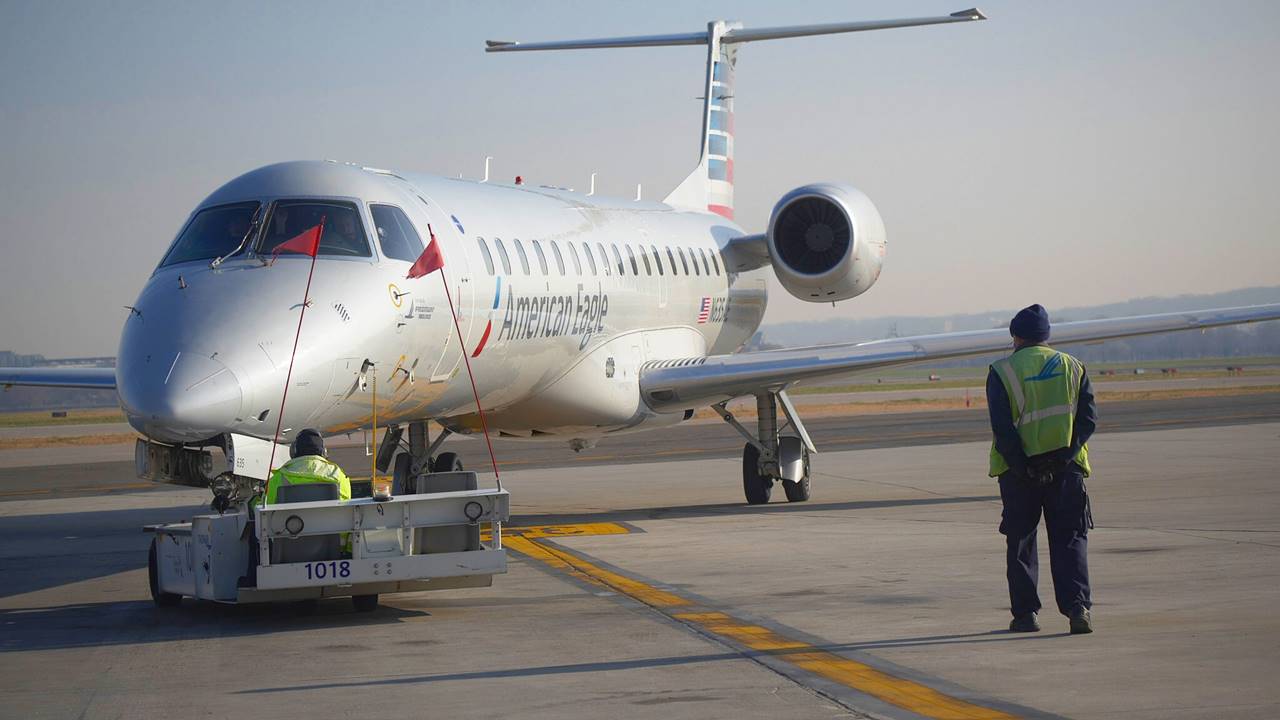 Quick Facts
Airline Name:

Piedmont Airlines

Airline IATA Code:

PT

Headquarters:

Salisbury, Maryland

Founded:

1962

Number of Destinations:

more than 50

Fleet Size:

63

Fleet Types:

Embraer ERJ-145

Location Hubs/Bases:

Philadelphia International Airport (Philadelphia, Pennsylvania), Charlotte Douglas International Airport (Charlotte, North Carolina), Harrisburg International Airport (Harrisburg, Pennsylvania)
Brief History Overview
The airline had its humble beginnings in 1940 in Winston-Salem, North Carolina. Founded by Richard A. Henson, a Fairchild aircraft pilot, the airline initially operated as Henson Aviation, providing essential services to rural communities in the region. In the post-World War II era, Henson Aviation's reputation for reliability and service excellence began to take root. The airline's commitment to connecting rural America through air travel showcased its dedication to accessibility, a principle that would remain at the core of its identity.
The 1960s marked a transformative period for Piedmont Airlines. As the aviation industry transitioned to the jet age, the company's fleet underwent a significant transformation with the introduction of Boeing 737-200 aircraft. This technological leap enhanced operational efficiency and expanded the airline's reach, providing faster, more comfortable travel options to its growing passenger base. The airline's expansion was not just limited to its fleet but also involved expanding its route network. 
Products and Services
Regional Flights: It

 primarily operates regional flights for American Airlines. These flights connect smaller cities and airports to American Airlines' main hubs, allowing passengers from these areas to access the larger airline's extensive route network.

Customer Service: It offers customer service to assist passengers with reservations, ticketing, check-in, and other travel-related inquiries. It includes airport ground staff to help with boarding, baggage handling, and general customer support.

Safety and Maintenance: This airline

, like any airline, strongly emphasizes safety and maintenance. The airline ensures that its fleet of aircraft is well-maintained and meets all required safety standards.

Frequent Flyer Programs:

Its passengers can earn and redeem miles through American Airlines' AAdvantage frequent flyer program. It allows loyal customers to earn rewards and benefits when flying with Piedmont and its partner airlines within the American Airlines network. Its passengers with certain elite status or American Airlines Admirals Club membership might have access to airport lounges for relaxation and convenience before their flights.

In-Flight Services:

While regional flights might offer different in-flight amenities than larger mainline flights, passengers on its flights can typically expect essential in-flight services, including limited snacks and beverages.
Work Culture
Piedmont Airlines fosters a strong sense of teamwork and collaboration among its employees. It is essential in the aviation industry, where various roles must work together seamlessly to ensure safe and efficient operations. Additionally, it has the initiative to create an inclusive environment that values individuals from diverse backgrounds.
The airline has been known to invest in developing and training its employees. It includes opportunities for career advancement, skill enhancement, and ongoing training to keep up with industry standards. It may offer employees clear pathways for career progression within the company or the broader American Airlines Group. It can be motivating for individuals looking to grow within the aviation industry.
Like any airline, safety is a top priority at this airline. The company emphasizes safety protocols and provides continuous training to ensure that employees are well-prepared to handle any situation that might arise.
Benefits for Employees
Travel Benefits:

As part of the larger American Airlines Group, Piedmont Airlines employees can access travel privileges, allowing them and their immediate family members to fly at reduced rates or stand by on American Airlines flights. Depending on partnerships and arrangements, employees may also receive discounts on various goods and services, such as travel-related expenses, hotels, car rentals, etc.

Competitive Pay:

Employees typically receive competitive wages and salaries for their roles. Compensation can vary depending on the specific position and level of experience. It's a regional airline company that offers the industry the best wages. 

Paid Time Off:

Employees can receive paid vacation days, sick days, and holidays. The specific number of days off and the policies around their usage can vary depending on the job position and length of service.

Extensive Benefits Package:

The airline company provides health insurance to employees, including medical, dental, and vision coverage. Companies may cover a portion of the premiums, reducing the financial burden on employees. It also offer wellness programs that encourage employees to lead healthy lifestyles. 

Paid Training and Mentorship Program:

It might offer opportunities for professional development, including training programs and workshops to help employees enhance their skills and advance in their careers.
Video: Milestones of Piedmont Airlines During The Last Decade
Piedmont Airlines posted this video to celebrate another decade of operations before 2020 started. During the past decade, the airline expanded its services to the West and became a coast-to-coast airline. It also expanded in DCA and started flying with American Airlines under American Eagle. It also gave its pilots a guaranteed spot to fly with American Airlines. It also welcomed new employees as it expanded to over 80 ground-handling locations.
Summary
Piedmont Airlines is a vital and integral player within the aviation industry, seamlessly connecting communities and individuals to broader horizons through its regional flight services. It's committed to safety, efficiency, and exceptional customer experiences as a regional subsidiary of the esteemed American Airlines Group. Its role in linking smaller cities and airports to major hubs opens opportunities for travelers, facilitating access to American Airlines' extensive global network.
Contact Information
Company Name: Piedmont Airlines
Address: 5443 Airport Terminal Rd., Salisbury, MD 21804
Telephone No.: 410-572-5100
Website: https://piedmont-airlines.com/
Facebook: https://www.facebook.com/flypiedmont/
Instagram: https://www.instagram.com/piedmontairlines_/
Twitter: https://twitter.com/piedmontair