Horizon Air was a regional airline in the United States with its main office in SeaTac, Washington. It was a wholly-owned subsidiary of the Alaska Air Group, and Alaska Airlines paid it to staff, run, and maintain the planes that Alaska Airlines used for flights it planned, marketed, and sold.
Since its inception, the company has carved a distinctive niche as a regional airline and a vital link connecting communities across North America. With a commitment to safety, innovation, and personalized service, this airline has become a symbol of reliability and convenience for travelers and locals alike.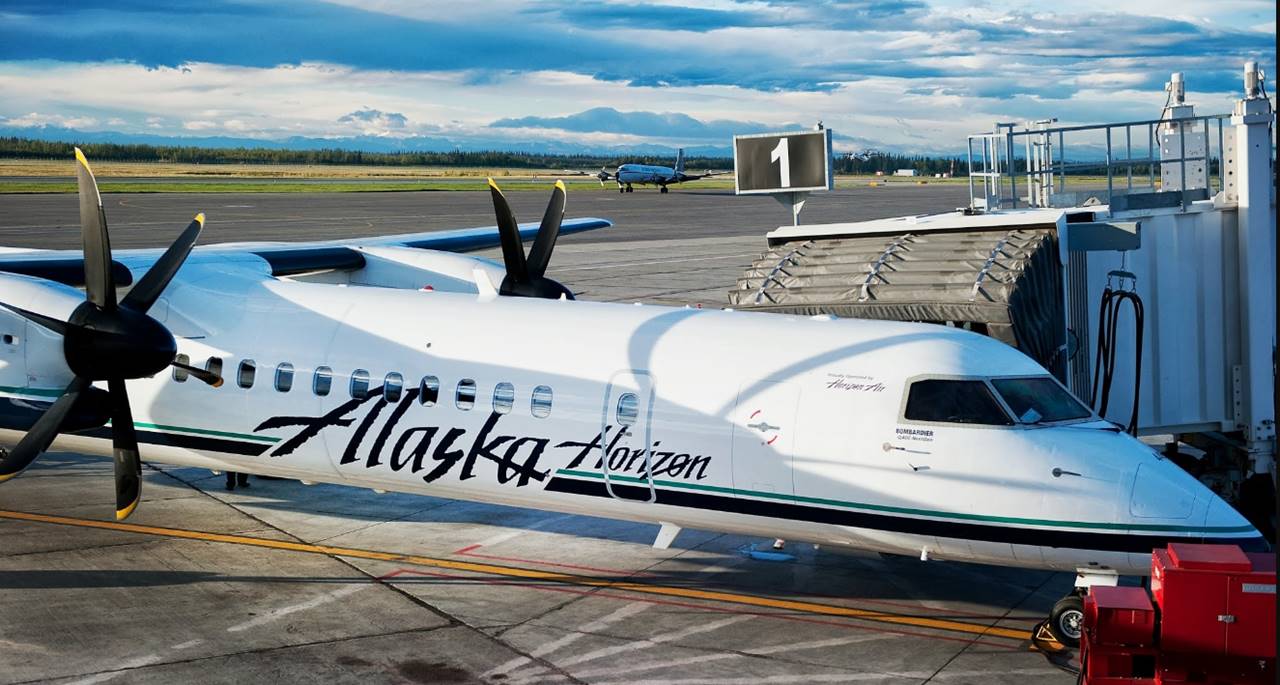 Quick Facts
Airline Name:

Horizon Air

Airline IATA Code:

QX

Headquarters:

SeaTac, Washington

Founded:

May 1981

Number of Destinations:

47

Fleet Size:

38

Fleet Types:

Embraer ERJ-170

Location Hubs/Bases: Seattle-Tacoma International Airport (SeaTac, Washington), Portland International Airport (Portland, Oregon)
Brief History Overview
On September 1, 1981, the airline began flying three Fairchild F-27 aircraft. Its original headquarters were located in what is now known as SeaTac, Washington. From its headquarters in SeaTac, Washington, Horizon Air set out to provide high-quality, short-haul air travel to cities and towns often overlooked by larger carriers. 
In its early years, it operated a fleet of turboprop aircraft, such as the Fairchild Swearingen Metroliner, before transitioning to an all-jet fleet as it grew. It focused on serving small cities in the Pacific Northwest and began to expand its network to include more prominent cities in the western United States and Canada. In 2004, it became the first regional airline in the United States to operate the Bombardier Q400 turboprop aircraft. 
Products and Services
Fare Options:

The airline offers a variety of fare options, including Basic Economy, Main Cabin, and Premium seating, catering to different preferences and budgets.

Passenger Flights: The company

 operated Embraer E175 jets. These aircraft served more than 45 cities in Alaska, California, Colorado, Idaho, Montana, Oregon, Utah, Washington, Alberta, and British Columbia, Canada.

In-Flight Experience:

It provides a comfortable and well-equipped cabin, ensuring a pleasant journey for passengers. Most flights offer Complimentary snacks and beverages, ranging from coffee and soft drinks to light snacks. Its in-flight magazine keeps passengers engaged during the journey.

Codeshare Agreements:

Through its parent company, Alaska Airlines, the airline is part of a broader network of partners and codeshare agreements, allowing passengers to access a more comprehensive range of destinations and seamless connections.

Loyalty Programs:

It participates in Alaska Airlines' loyalty program, allowing passengers to earn and redeem miles for flights, upgrades, and other travel-related benefits.

Customer Service:

Its dedicated customer service team is available to assist passengers with various inquiries, including booking changes, baggage information, and general travel assistance. The airline aims to provide personalized support to ensure a smooth travel experience for all passengers.
Work Culture
Employees of Horizon Air are encouraged to challenge the existing situation, think creatively, and look for novel methods to improve the passenger experience. This organization-wide innovation culture permeates all facets of the business, from operations and technology to customer service, and goes beyond the flight deck. The employees of the company consistently advance the airline by accepting change and looking for novel solutions.
The airline recognizes that the strength of its workforce lies in the diverse talents and perspectives of its employees. Open lines of communication, cross-functional teamwork, and a flat organizational structure enable employees to contribute their ideas and expertise effectively. This collaborative environment enhances efficiency and fosters a sense of belonging and mutual respect among team members.
Benefits for Employees
Financial Wellness Program:

Horizon Air recognizes that financial security is fundamental to employee well-being. The airline offers competitive compensation packages that include various benefits, such as retirement plans, stock options, and employee assistance programs. These provisions ensure that employees can plan for their futures, secure their financial well-being, and feel valued for their contributions.

Well-Being Benefits: It

 recognizes that its employees' well-being is paramount. With this in mind, the airline offers a range of benefits that address various aspects of well-being, including physical, mental, and financial health. Comprehensive medical, dental, and vision plans provide employees with access to quality healthcare, ensuring they can prioritize their health and that of their families. Additionally, the airline offers wellness programs, fitness incentives, and resources to promote a healthy lifestyle.



Travel Benefits: The company

 gives privileges allowing staff members and their families to explore various destinations, forging unforgettable memories and experiences. This unique benefit enhances employees' personal lives and fosters a deeper connection with the airline's mission of connecting communities.

Grow and Develop Opportunities:

The airline believes in nurturing internal talent and providing ample growth opportunities. Through mentorship, training programs, and continuous learning initiatives, employees can enhance their skills, broaden their knowledge, and advance within the organization. This investment in professional development benefits individual employees and strengthens the company.

Work-Life Balance:

The company promotes this balance by offering flexible work arrangements, paid time off, and family-friendly policies. By supporting employees' personal lives and accommodating their diverse needs, the airline creates an environment where individuals can thrive at work and home.

Volunteer Opportunities: The business'

commitment to community engagement extends to its employees, providing them with opportunities to make a positive impact beyond their professional roles. The airline encourages and supports volunteer initiatives and community outreach programs, allowing employees to give back to the communities they serve. This sense of purpose and connection amplifies the rewards of working at this airline. 
Video: How Alaska Airlines and Horizon Air Made a Regional Flight Perfect
In this video, Jeb Brooks used Alaska Airlines Lounge since it is the parent company of Horizon Air. He showed what's in the lounge, including its operating hours, seating availability, food, and beverages, and how it looked like a first-class lounge in other airports. It also showed the aircraft used by the airline, which some people feel unsafe because of the propellers. However, the fleets of it have an excellent safety record. Since it was only a short flight, it offered complimentary drinks and a small snack on board. 
Summary
From its humble beginnings as a regional carrier to its current position as a vital link connecting communities across North America, Horizon Air has carved a unique niche in the industry. Its vibrant work culture and dedication to its employees truly sets it apart. The airline's comprehensive employee benefits, commitment to career development, and emphasis on work-life balance create an environment where individuals can flourish and thrive.
Contact Information
Company Name: Horizon Air
Address: 19521 International Boulevard, Seattle, WA
Telephone No.: (206) 241-6757
Website: https://careers.alaskaair.com/horizon-air/careers/
Facebook: https://www.facebook.com/AlaskaAirGroupCareers/
Instagram: https://www.instagram.com/alaskaair/
Twitter: https://twitter.com/AlaskaAir