Brand new opportunities lurk around the corner, so it's best to seize every chance you get to achieve your dreams. And speaking of dreams, if becoming a flight attendant is the career you wish to pursue, Air Greenland is looking for new talents to fill its cabin crew positions. 
Also Read: Venice Layover Guide: Best Things to Do in 24 Hours
Being a large company, Air Greenland continuously maintains its commitment to excellent service by mentoring 50 students and apprentices annually across the group. Anyone from all parts of society is also welcome to join the organization. If you want to be part of Air Greenland's cabin crew team, here is a comprehensive guide on the hiring process and some important reminders to keep in mind along the way.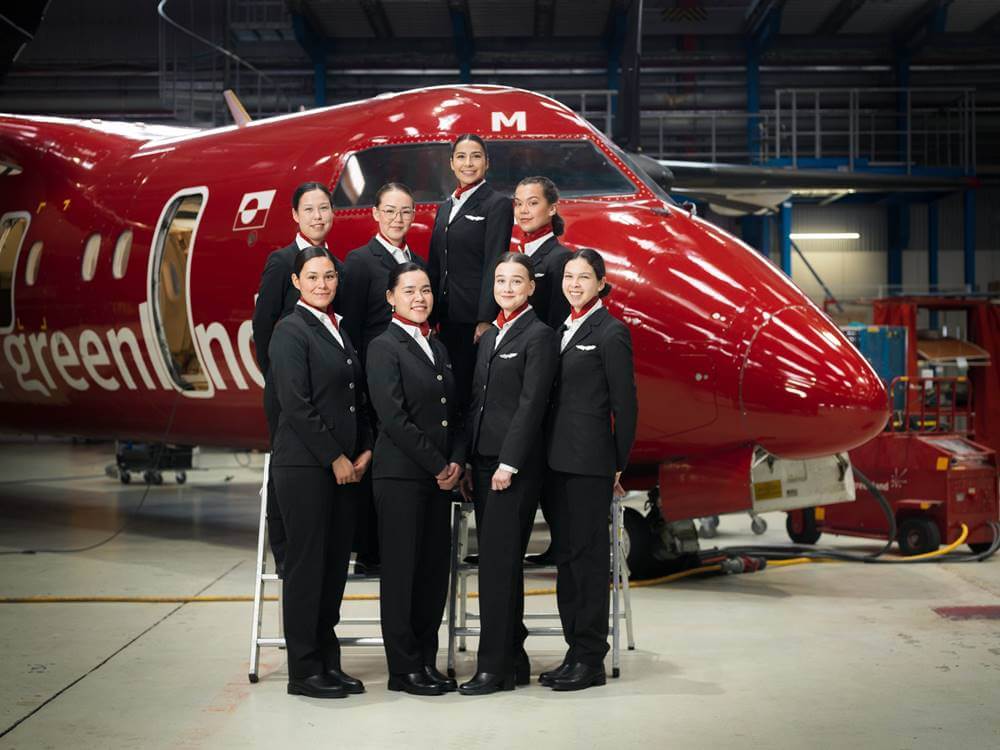 Overview of the Air Greenland
The history of Air Greenland can be traced back almost 60 years, with the company being established in 1960. It was initially called Greenland Airlines, but the name was changed to Air Greenland in 2002. Since then, it has evolved and progressed in different directions, gradually becoming the airline company that it is right now. 
The airline operates 28 aircraft in its fleet, including eight fixed-wing aircraft and two airliners for charter and transatlantic flights. Meanwhile, 18 helicopters are used for feeding passengers from significantly smaller communities to the domestic airport. Besides this, the airline company also backs research stations and offers charter services for both tourists and the country's mineral-resource and energy industries. 
It goes without saying that Air Greenland is an environmentally-aware company, given that they take steps to seek sustainable activities and initiatives that are considerate of the environment. Moreover, the Air Greenland group is a diverse and big company that consistently aims to guarantee the best customer experience, from the moment passengers book their tickets until they get to their final destination.
The airline also makes it a goal to cover as many job positions as it can with local people so that the experience remains in the community, thus solidifying competence and strength for the whole Greenlandic community.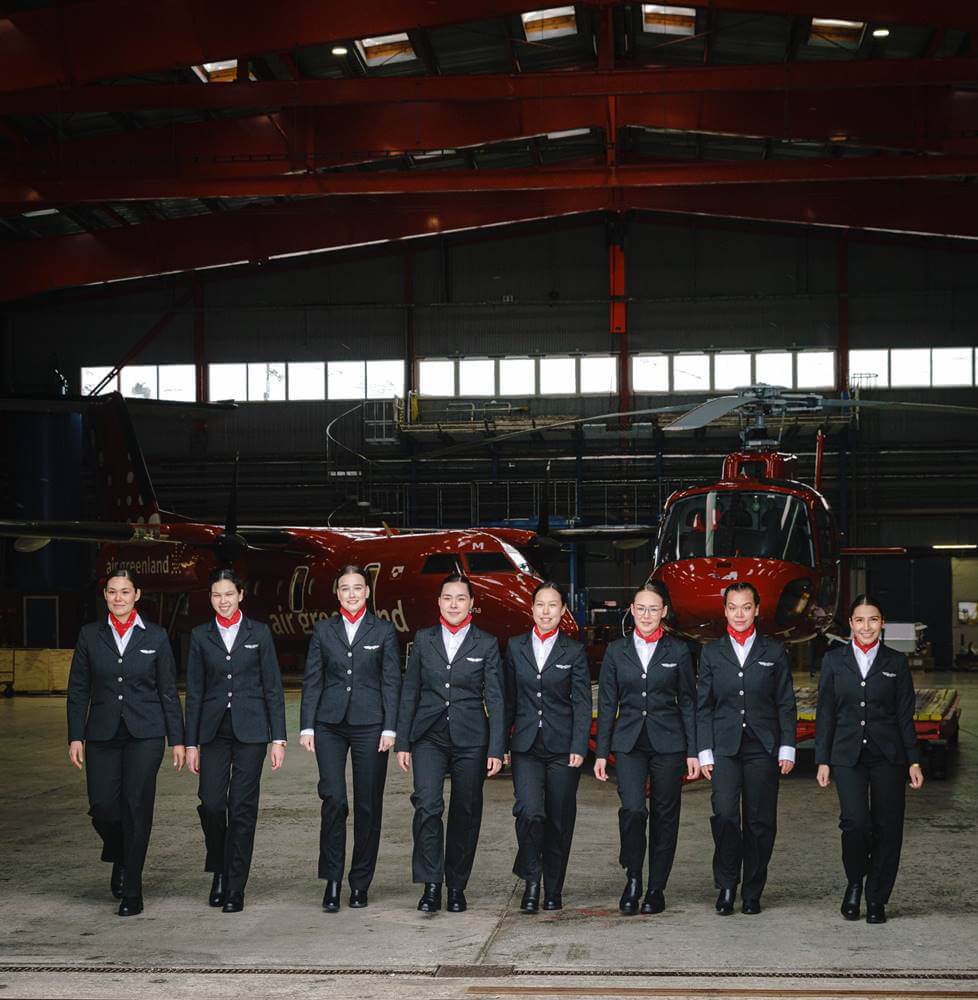 Responsibilities
Being a flight attendant is no joke. Aside from evident advantages and perks like traveling and meeting new people, you're also tasked with serious responsibilities to uphold throughout your job. Before you decide that being a flight attendant is the right career for you, it's important that you're aware of the duties that come with it, such as the following: 
Serve food and drink on certain domestic and transatlantic routes

Attend to passengers' concerns

Make sure passengers have a safe and comfortable flight experience onboard

Ensure passenger security at all times

Lead passengers to their designated seats

Present and instruct passengers on how to use emergency equipment

Render assistance to passengers with special needs, such as disabled persons, elders, and children

Adhere to aviation regulations and rules for protection and safety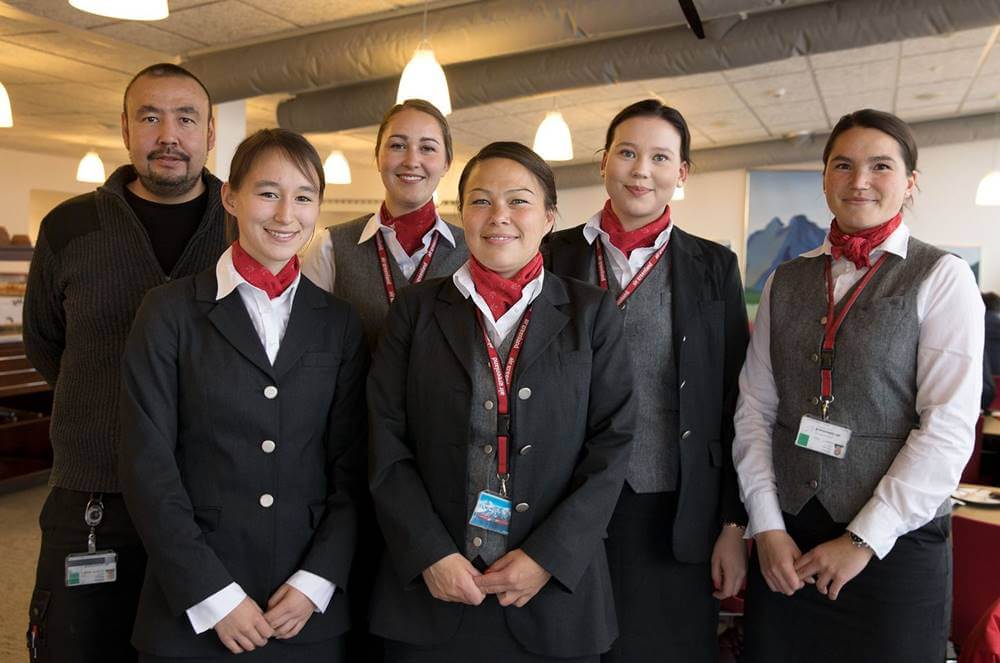 Qualifications
Considering that Air Greenland is a huge airline company, it ensures that its employees are skilled and capable enough to provide excellent customer service to its passengers at all times. For this reason, the airline has a specific set of qualifications that job candidates need to comply with for recruiters to assess whether or not they're a good fit for the job. These include the following:
Must be 21 years old at the time of application

Must be fluent in Greenlandic and English, Danish, or other Scandinavian dialects

Must have completed a school education or an equivalent vocational education

Must be at least 160 cm in height alongside a normal weight respective to the height

Must be presentable and possess a pleasant exterior, such as being welcoming and friendly. Candidates should also have to be flexible and interested in communicating with other people.

Must be able to keep an overview and remain calm even in stressful situations. You must also be skilled in coming up with efficient solutions to certain problems.

Must have generally good health, both mental and physical.

Must have normal vision.

Must have the ability to create a clean CRB check.

Must be capable of swimming at least 200 meters (Practical test is included in the training course).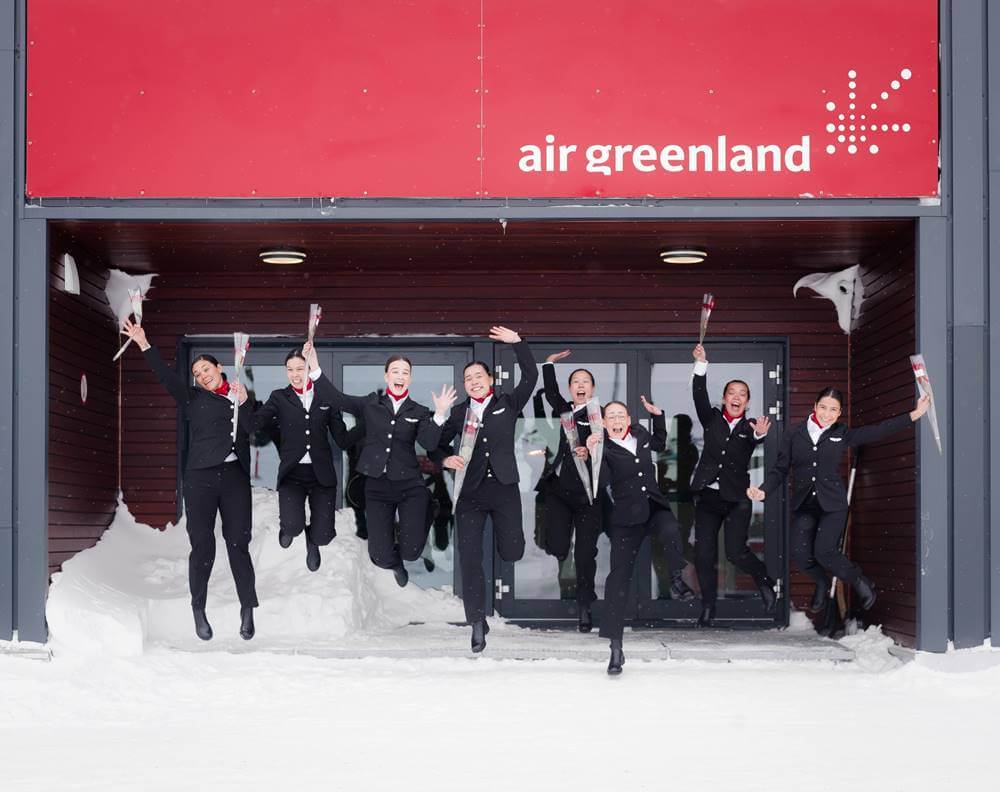 Document Requirements to Prepare
Once you're aware of the responsibilities and qualifications of a flight attendant, you can now start preparing the documents for your application. For your application, you will need the following:
Valid passport

Cover letter

Authorization to work and travel in Greenland and other routes that the airline operates on without restrictions

Certification of Education

Passport pictures

Certification for your achievements (if any)
Where to Apply for a Job for Air Greenland Online
To apply for a job at Air Greenland online, you only need to go to the company's official website. Select "Jobs" and look through current job postings to begin your application. You will see a list of available job vacancies on your screen, and you simply need to click on the position you wish to apply for to get started.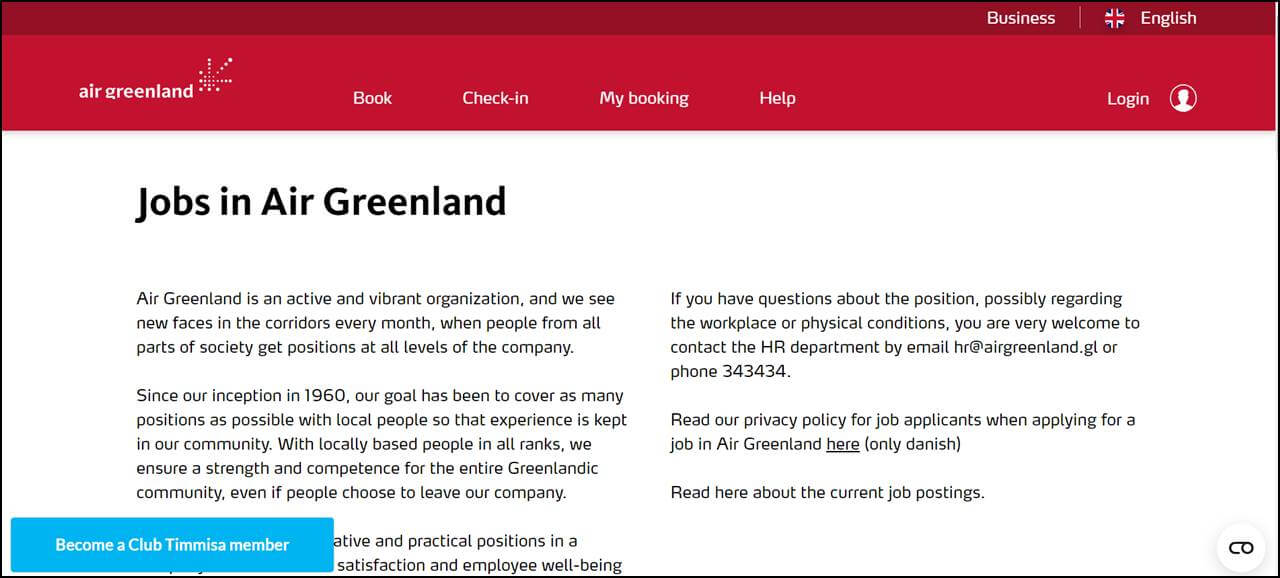 How to Become a Cabin Crew for Air Greenland
Below are step by step guide to follow on your way to becoming a flight attendant for Air Greenland.
Step 1: Prepare a copy of all the required documents.
Make sure your work portfolio is done and ready, not to mention professionally curated, before you turn in your application. It's also necessary to make a copy of all the important files like passport pictures, cover letter, and certifications, just in case. 
Step 2: Keep posted on Air Greenland's online job posting.
Most job openings tend to begin in the Spring season, so make sure to check the company's official website here for various career announcements or vacancies. If there is an available flight attendant position on the list, you can start uploading all your application documents and fill in the biodata upon clicking it. 
You can also contact Air Greenland at +299 701212 or email Human Resources at hr@airgreenland.gl should you have any further questions or if you have difficulty during the process of your application. 
Step 3: Ace the job interview.
If you've successfully passed your initial application, you will then continue with a series of job interviews. At this stage, the recruiting team will evaluate you and your skills further and assess if you are able to meet all of the company's qualifications and requirements. 
Step 4: Complete Air Greenland's Flight Attendant Course Training
Congratulations! You've passed the nerve-racking interviews. However, this isn't the end of the application. You've yet to complete the flight attendant course training first and finish the entire program before being officially selected. Focusing on this training is crucial since it involves a practical and theoretical course, followed by actual in-flight work that's closely supervised. 
If you've managed to finish the flight attendant course and get selected, you can now begin working as a flight attendant for Air Greenland and start the career of your dreams. 
Monthly Salary of an Air Greenland Flight Attendant
As a flight attendant for Air Greenland, you get to earn an average monthly salary of 19 100 DKK. This salary is already inclusive of many perks such as paid sick leave, vouchers and discounts to other stores, travel perks and packages, hotel accommodations, meal allowance, and life and medical insurance. 
Video: Air Greenland – Safety on board by Air Greenland
This video by Air Greenland showcases the precautionary and safety measures it observes during the flight, which is initiated by its cabin crew team and flight attendants. During the flight, these are the following safety measures to adhere:
Handheld devices must be switched off, and laptops must be placed in passengers' hand luggage. 

All devices must be unplugged during take-off and landing. 

Hand luggage must be placed in the overhead compartment or under the seat in front of passengers. 

All exits and aisles must be kept clear. 

Keep seatbelts fastened and visible during the flight. 

Special seatbelts are provided for infants. 

Smoking or use of e-cigarettes is prohibited.

Oxygen masks will be released in case of air pressure changes. 

Life jackets are stowed under the seats or between your seats. 

In an emergency, passengers must leave all on-carry items behind and proceed to the nearest exit.
Photos: Air Greenland Flight Attendant Photos
Check out these photos of Air Greenland's Flight Attendants in uniform. As you can see, the uniform is meant to be stylish and functional at the same time. It also helps preserve the individual's and the company's image of professionalism and excellent attention to detail.
Frequently Asked Questions
Some common questions applicants have when they apply for cabin crew for Air Greenland are listed below. Find out if you meet the basic requirements in working for the company.
1. How old must I be to apply as a flight attendant for Air Greenland?
Interested job candidates must be at least 21 years old to apply to Air Greenland. 
2. Are there any grooming regulations to follow in Air Greenland?
Although there isn't any information regarding grooming regulations in relation to tattoos or piercings, Air Greenland maintains that you need to be at least 160 cm tall, with a proportionate weight-to-height ratio, to be eligible to apply.
3. Do you need to complete a flight attendant training program at Air Greenland?
Yes, part of the hiring process involves a flight attendant training program which you need to complete. 
4. How long is Air Greenland's training program for flight attendants?
The training program lasts at least seven weeks, alongside another four weeks during which candidates are supervised. 
5. What is the training program for Air Greenland flight attendants like?
The training program consists of both theoretical and practical courses. The theoretical course will be taught to you for three weeks, followed by a four-week course to be held in Copenhagen. Job candidates will also get to experience what it's like working on a real flight under supervision. This makes sure that candidates are equipped with the necessary skills, such as communication, as well as enough knowledge of safety procedures. 
6. What is the average monthly salary of Air Greenland flight attendants?
Air Greenland flight attendants earn roughly 19, 100 DKK monthly, including benefits like accommodation, travel, insurance, and food which will be shouldered by the company. 
7. What are the documents needed for my Air Greenland application?
To apply, you'll need to prepare your updated CV/resume, a cover letter, passport photos, and certification of your education and achievements. 
8. Does Air Greenland accept applicants from other countries?
Yes, Air Greenland opens its doors to candidates across the globe and from different cultural backgrounds. However, local applicants are its top priority since they have a goal of helping the community. 
9. What languages should I have to learn to work as a flight attendant for Air Greenland?
You'll need to be proficient in English as well as the local languages used in Greenland, both in written and verbal forms. Multilingual candidates are also preferred but not necessarily required. 
10. What are the qualifications for an Air Greenland Flight Attendant?
Air Greenland wants its candidates to have a pleasing personality, have good physical and mental health, have social and interpersonal skills, be able to swim at least 200 meters and be able to remain calm and decisive even during stressful or emergency situations.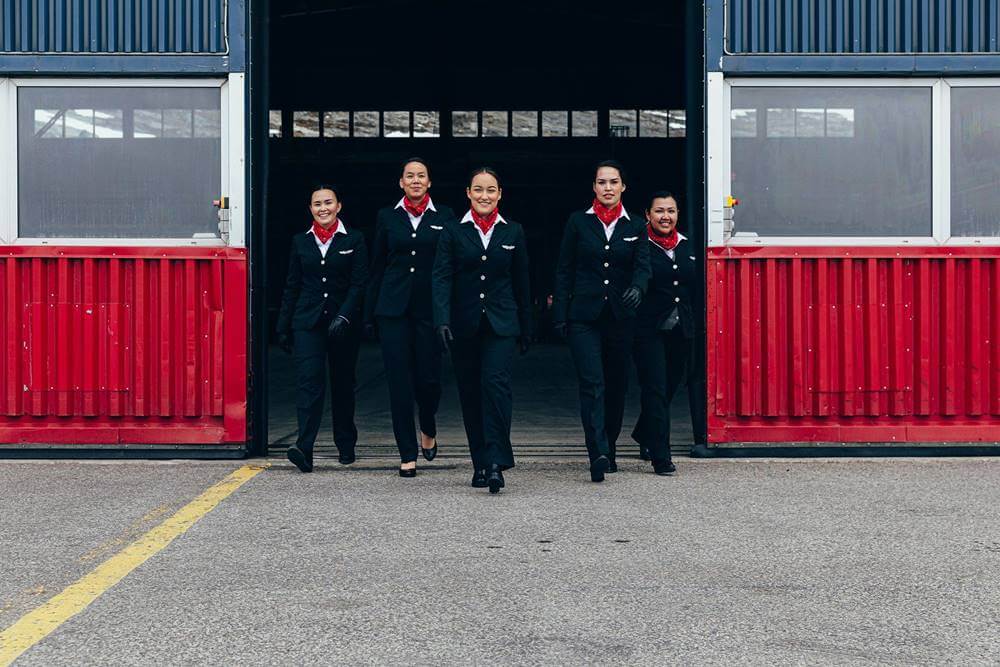 Summary
Air Greenland is a promising airline company where you can have the potential to grow in your chosen career as a flight attendant. To start the journey of achieving your dreams, make sure to read through this helpful guide on the application process so that you won't stumble into any mishaps along the way. Rest assured that you will have a wonderful career experience where you are fairly compensated and cared for by the airline company.
Contact Information
AIR GREENLAND
Address: (of main headquarters): Nuuk Airport, Nuussuaq, Greenland
Telephone Number: +299 701212
Website: airgreenland.com
Facebook: https://www.facebook.com/airgreenland
Instagram: https://www.facebook.com/airgreenland