In this article, we're going to talk about the hiring process as a flight attendant in WestJet. As the second-largest Canadian Airline, the airline consistently strives to be one of the biggest and most successful out there. This is why the job application process is no joke. While the fear of rejection is normal, you can step up your game by preparing ahead for it. Do you have what it takes to be a WestJet Airways cabin crew member? Read on and find out!
Also Read: Reasons Why You Don't Need to Attend a Flight Attendant School
WestJet is Canada's most preferred airline. The company is flying to more than 100 destinations in North America, Central America and the Caribbean. With over 100,000 employees working for this airline company, they are considered as a Top Employer in Canada. They also strive to maintain their reputation as one of the most respected companies in Canada.
To be considered as a flight attendant with WestJet, you have to make sure you know what you are getting into. There are certain job qualifications and work responsibilities that you should know to ensure your application gets considered. To know what these are, visit the links below: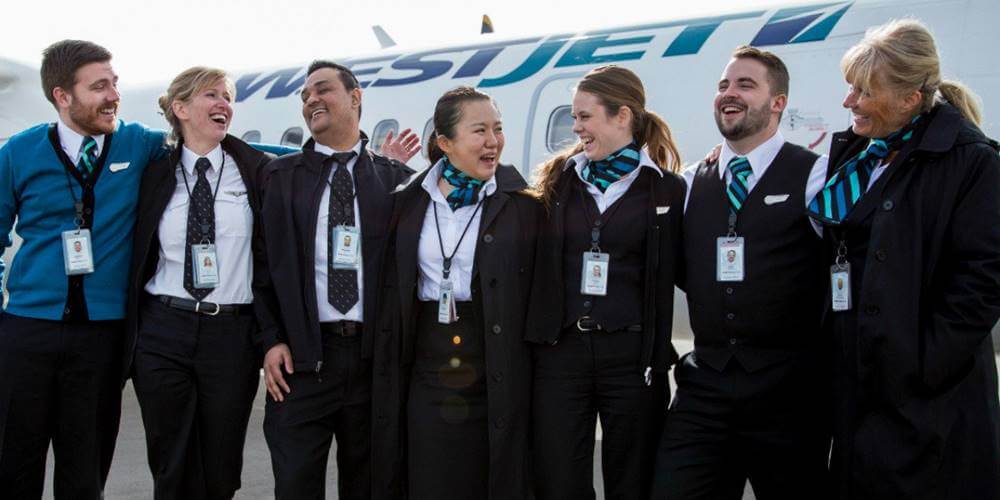 Overview
Previously named WestJet Express, WestJet Airways Ltd. was founded in 1994. However, it only started its operations in 1996. For 25 years, this Canadian airline has been serving more than 25. 49 million passengers annually. Despite starting as a low-cost airline to serve as an alternative to other major airlines, it had eventually earned its spot as the second-largest Canadian airline at present. Next to Air Canada, WestJet Airlines offers flights to more than 100 destinations in Canada, Mexico, Europe, the Caribbean, and many more.
With an average number of 777 flights and 66130 passengers daily, WestJet is now the ninth-largest airline in North America. One specific detail about this airline is that it is not part of any alliances. Despite that, WestJet's 14 000 employees still deliver excellent customer service and ensure the safety and comfort of their passengers through their flight. Through its continuous growth and fast-paced nature, it is no surprise that this airline brings developments every year.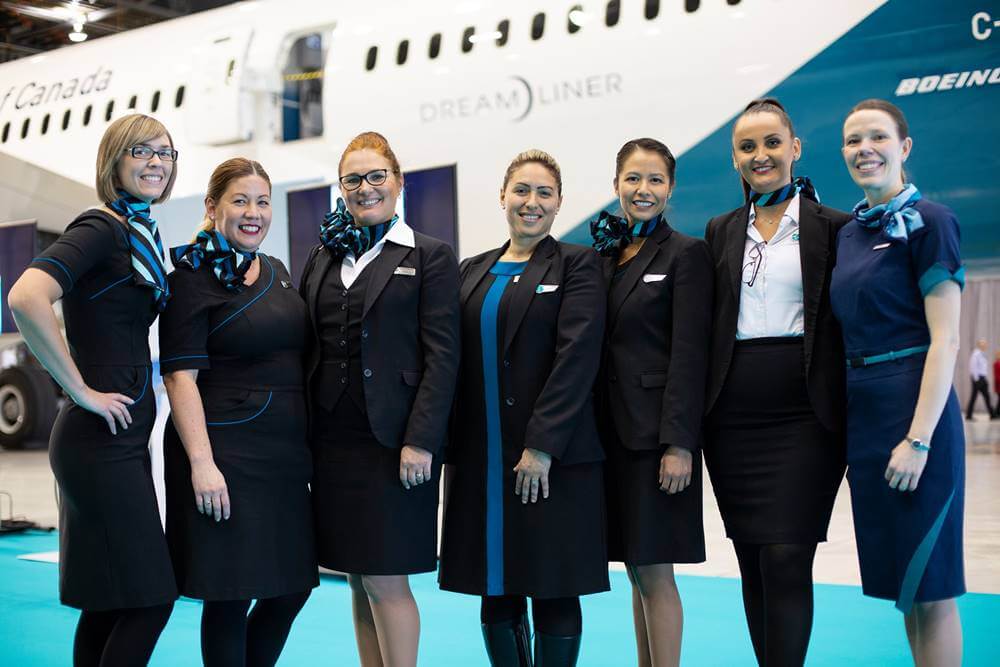 Responsibilities
While you are just one among WestJet's 14,000 employees, you still have your fair share in carrying its image and reputation. So to help build and maintain WestJet's image, the best thing you can do is perform your duties and responsibilities satisfactorily. This starts from being aware of these duties and carrying the airline's values. As a flight attendant, these are your responsibilities:
Conduct safety checks before each flight
Scan the cabin for any safety hazards
Greet your passengers warmly
Escort and assist your passengers with their luggage
Help them find and settle into their seats
Prepare and serve drinks and food to your passengers according to what is requested.
Take note of any medical needs, likes, and dislikes of passengers
Present emergency equipment and brief passengers on how to use the equipment
Monitor, manage and secure the cabin
Adhere to all aviation rules and regulations
Assist passengers and cabin crew during emergencies
Assist passengers with special needs (children, disabled persons, elders, etc.)
Attend briefings before each flight
Submit and prepare reports concerning flight incidents
Extend help and assistance as many times needed
Become culturally aware
Treat passengers with respect and without discrimination.
Qualifications
Pursuing your dream job can be a hassle, especially if many people are eyeing it. However, one edge you can have is knowing what the airline is looking for in their employees. This way, you'll be able to prepare ahead for it. Here are the qualifications to become a WestJet Cabin Crew:
Must be fluent in English (written and spoken, fluency in other languages is a plus!)
No visible tattoos while you're in your uniform (cosmetic and bandage coverings aren't allowed)
Comfortable to work irregular hours
Weight must be proportional to the height
Able to serve passengers with hospitality
Excellent dental and medical records
Must not have bad acne (should be coverable or unnoticeable with makeup)
Can adapt to new people, new places and new situations
Thrives in a fast-paced and changing environment
Excellent personal presentation, style and image
Willing to become culturally aware
Ensure onboard safety and follow all procedures
Must be a Canadian citizen or must have a valid Canadian permanent residence card
Must have a Canadian or international passport
Must have a clean criminal background (background checks will be done!)
Must complete a physical test administered by the airline
Must be successful in taking the Emergency First Aid Course and Airways Emergencies courses before the training period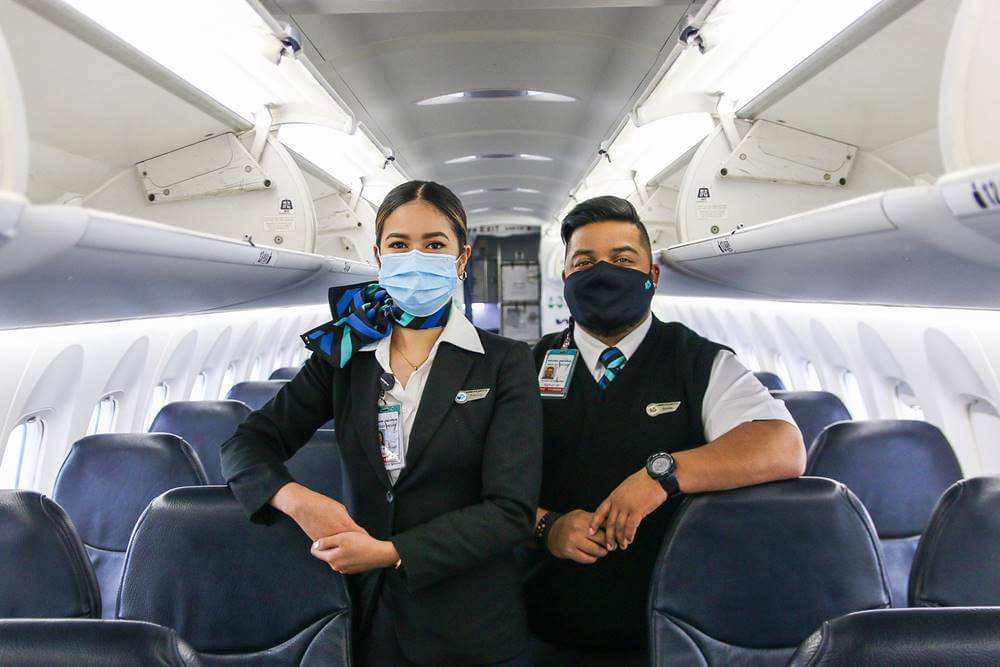 Overview
Document Requirements to Prepare
Here are the documents which are commonly asked from you during your application process:
Updated CV/Resume
Head and full-body photographs
Good Conduct Certificate or Criminal Record
Medical and Dental Records
For your photographs, here are the common standards you may want to keep in mind:
Should be wearing professional business attire (including a jacket and tie for men).
Should be standing facing straight towards the camera, with your hands down by your side.
Should be smiling with a large but natural smile (ideally showing teeth).
A white background is highly advisable.
The full-length photographs should measure 6×4 inches (15×10 cm), while the passport-sized photos should measure 45×35 mm (1.77×1.37 inches).
Where to Apply for a Job for WestJet Airways Online?
To check for job vacancies and details, you can visit and view their website here.
Moreover, you can also check their LinkedIn profile for other important announcements. Just click the link here.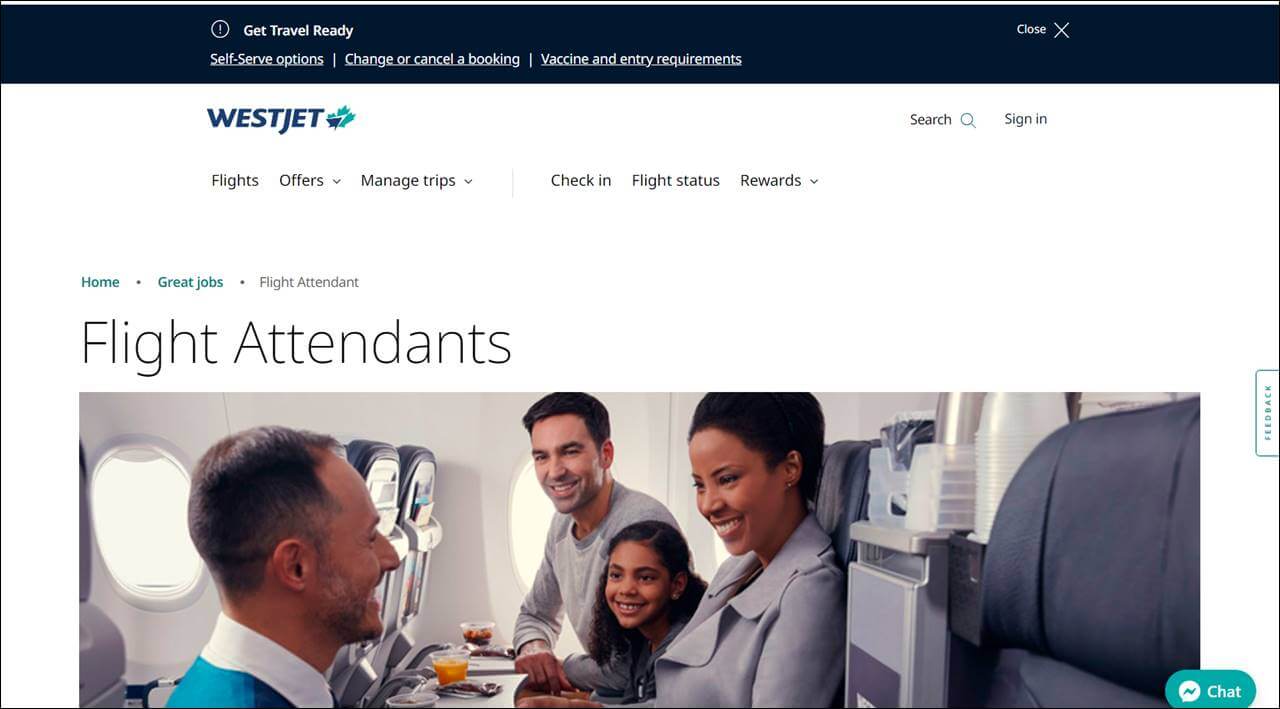 How to Become a Flight Attendant for WestJet
Please be advised that the job application process for WestJet is conducted online. Usually, they would ask you for information and other essential work information to assess whether or not you are qualified for the job you are applying for. You will definitely be profiled and invited for further interview and screening process if they see you qualified for the post. Please follow the general steps below:
Step 1 – Submit your application online through their Careers page.
Step 2 – Once profiled, you will invite your for a series of interviews and screen your profile.
Step 3 – After passing the interviews and get hired, you will need to pass the cabin crew training.
Step 4 – Once you pass the training and exams, you will be given your work duties until you become a regular flight attendant employee.
At present, WestJet Airways conducts its job application process online. This means that you may be required to attend a video interview. It involves introducing yourself, answering a few questions such as your background, height, as well as if you have any extra piercings or tattoos. You might also be asked why you decided to apply in this company and what you know about WestJet Airways.
Monthly Salary of a WestJet Airways Flight Attendant
The starting salary of a WestJet Flight Attendant is $55,313 per year. These salaries can range from $21,884 – $114,720 yearly, depending on several factors. The number of years in service, position, extra hours in service, and bonus pay all play a role in a flight attendant's salary.
Additionally, you are also entitled to these benefits:
Free laundry of uniform
Uniform reimbursement available
Equity-based scheduling
Two weeks vacation with an increase after three years
Ten statutory holidays
Training for Hospitality and Customer Service
Training for Safety and Emergency Procedures
Video: Training as a Cabin Crew for WestJet
This three-minute video contains information, insights, and other essential details regarding WestJet Inflight Cabin Crew Training.
As mentioned earlier, before officially serving passengers, you will first undergo a four-week training program. This training will hone you in accordance with WestJet's standards and introduce you to your duties and responsibilities. The video also contains real-life clips of first-aid training, emergency training, and other tasks you have to perform.
Disclaimer: This is a video uploaded by a flight attendant vlogger who shared her experience being a cabin crew member. Take note that every crew has a different experience, but this will help give you an idea what to expect when you work for WestJet.
Photos: WestJet Cabin Crew in Uniform
Check out these beautiful pictures of WestJet airlines flight attendants in uniform. If you wish to imagine yourself being part of this company, check out these photos to give you a glimpse of working for this airline:
Frequently Asked Questions
Here are some common questions and answers about the hiring process in WestJet Airlines:
1. What if I am a temporary Canadian resident? Will it affect my chances of being hired by WestJet?
Unfortunately, WestJet is strict when it comes to this requirement. You must secure a permanent residence card or apply for Canadian residency to be considered.
2. Will my salary increase if I work for WestJet?
Yes, it will. Many factors play a role in increasing your salary, including how long you are in service, your position, and incentives.
3. Is the job application process in WestJet purely online?
In adherence to the present health protocols, the job application process will be conducted online to adhere to present health protocols. The safety and security of everyone is also WestJet's priority.
4. Will I get adequate training once I am hired by WestJet?
Yes, you will. Before officially serving as a cabin crew member or a flight attendant, you will undergo a 4-week training period paid by the company.
5. Is it okay if I am fluent in English but not in other languages when I work for WestJet?
Yes, it is. What matters the most is your fluency in English. Mastery of other languages is only an advantage.
6. Will my nationality affect my chances of being hired by WestJet?
No, it won't. As long as you are a Canadian resident or hold a permanent residence card, your nationality will not affect your chances of being hired.
7. Can I reapply in westJet in the event of my application being rejected?
Yes, you can. As many times as you want! Just make sure you work on your strengths and weaknesses. An interval of six months is advised before reapplying.
8. Is it okay to wear makeup and jewelry to the interview when I apply as a WestJet ?
Yes, it is. As long as you look neat and professional.
9. What happens after I get hired by WestJet?
Aside from undergoing training, you'll be able to start working as a cabin crew member at WestJet Airways.
10. Will separate background checks and medical and dental assessments be administered by WestJet?
Yes, it will. This is just a precautionary measure to ensure that your records and state are up to date.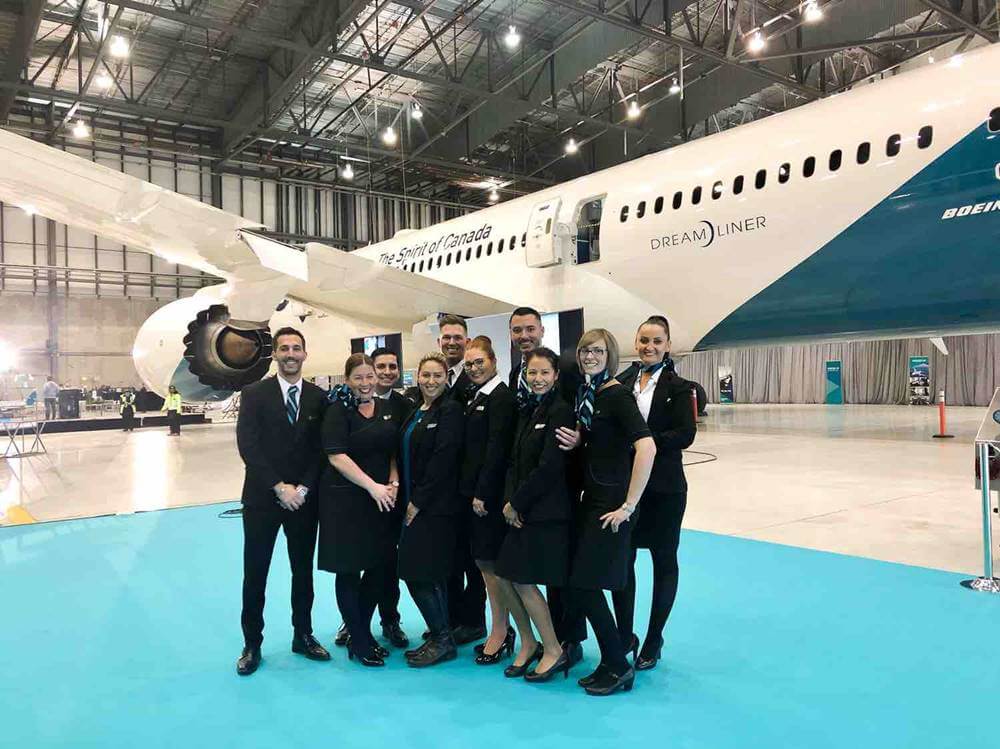 Summary
Nothing comes for free―especially if it's your dream job! Everyone may have been born dreamers, but dreams become realities for those who work hard for them. One of the greatest achievements you can have in your life is landing a job you love. If you've long dreamt of being a flight attendant, then this good read is for you.
If you are looking to work in an amazing environment while fulfilling your dream to travel the world, then think WestJet. The company continues to be the best at what they do as each of their team members offer their dedication and commitment in proving exceptional customer service and being professional at all times. They want only the best travel experience for their guests.
If you want to have a promising career as a flight attendant, then you should apply with WestJet Airlines. This company consistently ranks as one of the most profitable airline companies in the world. WestJet has received a Skytrax Award for Service Excellence. Currently, they are considered one of the major airlines in North America and aims to become one of the top 5 international airline. They want you to join them in fulfilling this vision.
Contact Information
WestJet Airways
Address: 22 Aerial Place NE, Calgary, Alberta T2E3J1
Telephone Number: +1 888-937-8538
Website: https://www.westjet.com/
Facebook: https://www.facebook.com/westjet/
Instagram: https://www.instagram.com/westjet
Twitter: https://twitter.com/westjet
Youtube:https://www.youtube.com/westjet
LinkedIn: https://www.linkedin.com/company/westjet