Delta Air Lines flight attendants wear a stylish and distinctive uniform that sets them apart from other airlines. The uniform, designed by fashion designer Zac Posen, showcases a modern and sophisticated look. It features a bold color palette which projects confidence and adeptness.
Also Read: Flight Attendant Salary in USA: How Much They Earn
Did you know? Delta Air Lines is one of the major airline carriers in the US that allows gender-neutral uniforms, breaking the stigma and stereotypes between genders. The requirements for the uniforms worn by Delta Air Lines flight attendants have changed over time to better serve the needs of the company's employees. Now, regardless of gender identity, flight attendants are free to choose items from a variety of uniform collections, as long as they are paired with the appropriate clothing and accessories.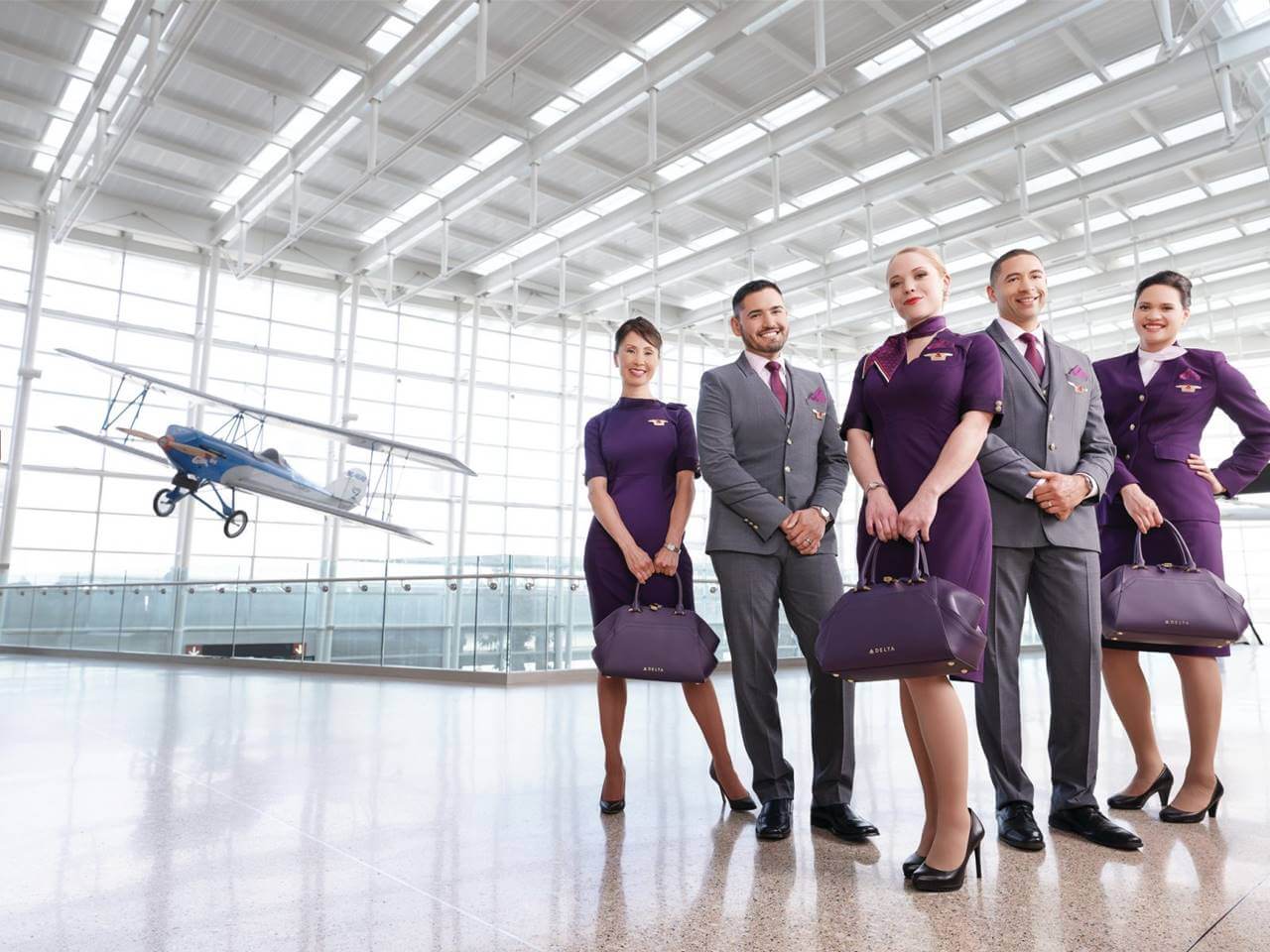 Features of Its Uniform
Delta Air Lines flight attendant uniform is designed with several notable features that ensure both convenience and graciousness. The uniform includes:
A custom-made blazer or jacket and scarves
Available in a range of color options, it allows flight attendants to choose from various shades that complement their style while maintaining a cohesive brand image.
Includes practical accessories, such as aprons and scarves
The aprons come with convenient storage pockets to carry essential items like pens, notepads, and in-flight service tools.
Also Read: Seattle Layover Guide: Best Things to Do in 24 Hours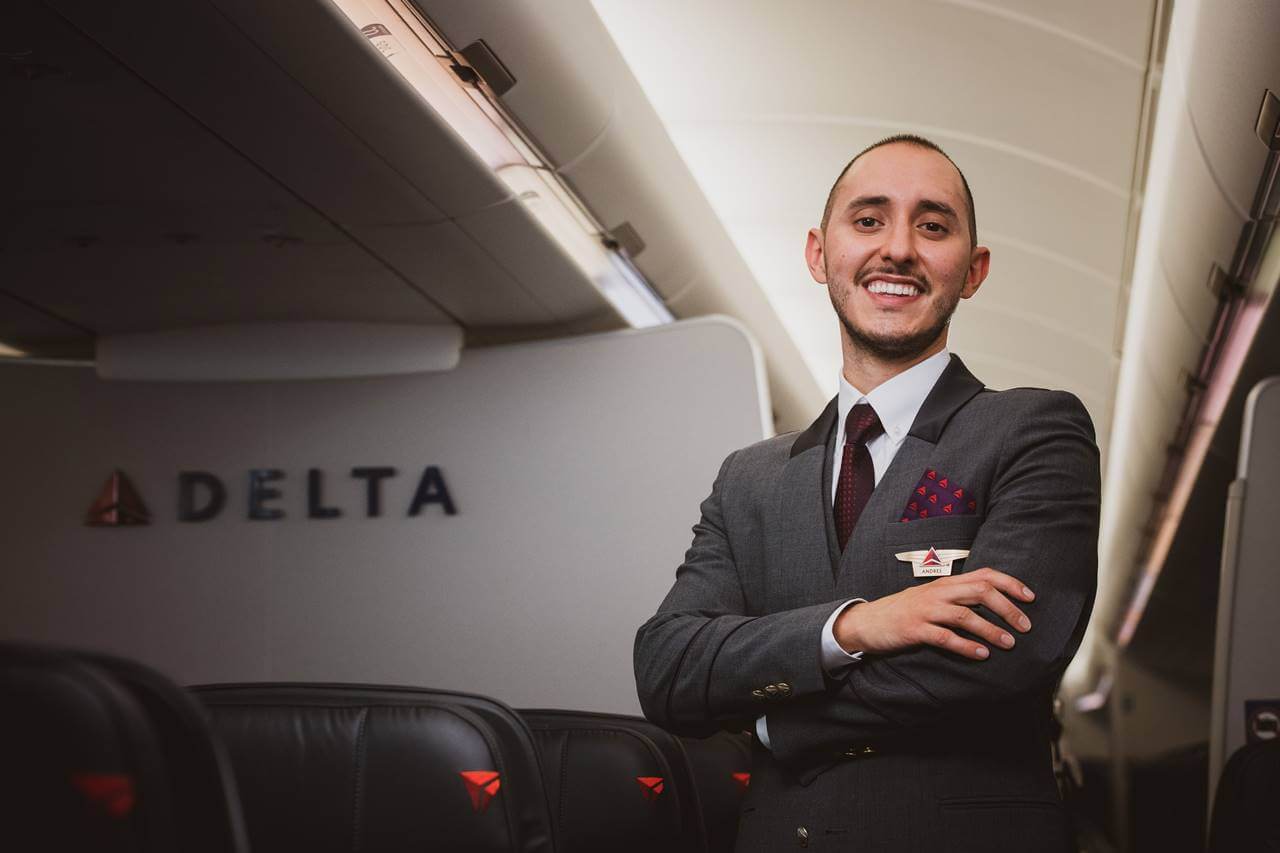 Female Delta Air Lines Cabin Crew Uniform
The female Delta Air Lines cabin crew uniform features a personalized navy blue dress with a fitted silhouette, accentuating the crew members' rectitude and efficiency. The dress is complemented by a vibrant red scarf, adding a pop of color and serving as a symbol of the airline's branding. The uniform also includes black heels, creating a sleek and polished look that embodies the high standards of Delta Air Lines.
The following is a complete list of the female cabin crew uniform of Delta Air Lines.
Blazers
Apron (IFS)
Badges
BCRF
Belts
Shirts/Blouses
Dresses
Skirts/Pants
Cardigans
Outer garments
Outerwear
Pens
Pins
Jewelry
Pocket Squares
Purses or bags
Scarf
Shoes
Hosiery/Socks
Vests
Ties
Watches
Wings/Name Bar
Luggage tags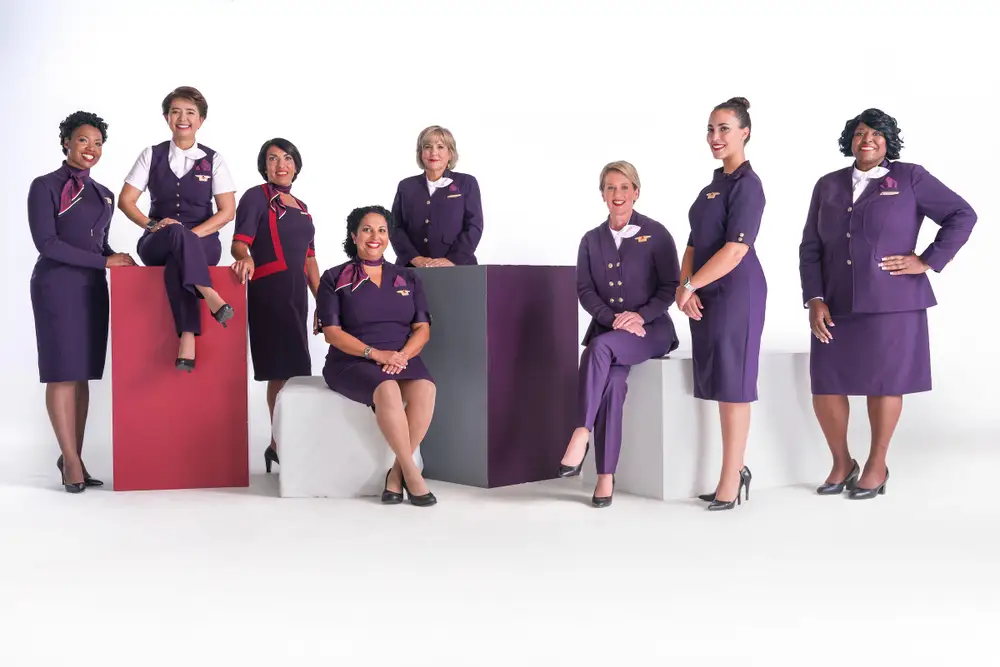 Male Delta Air Lines Cabin Crew Uniform
Delta Air Line's cabin crew uniforms are in bold colors such as deep navy blue, purple, and bright red. The male crew members wear tailor-made navy blue suit with a crisp white shirt and a bold red tie. The uniform projects sophistication and competence, reflecting Delta's brand image as a reputable airline. Specifically, the uniform is designed to ensure comfort and practicality, allowing the crew members to perform their duties capably throughout the flight.
Button Collar Dress Shirts
Blouses
Blazers
Vests
Pants
Apron (IFS)
Badges
BCRF
Belts
Cardigans
Outer garments
Outerwear
Pens
Pins
Jewelry
Pocket Squares
Purses or bags
Hosiery/Socks
Ties
Watches
Wings/Name Bar
Luggage tags
Also Read: New Orleans Layover Guide: Best Things to Do in 24 Hours
Presentation and Grooming Policy
Facial Grooming
All facial hair must be kept well-groomed and maintained.
Handlebar-style mustaches are prohibited.
Sideburns may not reach the earlobe.
The cheeks and throat should be shaved cleanly.
Beards and soul patches should not be more than 2 inches long.
Contact Lenses/Glasses
Contact lenses must match the color of your eyes.
Adornments in glasses such as diamonds, rhinestones, beads, glitter, and studs are not permitted.
Glasses can be suspended by a thin black, gold, or silver chord or chain.
Sunglasses are only allowed to be worn outside. It may not be worn when talking with a customer.
Hair
Hair must be dry, clean, neat, and out of the eyes.
The color must appear natural. There are no streaky highlights or unnatural colors.
Short bangs or side-swept bangs are acceptable but must be kept out of the eyes.
Hair that is touching or longer than the shoulder must be pulled completely back and secured away from the eyes, such as in a ponytail, bun, braid, or similar hairdo.
If your hair is up but still extended past your mid-back, it must be pinned up.
Hairstyles cannot extend beyond shoulder width.
No patterns or designs on shaved parts of the head.
Accessories, Shoes, and Nails
Charm bracelets are not allowed.
Earrings larger than a dime are also prohibited as well as multiple ear piercings.
Necklaces longer than 18 inches and thicker than 1/4 are not allowed.
Visible facial and body piercings are also prohibited.
Nails longer than half an inch are not permitted.
Neon colors, glitters, and adornments as well as hand-painted and airbrushed nails are also not allowed.
Patent leather, suede shoes, and boots with dresses or skirts are strictly prohibited. Visit the Delta Zappos at Work website at zappos.com/delta for the list of approved shoes available.
Important Notes to Remember
Alterations are intended to improve the fit of your uniform and should not change the overall appearance of the garment.
Skirts and dresses should not be higher than the knee.
Your long-sleeve shirt's or blouse's sleeves shouldn't be rolled up or cuffed. Sleeves from a dress shirt or blouse may protrude from the blazer by no more than half an inch.
All shirts must be neatly tucked into the pants or skirt's waistband.
BCRF-approved uniforms and accessories purchased from Lands' End and The Pink Boutique may be worn only in October and on Mother's Day.
Whenever you are in uniform or wearing an ID badge or other item that identifies you as a Delta employee, regardless of whether you are on duty or not, remember that you represent Delta and keep your words and actions professional.
Employees must be in full compliance and have a presentable appearance when in public and wearing uniforms.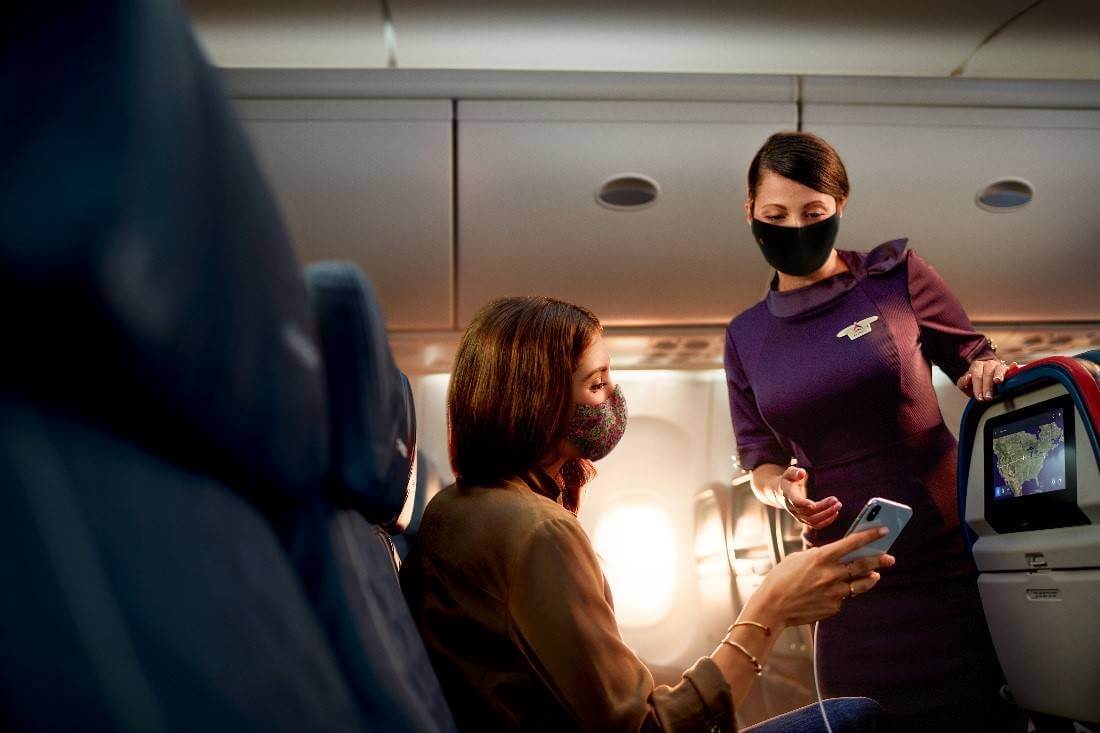 Video: A Day in the Life of a Delta Flight Attendant
Being a flight attendant for Delta is a fulfilling job that will introduce you to people and locations all over the world. Hear from the flight attendants as they describe a typical day in their line of work. Also, notice how well they present themselves while wearing their uniforms and their daily preparations based on their stories.
Summary
Overall, the Delta Air Lines uniform is a true reflection of the airline's dedication to excellence and creates a lasting impression on passengers, setting the stage for a memorable and enjoyable flight experience. The uniform incorporates a bold color palette with deep purples and rich reds that set it apart from other airlines' uniforms.