Satena is Colombia's largest regional airline, the abbreviation that stands for Servicio Aereo a Territorio Nacionales, or National aviation service for regions. It was established in 1943 as a branch of the Ministry of Defense. The government assigned it the duty of providing passenger, mail, and freight services in Colombia's east, south, and southwestern regions. These were the country's undeveloped regions.
Also Read: New York Layover Guide: Best Things to Do in 24 Hours
The airline transports around 1 million passengers every year per year since 2007. It has a 12% market share with 43 destinations, 130 routes, and roughly 40,000 flights each year. The company's aim is to "assist develop and integrate all parts of the country through the air with quality, efficiency, and safety." If you're in doubt if this airline is reputable and well-establish enough to secure your career as a flight attendant, the short answer is Yes. Here are the qualifications and requirements you need to settle before trying to apply.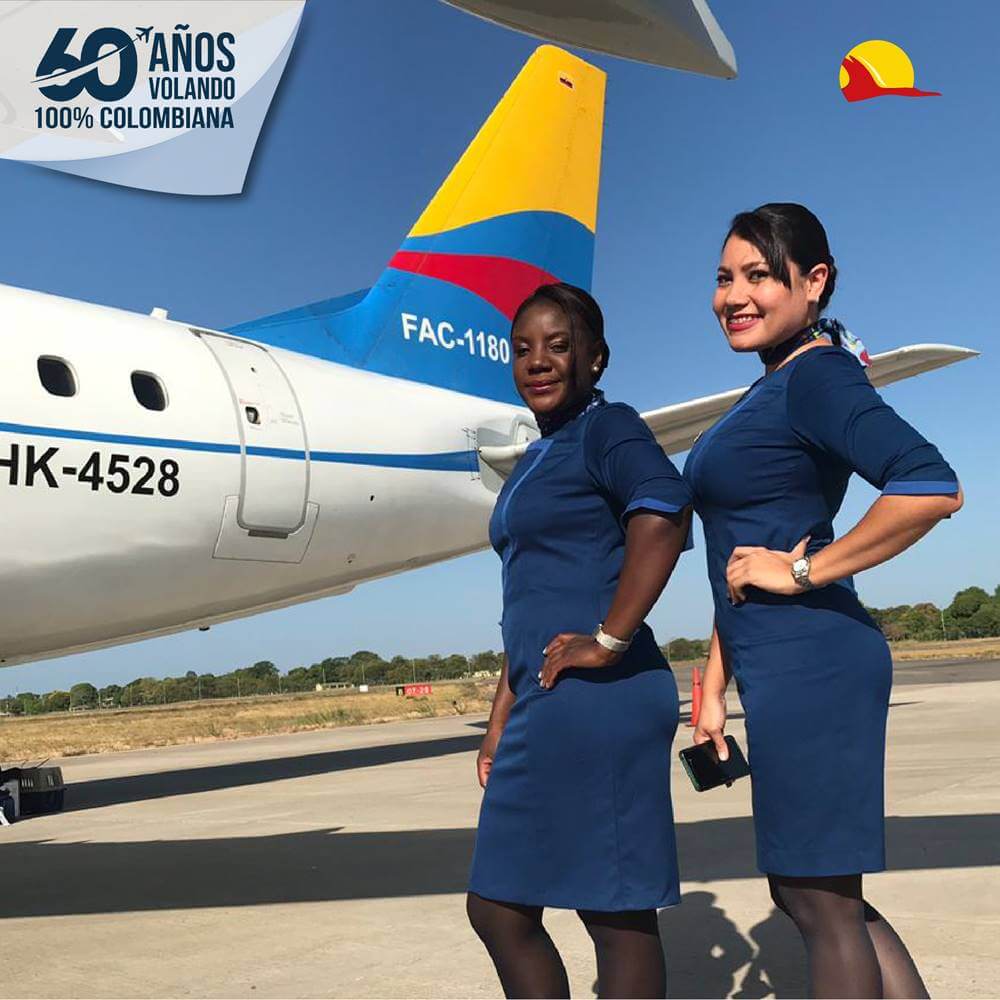 List of Requirements and Qualifications to Become a Satena Colombia Cabin Crew
Must have at least High School Diploma.
Must have a valid passport.
Your height must be proportional to your weight.
No eyeglasses, though contact lenses may be allowed.
Must follow Satena Colombia's uniform standards and policies on physical appearance.
Must have a decent look during duty.
Keep the aircraft common areas tidy at all times including, toilets, etc.
Must be physically and mentally healthy.
You will be required to undergo a drug test, and you should be willing to do it every time it is needed.
You must be willing to submit medical test results.
You must be able to serve food and beverages to passengers.
You must be able to swim a specific distance given by the airline.
Willing to undergo a background check.
You must be able to handle stress, pressure, and emergency situations professionally.
Responsibilities:
Give passengers warm greetings. Passengers love the warm and welcoming environment since most passengers are not locals.
Assist passengers in finding their seats and loading their baggage in the overhead bins.
Explain the airline and government safety regulations during the flight.
Make passenger announcements in a standard manner.
Demonstrate safety equipment to passengers.
Respond to passenger inquiries or resolve conflicts.
Passengers should be served food and beverages.
Assist passengers to safely disembark from an aircraft.
Examine the aircraft for any lost or suspicious luggage.
As a Flight Attendant, you also need to make flight reports.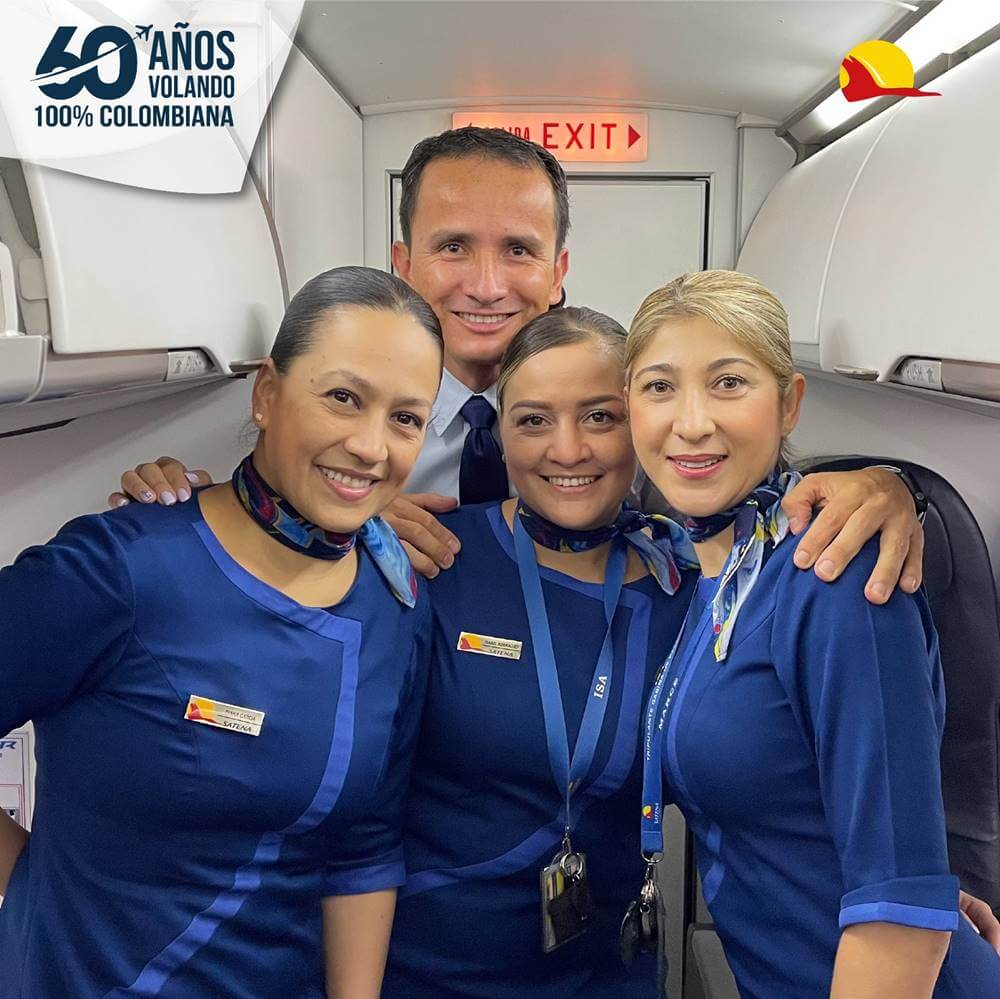 Application Process
Step 1: Go to Satena's official website https://www.satena.com/ and check if there is a job posting available. This is the safest way to get engage with a recruitment team for your chosen airline.  You can also visit their official Facebook page for job postings: https://www.facebook.com/aerolineasatena/
Step 2: Since Satena's official website currently does not have a Career page option. You can just go to their social media accounts and look for job-hiring posts.
Step 3: Always remember to fill in all the necessary information in your application, regardless if it's online or a hardcopy paper. Make sure to provide true and error-free information because this process will help you proceed in the next qualifying round.
Step 4: After that, all you have to do is submit your application, and the recruitment team will make review it.
Step 5: Since airlines receive a lot of applications for different job positions, the processing of online applications may take some time. So be patient, and wait. If you are told to make a follow-up after a designated period of time, do it.
Step 6: While waiting for the airline's confirmation of your application, get ready for the interview. Study more about the company's history and services.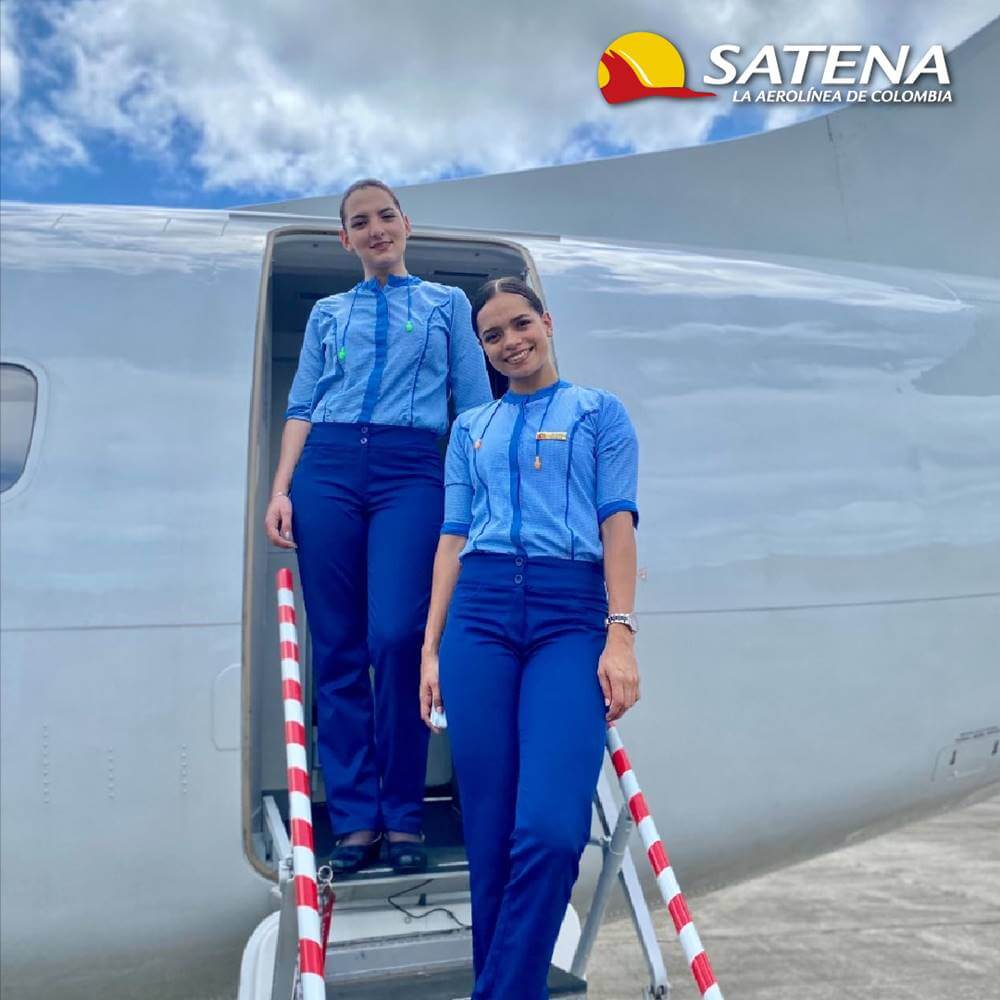 Salary and Benefits
An entry-level flight attendant (1-3 years of experience) earns $ 32.723.697 on average. A senior-level flight attendant (8+ years of experience), on the other hand, earns an average income of $ 56.383.303. Other benefits include:
Free flights and travel opportunities
Health insurance
Flight benefits for family and friends
Flexible schedule
Food expense reimbursement
Retirement plans
Overnight hotel stays
Compensation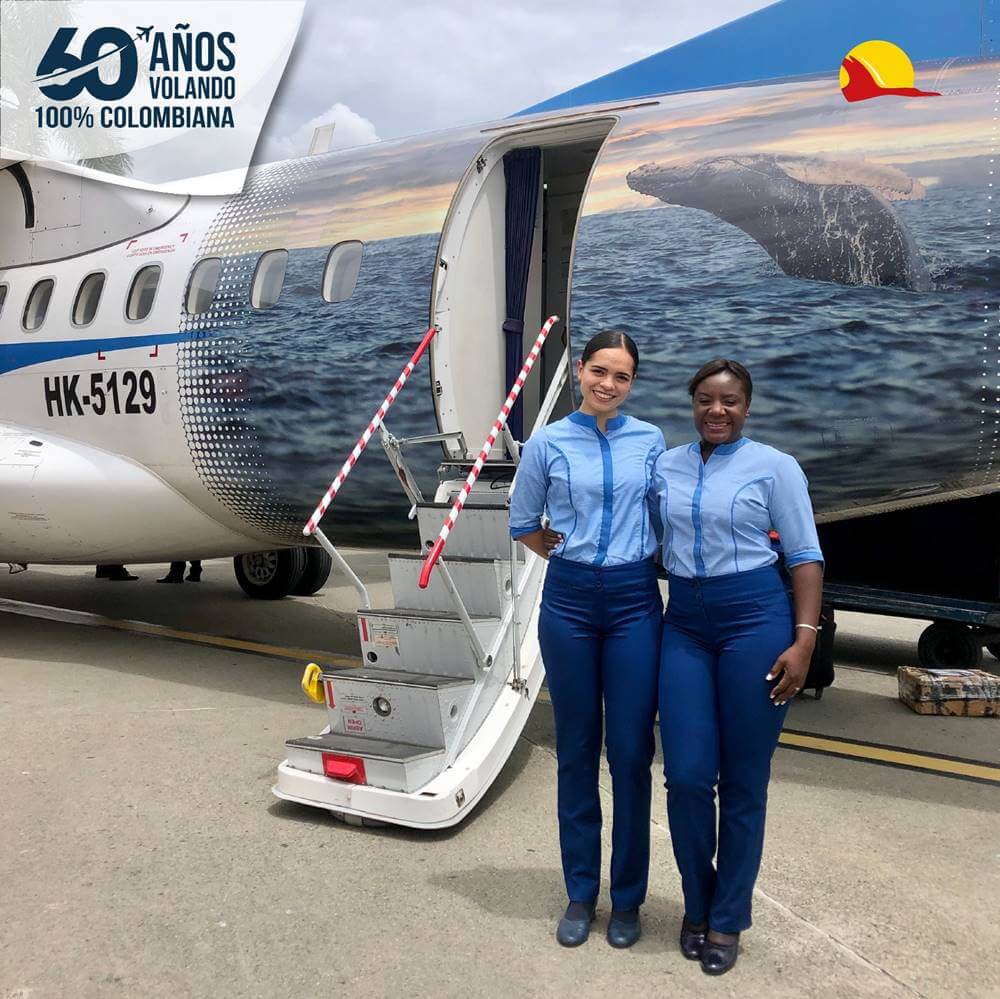 Video: |TRIP REPORT| Satena Embraer-145 | Bogotá – Medellín | Insane Visual Approach |HD|
This is a trip report of will show a glimpse inside the Satena airline's flight. You would notice that the aircraft has a bit narrow aisle inside, but the seats remain comfortable enough for each passenger. This is one of the reasons why FAs have a required height and weight since spaces and ceiling height inside the plane are very limited.
Photos: Satena Colombia Cabin Crew Uniforms
Check out these pictures of Satena Colombia crews so you can see what they look like in uniforms:
Frequently Asked Questions
The following are some of the common questions asked about Satena Colombia:
1. Can I apply for a cabin crew position even without experience?
Most airlines accept aspiring applicants who want to start a career in the aviation industry as a Flight Attendant. Art the time of submitting your application, you will see details through their job postings if there is required experience in the aviation industry before applying. It is worth noting that any customer service experience is also advantageous.
2. Where is Satena located?
Satena is a Colombian government-owned airline headquartered in Bogotá. It only operates on domestic routes. El Dorado International Airport serves as its primary hub.
3. I don't know how to swim, will they teach us?
One of the requirements for aspiring FAs is the ability to swim without assistance.
4. How much can I earn as a flight attendant without experience?
In Colombia, an entry-level flight attendant with 1-3 years of experience earns $ 32.723.697 on average. A senior-level flight attendant with 8+ years of experience, on the other hand, earns an average income of $ 56.383.303. The precise salary rate will be discussed during your contract signing.
5. How to know if my online application form was in?
You will receive a notification from their recruitment team, this may take some time, be patient.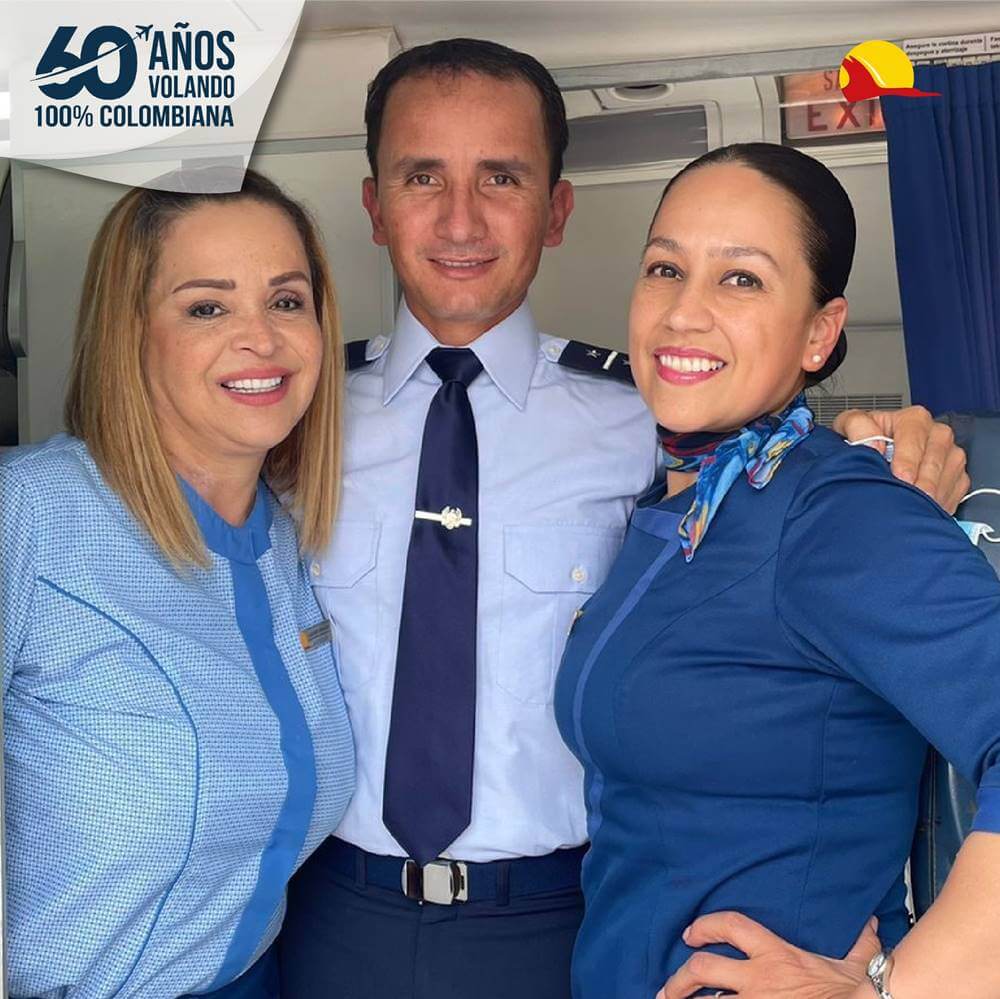 Summary
Without Flight Attendants, airlines would not have customer service and no one will assist with the needs of every passenger during the flight. An FA position aims to ensure that all passengers have a safe and pleasurable flight. If you are thinking of pursuing a career in the aviation industry in Colombia, the above guidelines will be a great help.