Since its inception in 1967, Southwest Airlines has risen from a small regional carrier to one of the most prominent and revered names in the aviation industry. With its distinctive heart-shaped logo and vibrant colors, Southwest has become synonymous with friendly service, affordable fares, and a commitment to making air travel accessible to all. The airline's unique approach to business, characterized by a strong customer-centric focus and a distinct corporate culture, has set it apart in a highly competitive market.
Also Read: How to Apply Southwest Airlines Flight Attendant Jobs
Southwest Airlines is a go-to for many people because of its low fares and high-quality service. The airline is a favorite among frequent fliers and is consistently listed as one of the best in the world.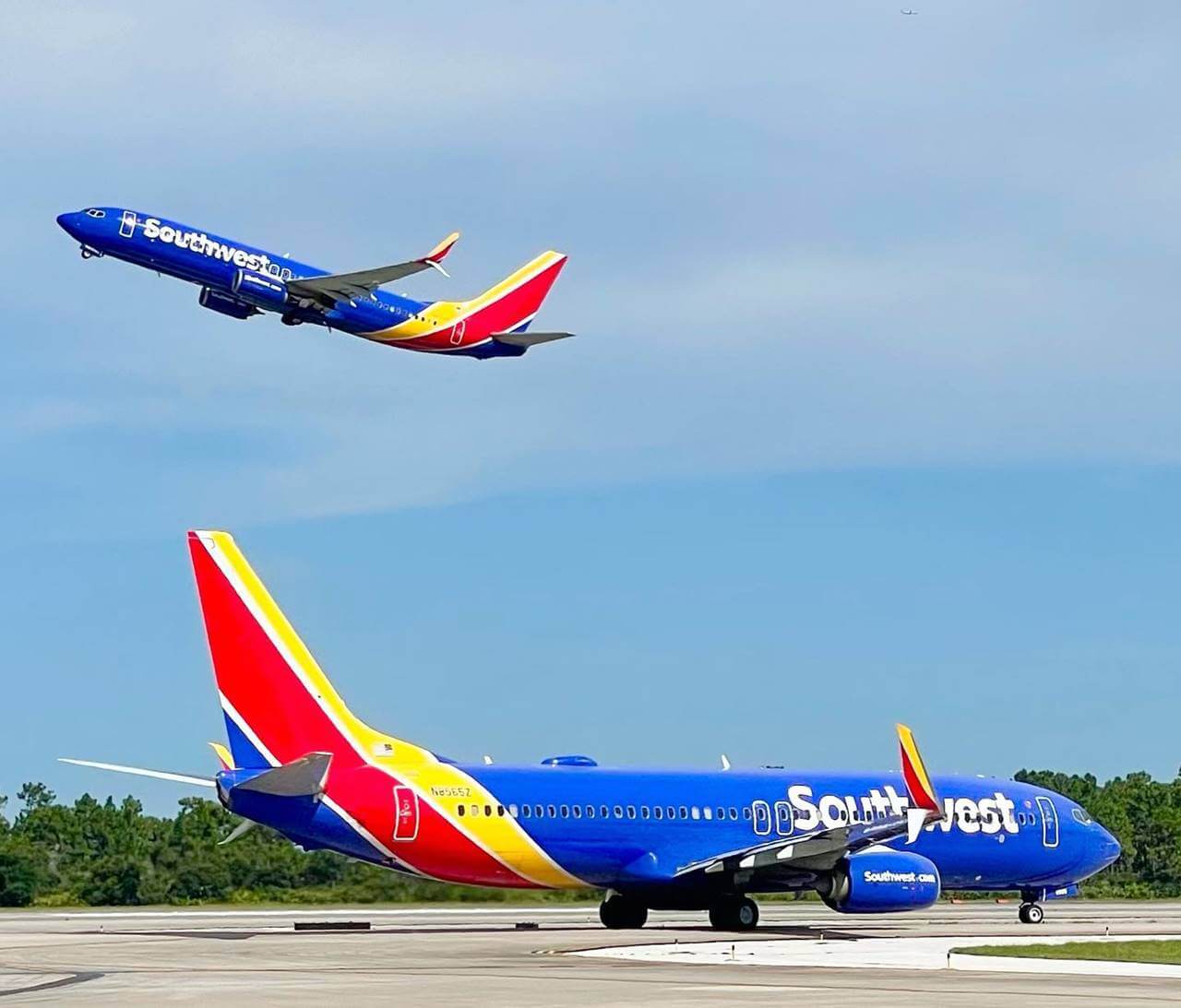 Quick Facts
Airline Name:

Southwest Airlines

Airline IATA Code:

WN

Headquarters:

Dallas Love Field, Dallas, Texas

Founded:

March 9, 1967

Number of Destinations: 121 in the United States and 10 other countries
Fleet Size:

771

Fleet Types:

Boeing 737

Location Hubs/Bases: William P. Hobby (Houston), Harry Reid International (Las Vegas), Denver International (Denver), Oakland International (Oakland), Sky Harbor (Phoenix), Washington International Thurgood Marshall Airport (Baltimore), Chicago Midway (Chicago), Los Angeles International (Los Angeles), Fort Lauderdale Hollywood (Fort Lauderdale), Austin Bergstrom International (Austin)
Brief History Overview
Founded in 1967 by Herb Kelleher and Rollin King, Southwest Airlines emerged as a small Texas-based regional carrier operating flights between Dallas, Houston, and San Antonio. The airline weathered significant challenges throughout the 1970s and 1980s, including the effects of the oil crisis, but its commitment to low fares and exceptional customer service remained steadfast. 
Over the years, Southwest Airlines continued to grow, embracing technological advancements and introducing innovative services like the Rapid Rewards loyalty program. Today, it is one of the world's largest and most successful airlines, renowned for its vibrant corporate culture, reliable operations, and unwavering customer dedication.
Products and Services
Low-Cost Airfare: Southwest Airlines provides passengers with the opportunity to travel to over 120 locations in the United States, Mexico, Central America, and the Caribbean at a reduced rate. Additionally, the airline provides its customers with discounts and special deals, such as early bird specials and companion rates.
Domestic and International Flights:

Southwest operates flights to numerous destinations across the United States and several international locations, making it possible for travelers to reach their desired locations efficiently and affordably.

Free Check-In Baggage:

Southwest Airlines gives each traveler two complimentary baggage to check at no additional cost. In addition, each passenger can have one carry-on bag and one personal item on the flight.

Rapid Rewards Program:

Southwest's loyalty program, Rapid Rewards, allows frequent flyers to earn points on qualifying flights, which passengers can redeem for future travel, upgrades, and other rewards.

In-Flight Services: Southwest offers in-flight Wi-Fi on select aircraft, enabling passengers to stay connected, browse the internet, and work during their flights. Travelers can enjoy a variety of in-flight entertainment options, including movies, TV shows, and games, accessible via their devices through Southwest's onboard entertainment portal.
Cargo Services:

Southwest Airlines offers cargo shipping services for time-sensitive and temperature-controlled freight through its Southwest Cargo division.
Work Culture
Founded on treating employees like family, the airline fosters a unique and inclusive atmosphere that sets it apart from its competitors. Southwest's employees, often called Warriors, embody the company's values of dedication, teamwork, and a genuine passion for customer service. The company emphasizes open communication, transparency, and a flat organizational structure, encouraging employees to voice their ideas and contribute to its success. 
Southwest's distinctive approach to recognizing and celebrating achievements further strengthens its positive work culture. From spirit parties to creative events, the airline cultivates an environment encouraging camaraderie and fun. Employee empowerment and support are deeply ingrained in the company's philosophy, resulting in high job satisfaction and employee loyalty.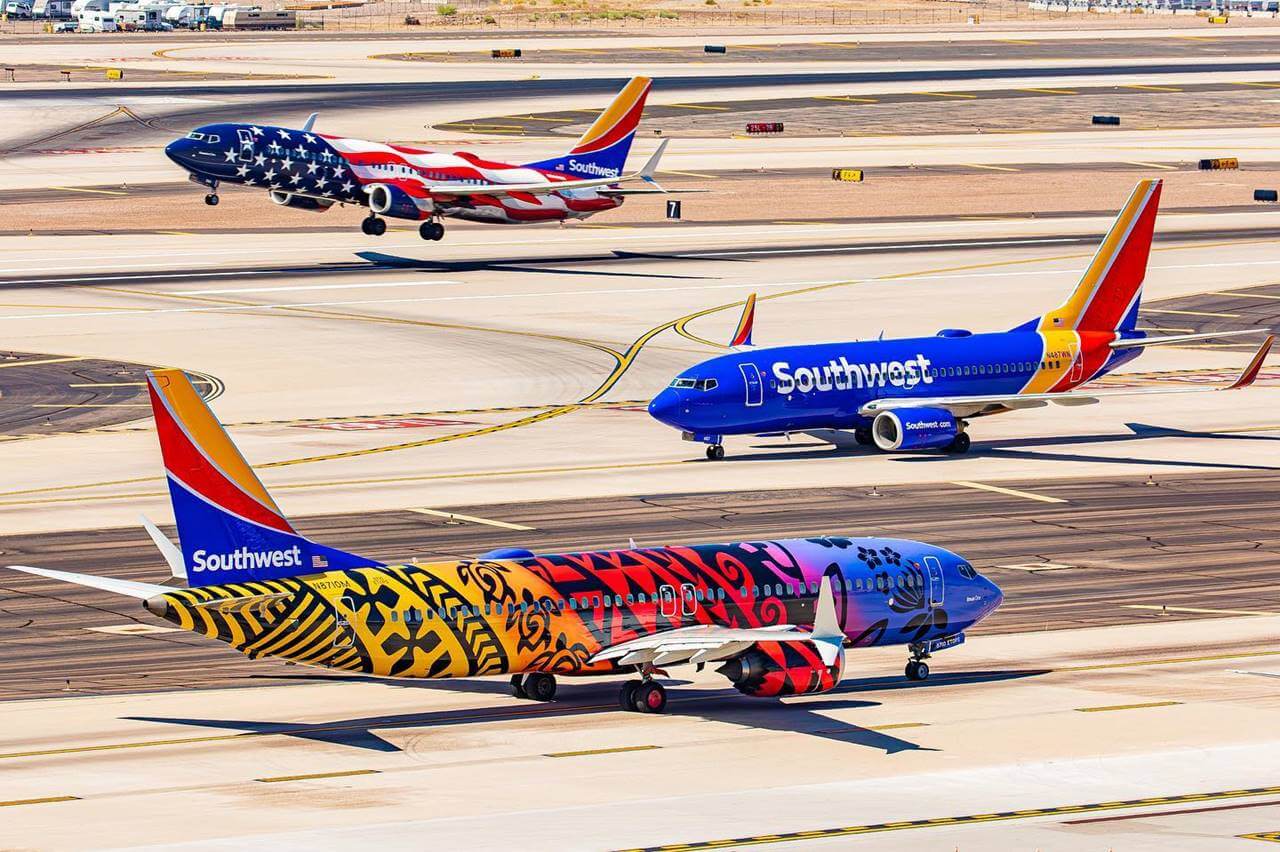 Benefits For Employees
Travel Privileges: Southwest Airlines provides employees and their dependents with free and discounted air travel. Spouses, registered partners, children under 19, and parents are all considered dependents. Employees can choose their adventures using pass deals with other airlines and discounts with rental car companies, hotels, theme parks, and more.
Southwest Airlines Gratitude Points:

Employees can send a quick note of thanks or nominate a colleague for an award with SWAG Points using the employee recognition platform. Employees can use SWAG Points to buy goods, gift cards, or events or trade them in for Rapid Rewards points. 

Financial Rewards:

Besides a competitive salary package, employees and their families may enjoy a benefits package, including health insurance and dental and vision coverage. Employees participate in the Profit Sharing program, allowing them to share the company's financial success based on its performance. After six months of continuous work, Southwest employees can buy common shares at a 10% discount by taking money out of their paychecks.

Well-Being Benefits:

Southwest Airlines offers a generous amount of paid time off, including vacation, sick leave, and personal days. Some programs can help Southwest employees live better at work and in their free time. They are all about helping employees and their families stay healthy and happy physically, mentally, and financially.
Video: Growing Fleet of Southwest Airlines
This video discusses the additional 40 aircraft added to the current fleet of Southwest Airlines. The fleet addition aims to deliver more flights to all destinations. It also discussed the aircraft's features, such as manual shutoff capabilities for stall warnings and overspeeding, upgraded passenger experience, larger overhead bins, and power ports on each seat.
Summary
With a remarkable journey that began as a small regional carrier, Southwest's relentless commitment to customer-centricity, low-cost fares, and exceptional service has propelled it to become one of the world's most prominent and admired airlines. With travel privileges, career growth opportunities, and a supportive community, Southwest Airlines truly demonstrates why it remains a preferred employer and a beloved choice for millions of passengers worldwide.
Contact Information
Company Name: Air Southwest Co.
Address: 2702 Love Field Drive, Dallas, Texas
Telephone No.: (214) 792-4119
Website: https://www.southwest.com/
Facebook: https://www.facebook.com/SouthwestAir
Instagram: https://www.instagram.com/southwestair/
Twitter: https://twitter.com/SouthwestAir