Turkmenistan Airlines also known as Türkmenhowaollary is Turkmenistan's flag carrier and sole airline, based in Ashgabat. Turkmenistan Airlines was founded in 1992 and became the first airline in the former Soviet Union to purchase a Boeing 737-300. Turkmenistan Airlines became a full member of the International Civil Aviation Organization in April 1993.
Also Read: Paris Layover Guide: Best Things to Do in 24 Hours
Turkmenistan Airlines is the preferred airline for many international travelers who want to explore Central Asia, as it offers convenient flight schedules and competitive prices. By offering quality services at affordable prices, Turkmenistan Airlines is helping to make Central Asia an increasingly accessible destination for both business and leisure travel.  If you want to become a part of this airline and pursue a career in the aviation industry, prepare for the recruitment process. When applying as an FA, especially in countries like Turkmenistan, there are several requirements you need to follow.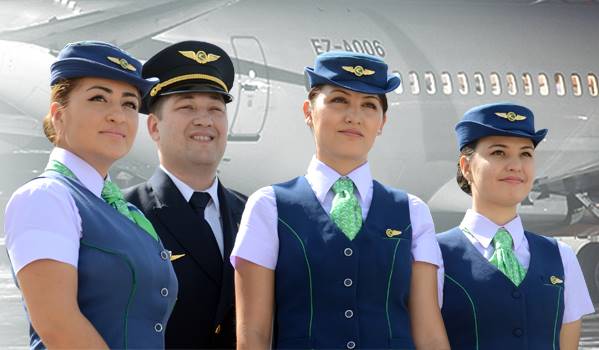 List of Requirements and Qualifications to Become a Turkmenistan Airlines Cabin Crew
You must be a holder of a valid passport.
Wearing eyeglasses isn't allowed, though contact lenses might be considerable.
No visible tattoos and scratches.
Willing to undergo a background check.
You must be willing to submit the results of medical tests.
You must be in good physical and mental health.
You must agree to submit to a drug test.
Must follow Turkmenistan Airlines' uniform standards.
Keep your appearance clean, decent, and professional.
You must be prepared to deal with the safety and service of passengers.
You must be able to serve food and beverages.
Assist passengers, operate mechanical and safety systems, and answer guests' queries.
It is also necessary to have excellent patience to deal with stressful situations.
You must also be able to swim specific distance, since swimming ability is one of the most essential skills of FAs during emergency situations.
Responsibilities:
Greeting and directing passengers to their assigned seats.
As a flight attendant, your primary responsibility is to ensure everyone's comfort and an exceptional flight experience throughout the flight.
Before takeoff, ensure that all passenger safety belts and galleys are securely fastened.
Customers on board should be treated with respect and patience.
You are responsible for ensuring that beverages and meals are served on time.
You must also provide excellent customer service and respond to travelers' needs.
Passengers should be observed and advised to follow safety and health protocols.
Crew members must also be informed about passengers with special needs, passengers in wheelchairs, diabetic passengers, and the number of babies on board.
Conduct pre-flight checks, such as inspecting the safety equipment, ensuring that all beverages and snacks are on board, and keeping the aircraft clean and organized.
As needed, provide first aid to passengers.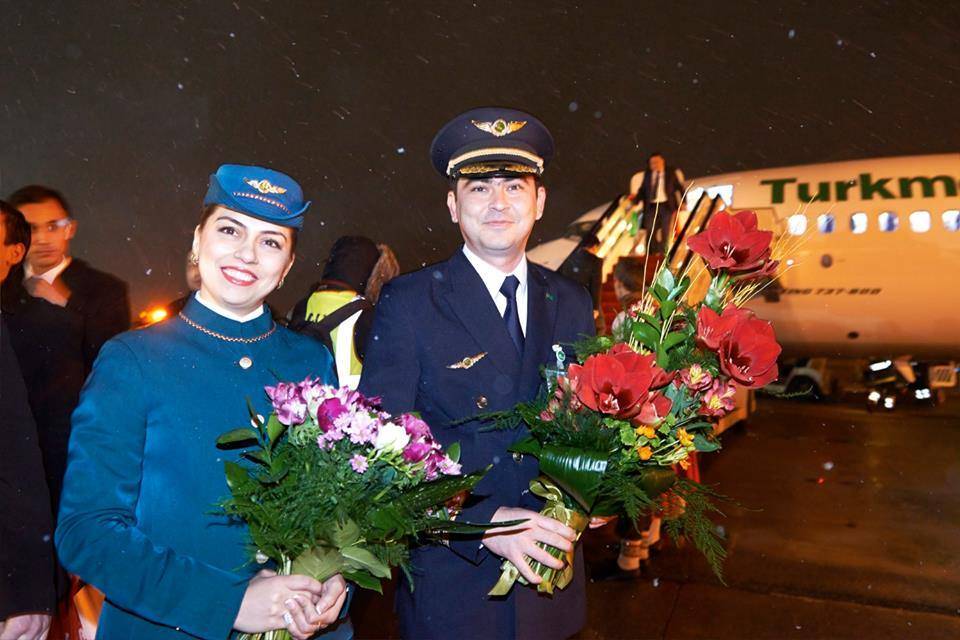 Application Process
Step 1: Go to Turkmenistan Airlines' official page if you want to work as a Flight Attendant for the company. You can go here: https://turkmenistanairlines.tm/
Step 2: You can also visit their official Facebook page here: https://www.facebook.com/turkmenhowayollary/ and see if there is a vacancy post for a Cabin Crew position.
Step 3: Prepare all of the requirements or documentation needed for your application. Fill out an online application for a Cabin Crew position if provided. Write only true and accurate information about yourself. Before submitting the form, double-check your information. If the application process includes submitting photos, watch out for the guidelines, since FA applicants must follow certain photo standards.
Step 4: You will be notified by phone or email if you are chosen. So, keep your lines open and check your emails on a regular basis. Provide the phone numbers and email addresses that are always in use.
Step 5: Make sure to show good and proper traits as you meet the panel in person. Arrive on time, dress professionally, and make some research and practice before the interview.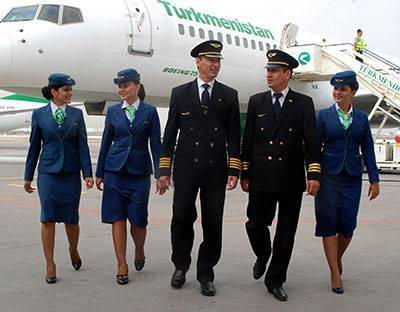 Salary and Benefits
In Turkmenistan, a Flight Attendant typically earns around 3,680 TMT per month. Salaries range between 1,690 TMT and 5,850 TMT. Your salary might also depend on related experience, length of service, and performance. This is only the average monthly salary, which includes transportation, accommodation, and other perks.
Video: TRIPREPORT | Turkmenistan Airlines (ECONOMY) | Boeing 737-700 | Turkmenabat – Ashgabat
This is a trip report from a passenger on a Turkmenistan Airlines Economy flight. Flight reports like this will help you see the expectations of passengers from you as a Flight Attendant, as well as the things guests want to be emphasized. As per the uploader, the airport and airline itself is pretty impressive, knowing that it's only an economy flight.
Photos: Turkmenistan Airlines Cabin Crew Uniforms
Check out these pictures of Turkmenistan Airlines crews so you can see what they look like in uniforms:
Frequently Asked Questions
The following are some of the common questions asked about Turkmenistan Airlines:
1. Why I cannot find careers or job vacancies on Turkmenistan Airways' official website?
You can go directly to their social media account to see job postings. You can go here: https://www.facebook.com/turkmenhowayollary/
2. Is Turkmenistan Airways a well-established airline?
Knowing that it is the country's flag carrier, you can expect that the airline is open for growth and keeping its foundation strong.
3. Is Turkmenistan Airways very strict when choosing their FAs?
Every airline is strict with the requirements they are implementing for applicants. As long as you have what it takes and of course, are capable of doing the duties and responsibilities of an FA, then nothing to worry about.
4. Can I get an update regarding my application? How?
Airlines have plenty of applications to scan, and a lot of aspiring Flight Attendants are dreaming to get a position by submitting their applications online. Expect that it could take weeks and months before you hear from them.
5. How much is the average salary of Flight Attendants in Turkmenistan?
In Turkmenistan, a Flight Attendant typically earns around 3,680 TMT per month. Salaries range between 1,690 TMT and 5,850 TMT.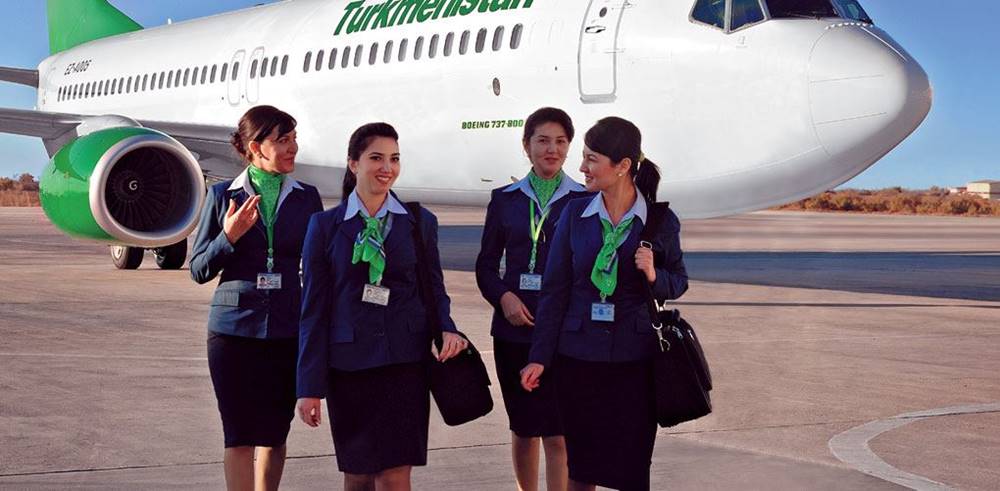 Summary
Turkmenistan is between Asia's might and Europe's. All western conquests of the east have used it as a strategic location. By deciding to live and work in this historical country, you will be able to share in its glory days. If you're still choosing which airline to apply in this country, you might want to consider the flag carrier which is Turkmenistan Airlines.