Air Niugini is more than a national airline to the people of Papua New Guinea; it is a symbol of their country's incredible progress. The concept of establishing a single national airline for Papua New Guinea emerged in September 1972, when the country was still ruled by Australia and its skies were dominated by Australian airlines. Air Niugini has not only boosted trade and tourism over the years, but it has also helped bring diverse local communities together, resulting in a more unified nation.
Also Read: 15 Cabin Crew Career Progression Paths for Flight Attendants
To become one of Air Niugini's Flight Attendants, there are several requirements (such as specific age, height, and weight) to get qualified. The requirements for becoming a Flight Attendant have changed over the years and vary from airline to airline, which can easily confuse aspiring Cabin Crew. So now, here are the precise details about Air Niugini's Flight Attendant requirements.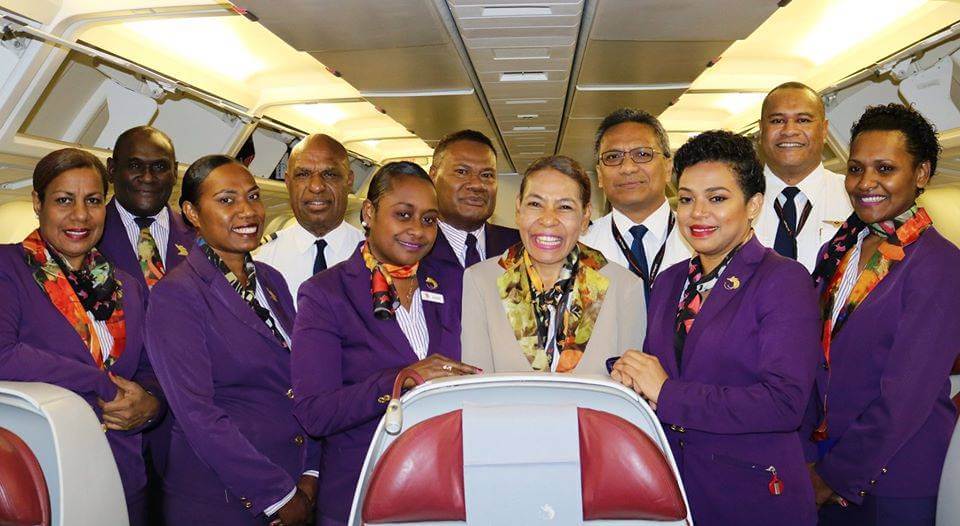 List of Requirements and Qualifications to become a Air Niugini Cabin Crew
Must be 19-25 years old
You must be single and not have any dependent children
Must have at least a Grade 12 diploma (English and Math credit passes)
Can communicate, write, and read English. English is the standard language for communicating with passengers
You must be in good health
Must be of sober habits
Males must be 183cm tall and females must be 160cm tall
Candidates must be able to float for two minutes without using a flotation device
Candidates must be able to swim 50 meters without the use of floating equipment
Must be fully vaccinated for COVID-19
Valid Passport with no restrictions
No visible tattoo
Tidy and decent look
Understanding Flight Attendant Requirements
Looks – Flight attendants frequently leave a lasting impression on people, and they must represent the airline well, so they must present themselves professionally. This is not to say that all Flight Attendants must be supermodels. However, in terms of appearance, Flight Attendants must adhere to certain style and image standards.
Skin – Almost all airlines prohibit Flight Attendants from having visible tattoos while wearing the Cabin Crew uniform. They may, however, have tattoos that are not visible while wearing their Flight Attendant uniform, such as those on their torso, back, upper thigh, and so on.
Height – The height test is often the first thing that is assessed at Flight Attendant Assessment Days, and if you do not meet the minimum height, you will often be sent home right away, sometimes even before you have had a chance to drop off your Cabin Crew CV. However, some airlines are more flexible. Some airlines place more emphasis on your arms reach than your height, so if you are technically a fraction shorter than their minimum height requirements, they may give you some wiggle room.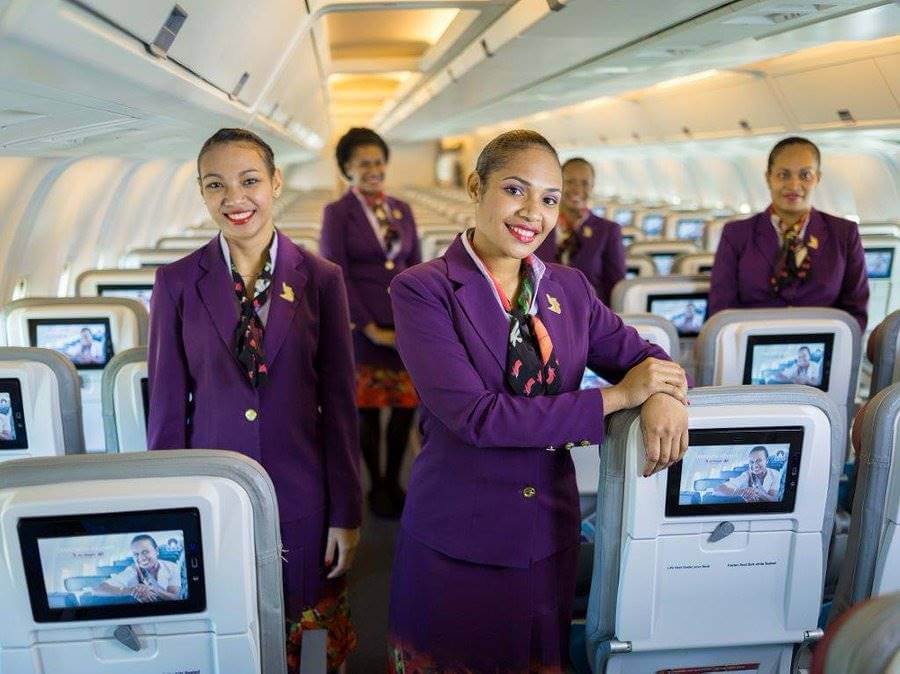 Application Process
Step 1: Before starting your application, you better have all the required documents compiled and ready. Make sure that your CV or Resume is updated with active contact numbers. The screening process online will depend on the CV and pictures you will send, so make sure to have a professional-looking CV and complete all the requirements needed.
Step 2: Go to Air Niugini's official website, and look for Careers to see job vacancies available for FAs. You can go here: https://www.airniugini.com.pg/
Step 3: On the upper part menu bar click on "About us" then choose "Careers."
Step 4: From the list of current vacancies, select the position that you plan on applying for. Read the job description thoroughly and make sure that you understand what is needed.
Step 5: Once this is finished, fill in the application form directly on the page, starting with your name, email address, contact number, and letter of application. Then, attach and upload your resume alongside all the other required documents.
Step 6: The selection process online might take some time since the volume of applicants for the Cabin Crew position is always high. Wait for the recruitment team's confirmation.
Step 7: If you receive a call, text, or email that you will be moving to the next round of the selection process, expect an interview.
Step 8: If you passed all of the stages of the recruitment process, then welcome to the training process! But don't be over-confident since some applicants get eliminated in this part. Do your best and follow everything you are told.
Salary and Benefits
A Flight Attendant at Air Niugini can expect to earn PGK 3,000 per month. This figure is based on data collected from Glassdoor website users.
Video: Review: AIR NIUGINI 767 BUSINESS CLASS – RARE AIRLINE TO FLY!
This vlog will walk you through the exact place where cabin crews do their job – inside the plane. You will see here how the Air Niugini's Business Class flight looks like from the inside and how Flight Attendants do their commitments for each passenger.
Photos: Air Niugini Cabin Crew Uniforms
Check out these pictures of Air Niugini crews so you can see what they look like in uniforms:
Frequently Asked Questions
The following are some of the common questions asked about Air Niugini flight attendants.
1. Do they accept Male applicants for the Cabin Crew position?
Yes, they accept Male applicants for the Cabin Crew position.
2. What is the maximum age requirement for FA aspirants?
The maximum age allowed to apply for FA position is 25 years old.
3. Does the airline cater to both domestic and international flights?
Yes, they cater to both.
4. What are the main duties of a flight attendant?
As an FA you need to be family with safety equipment and procedure inside the plane, you must also assist passengers with their needs, and serving food and beverage is also your duty. And if there is an emergency situation onboard, you will be in charge of it.
5. How to see if there is a vacancy for flight attendants on this airline?
Go to their official website, look for "Careers" and you will see vacancies.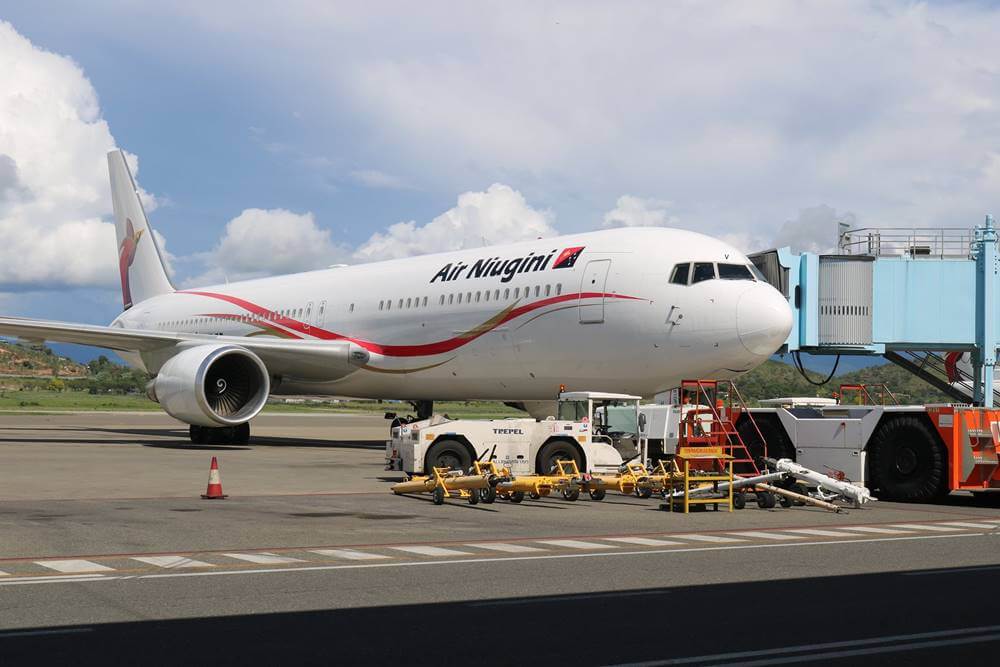 Summary
Do you want to travel the world? You can explore different places as a flight attendant without breaking your pockets. People in this profession enjoy benefits such as flexible schedules and the opportunity to meet new people on a daily basis, in addition to free flights to great locations. Maybe Air Niugini will be your next career hub, try checking their vacancies now!