Comfort and luxury are just two sets of values that EVA Air prioritizes. It has always been the goal of the airline in ensuring passenger comfortability and satisfaction. By living up to this kind of principle, it has earned as one of the safest and best airlines worldwide. EVA Air believes that one person can make a big difference. This is the very first step in providing passengers the quality service that they are entitled to.
Also Read: How to Answer: What are Your Weaknesses?
Operating with a mixed fleet of Airbus and Boeing aircraft, EVA Air was one of the first carriers to introduce the Premium Economy class. The airline boasts no hull losses, no accidents, and no fatalities since its founding in 1989. This Taiwanese international airline is based at Taoyuan International Airport in Taipei, Taiwan. EVA Air has both passenger and cargo air services to more than 40 international destinations including Asia, Australia, Europe, and North America. Being the second largest Taiwanese airline after China Airline, EVA Air has a fleet size of 86 and offers flying to 62 destinations.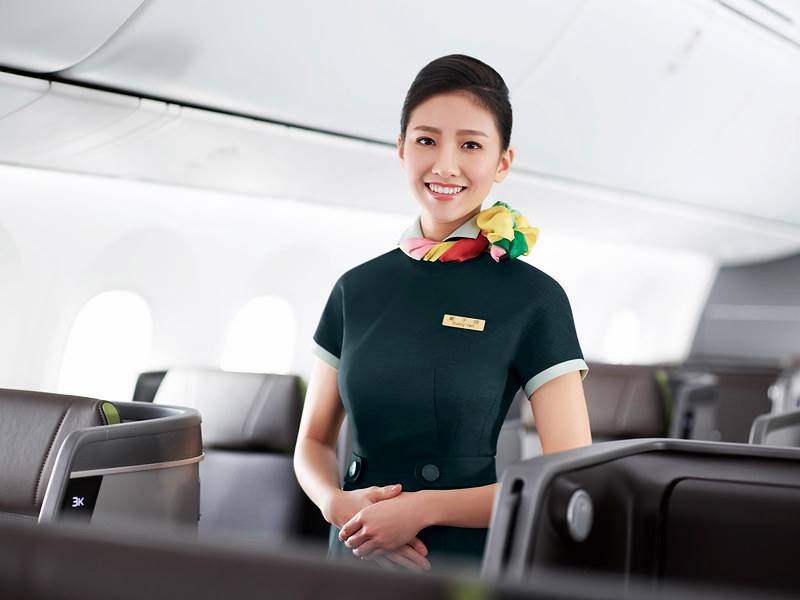 List of Requirements and Qualifications to Become an EVA Air Cabin Crew
To land a cabin crew position at EVA Air, applicants must possess the qualities that will contribute to the objectives of the company. There will always be competition for the position but for as long as you are knowledgeable about what to focus on, there will be no problem. Below are the qualifications to become an EVA Air Cabin Crew.
Minimum age of 18 to 21, and the maximum age is 31
Applicants must be at least 160 cm in height
Weight must be proportion to height
Resume and CV must be updated
Head and full body photos
Updated medical and dental records
Applicant must be fluent in writing and speaking English and another language
Applicants must have excellent eyesight; contact lenses are permitted
Must possess a valid passport
Applicants must know how to swim
Previous experience in customer service jobs is an advantage
Having a pleasant aura and appearance can increase the chances of being accepted
Must possess a clear speaking voice and excellent communication skills
Knows how to conduct safety checks before each flight
Applicants must always greet passengers warmly
Can escort and assist passengers with their luggage
Must know how to prepare and serve drinks and food to passengers according to their request
Knows how to take note of any medical needs including their likes and dislikes
Can present emergency equipment and brief passengers on how to use the equipment
Able to monitor, manage, and secure cabin
Can assist passengers and cabin crew during emergencies
Can assist passengers with special needs
Can attend briefings before each flight
Submit and prepare reports concerning flight incidents
Must pass any of the following English tests
Test of English for International Communication (TOEIC) score at least 500
Test of English as Foreign Language Institutional Testing Program (TOEFL ITP) score at least 450
Test of English as Foreign Language Internet-Based Test (TEEFL iBT) score of 45 and above
International English Language Testing System (IELTS) score is 4.0 and above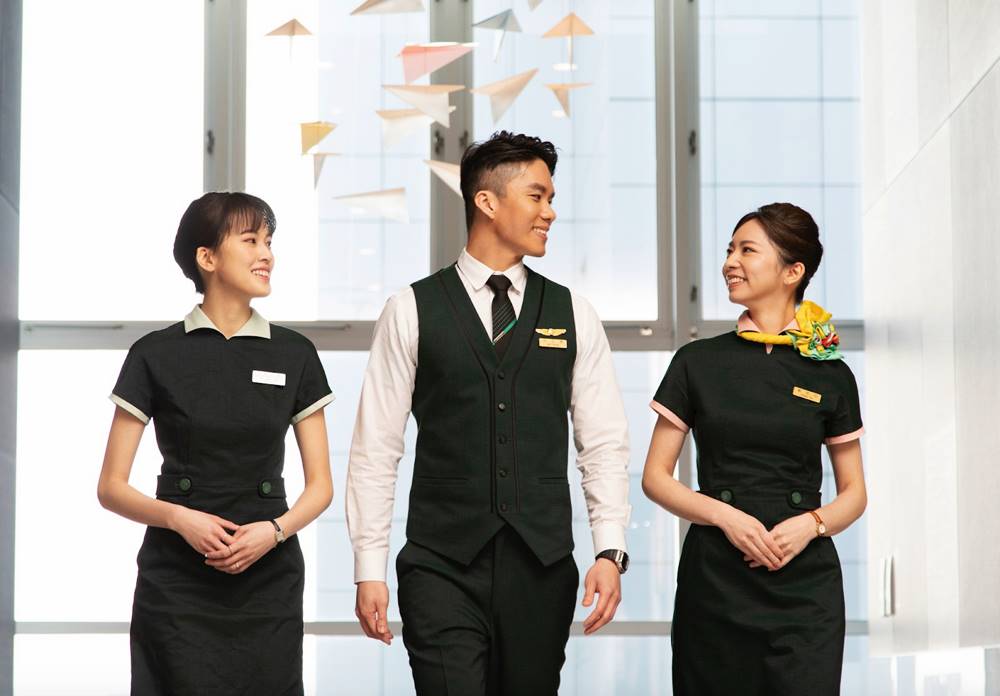 Application Process
Step 1. Apply through EVA Online Application Link
Applicants may download the EVA air application form here:
https://www.evaair.com/en-us/_download-files/job-application-forms/pilot-application-form-en.html.
Alternatively, can also access EVA Air's Career Page here: https://www.evaair.com/en-global/about-eva-air/careers/
Step 2. Register through the portal
After accessing the application link and downloading the application form, applicants must register through the portal that will appear. Once finished, the applicant will receive an application number. You can find the registration portal here: https://eservice2.evaair.com/EVAE/signin.aspx?Crew_Type=2. 
Alternatively, you can submit your CV here: https://eservice2.evaair.com/EVAE/signin.aspx?Crew_Type=2
Step 3. Continue filling out the form and submit once done
Applicants can continue filling out the forma and submit it once done. They can also check some of the job vacancies here: https://www.evaair.com/en-us/about-eva-air/careers/job-opening/cabin-crew/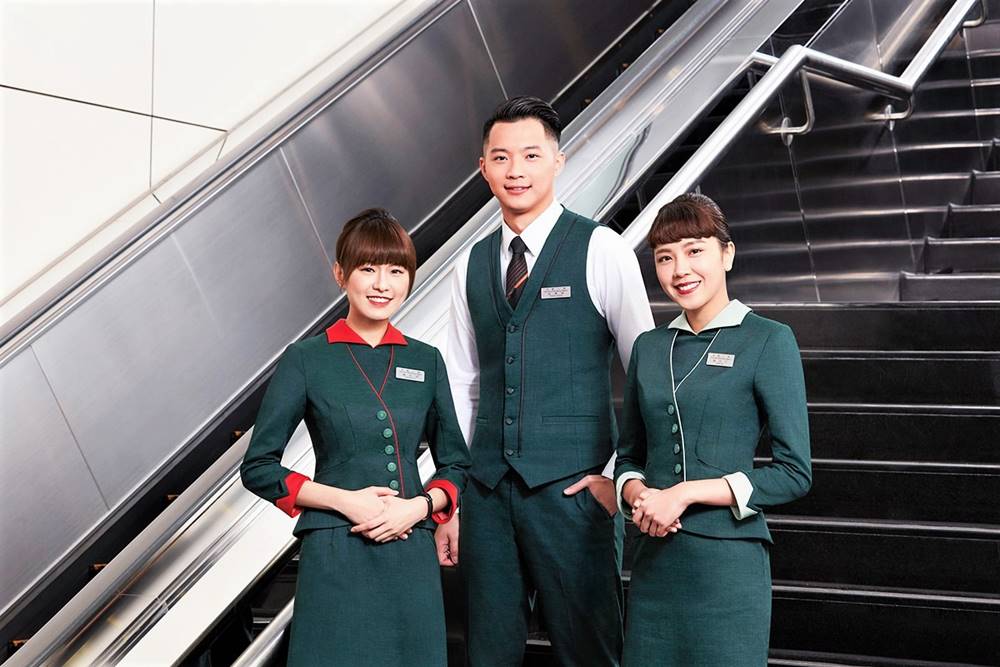 Salary and Benefits
The airline provides a starting salary from $1,200 and $1,609
Insurance, health, and wellness which include accidental death and disbursement insurance, health insurance, vision insurance, dental insurance, and supplemental life insurance
Financial and retirement benefits like performance bonus
Family and parenting like maternity and paternity leave
Vacation and time off perk like paid holidays
Company offers employee discount
Professional development and job training
Video: Flying on EVA Air's FANTASTIC Boeing 787-10 in Economy from Vienna to Bangkok
This video shows a trip on EVA Air's Boeing 787-10 in Economy class from Vienna to Bangkok.
Introduction
Headquartered in the island of Taiwan, EVA Air is owned by the Evergreen Corporation, a company which is commonly known for its shipping business. Ironically, the video will feature the Economy Class, state-of-the-art Boeing 787-10, flying from Vienna to Bangkok.
Vienna Airport
Taking a high-speed rail jet from the city of Vienna to Vienna Airport, it takes roughly 15 minutes and €40. This ride will take you right beneath the airport where it is an easy 5-minute walk to the checking area.
Cabin and Seat
EVA Air's 787-10 has only two classes: a 34-seat Business Class in the front between Doors 1 & 2 followed by a 308-seat Economy Class cabin featuring a 3-3-3 seating configuration. Seat selection is always available at check-in, but all depends what seats are still available. The Economy Class of Boeing 787-10 has decided on the German-made seat of Recaro CL3710, a very popular seat for most airlines. A sanitizer wipe, a pair of headphones, a pillow made of real fabric, and a sizeable blanket are the items waiting on your seat. Every seat has a headdress that can be adjusted both vertically and on the sides. The leg space offers a very spacious room for you to move comfortably. The seatback pocket offers little extra pocket will could be very useful for your phone and other small items. On the top is a tray table which can be very useful either half-open or fully opened.
A variety of lotions as well as sanitizing gel are offered alongside with little cups for brushing teeth, and hand and face tissues.
Amenities and Wi-Fi
The plane is equipped with inflight Wi-Fi with different packages of data available.
Dinner and Service
For the main course, there will always be two choices of menu will be given with mouth-watering appetizers. Afterwards, passengers will be offered tea or coffee.
Snack Bar
In the rear galley, the crew prepare a small snack station where you can grab some crackers, juice of your choice, and water.
Inflight Entertainment
EVA air offers a variety of Asian and international entertainment options that you can watch on demand.
Breakfast Service
Two options of food are served at EVA Air. You can have Western food consisting of scrambled egg, grilled pork sausage, and potatoes. You can also opt for the Chinese food consisting mainly of noodles and chicken.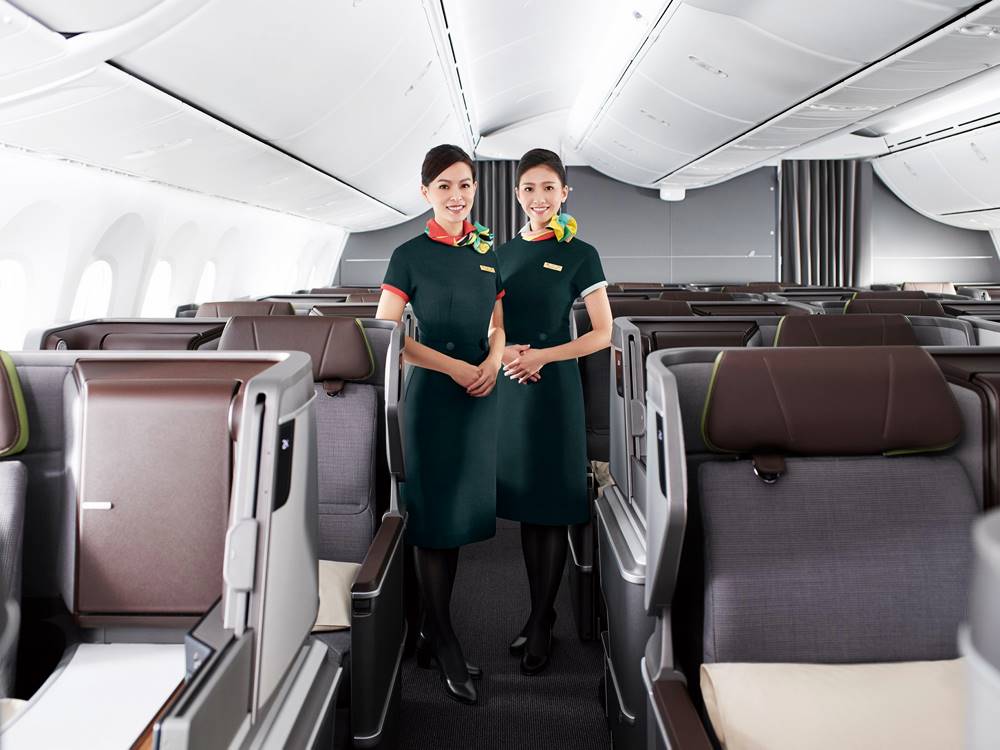 Photos: EVA Air Cabin Crew Uniforms
Check out these pictures of EVA Air crews so you can see what they look like in uniforms:
Frequently Asked Questions
Here are some common questions and answers about the job requirements as a cabin crew for EVA Air:
1. What is the age requirement for applying as a flight attendant or cabin crew member?
A minimum of 18-21 years of age and a maximum of 31 years of age.
2. Does nationality a concern when it comes to the application and hiring process?
Depending on where you are applying and what qualifications are needed, your nationality may be a concern when it comes to the selection and hiring process.
3. Are there male flight attendants at EVA Air?
Before 2019, EVA Air hired an all-female cabin crew and flight attendants. For the first time, the company is now accepting male flight attendants.
4. Will I undergo training as preparation for my job?
Yes, you will receive an adequate training. It is always a process at EVA Air for their aspiring flight attendants and cabin crew to undergo training before they let you fly with passengers.
5. Is it okay to have failing score on the test required by the company during application?
All applicants must pass the tests required by EVA air and adhere to the provisions set by the company.
6. Can I still reapply if I get rejected the first time?
Yes, you can. You can apply as many times as possible. EVA Air does not set application limits for as long as you still meet all the qualifications.
7. I am not fluent in English. Will that be okay?
All applicants must be fluent in English and Taiwanese. Fluency in these languages is one of the strengths an applicant can possess. It is better to check your fluency first.
8. How will my salary increase?
There are lots of parameters that will affect your salary. There are incentives given by the company, the hourly pays, and will depend on what position you are. In time, your salary will likely increase.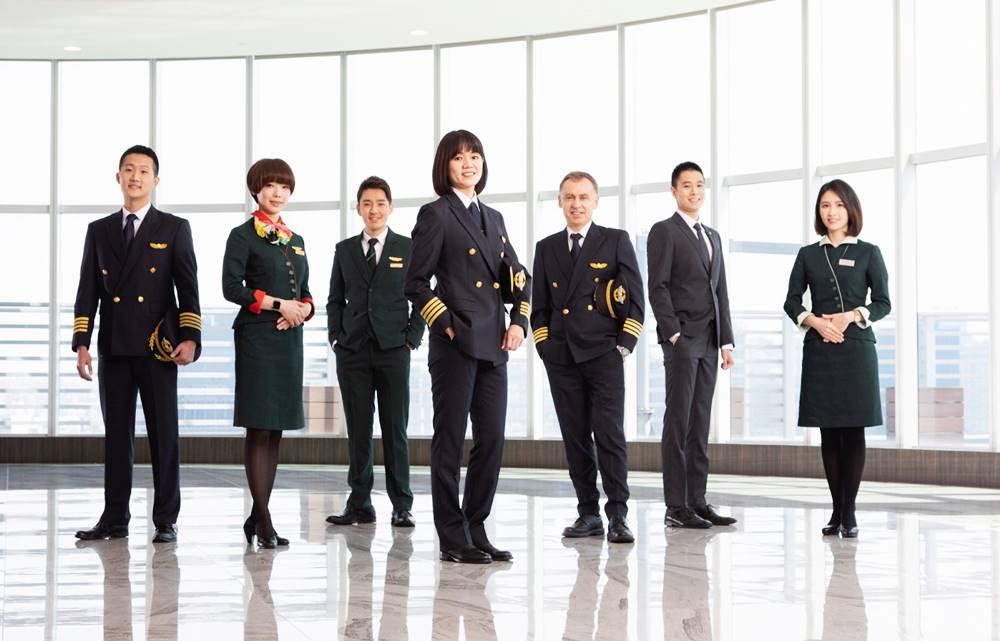 Summary
EVA Air connects Asia and Mainland China to Europe, North America, and Oceania. It has links to more than 60 major business and tourist places around the world. Extending from a passenger airline, EVA Air has code-shared flights of cargo services worldwide with other premiere aviation industries. It has given passengers access to a vast network through its Star Alliance membership. With over 1900 destinations in more than 190 countries, EVA Air has offered passengers the geographic advantage in the Asian region.
Since its establishment in 1991, EVA Air has kept quality service and continuous improvement as part of daily operations. The company continued to enhance standards, add amenities, and improve both passengers' boarding and flying experience. It has added more Boeing 777-300ERs for its Royal Laurel Class business cabin. It has added 5-star luxuries and comfy extras for passengers to enjoy. Its Premium Economy class product is an aviation trendsetter that is largely popular to both business and leisure travelers.