Azul Brazilian Airlines is a low-cost carrier in Brazil looking for dedicated and skilled employees to add to its growing, global team. The airline is reputable for empowering its Azul employees, encouraging each and every one to make an impact on their careers and for clients at the same time. If you have what it takes to become part of the Azul Cabin Crew Team and deliver quality service to onboard passengers, all you need to do is turn in your application and resume. 
Also Read: New York Layover Guide: Best Things to Do in 24 Hours
This article offers a comprehensive guide to the steps you need to follow when applying as a cabin crew for Azul Brazilian Airlines. This includes details starting from the company's background, the responsibilities and qualifications linked to becoming an Azul Flight Attendant, as well as what documents you need to prepare for your application. There are also a few tips along the way that you must keep in mind as you undergo the hiring process, so make sure to understand each piece of information thoroughly.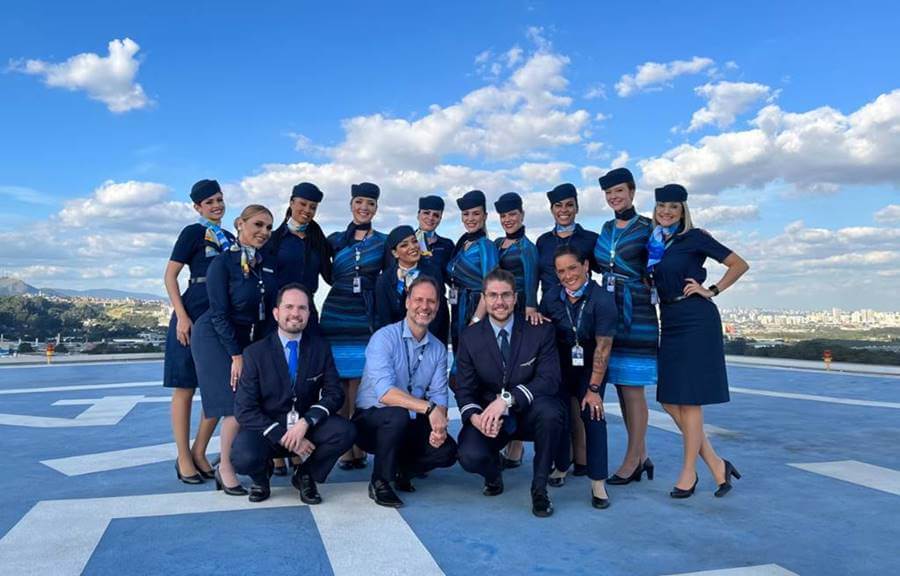 Overview of the Azul Brazilian Airlines
Azul Brazilian Airlines is a Brazilian airline specifically based in Barueri, which is a suburb of Sao Paulo. Its business model is mainly designed to boost demand by offering affordable, low-cost, and frequent air services to various underserved markets within Brazil. 
The company was initially named Azul, also known as Blue in Portuguese, after a naming contest was held in 2008. It was then established on the 5th of May in the same year by David Neeleman, who was also the founder of JetBlue, an American low-cost airline. Azul Brazilian Airlines officially kickstarted service on December 15, 2008. 
Since its operations began in December 2008, the company has become one of the fastest-growing airlines in the country. Not only that, but Azul Brazilian Airlines also holds the most extensive airline network in Brazil in terms of the cities that it has serviced, offering 792 daily flights to over 100 destinations. Operations have also since then extended to South America, Europe, and the United States, providing passengers with non-stop, quality service.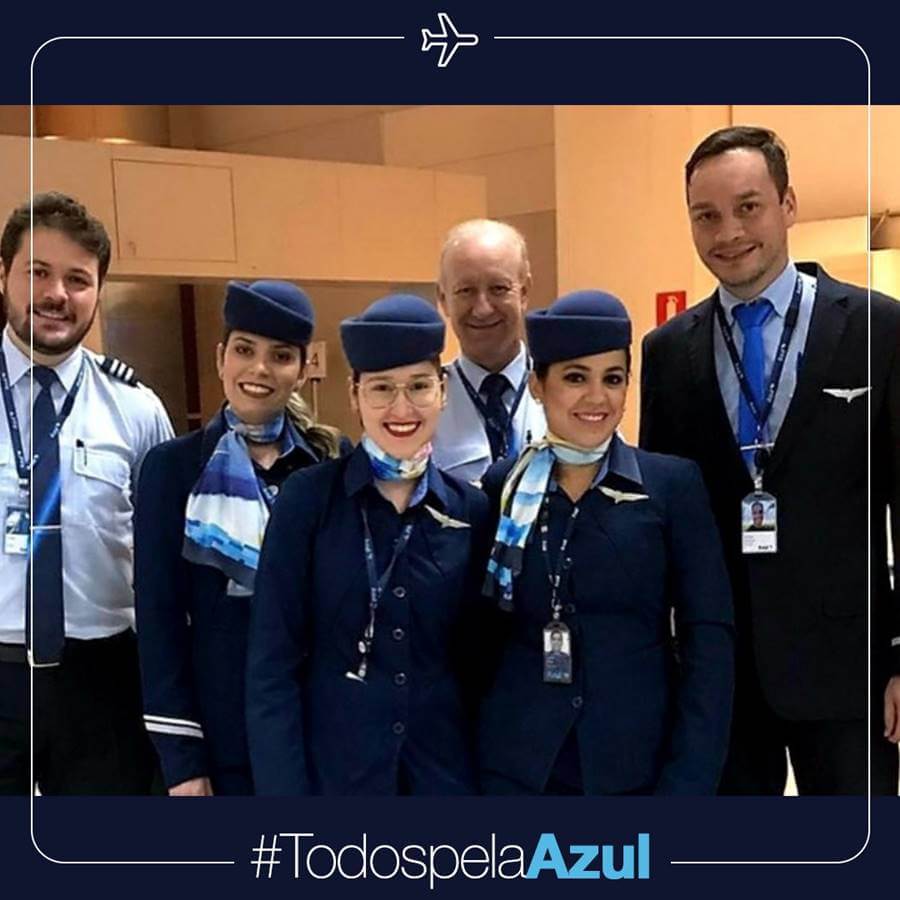 Responsibilities
Being a flight attendant has its apparent perks; for one, you get to perform your job while traveling to different parts of the world, and it also offers plenty of opportunities to meet people from different cultures. However, it's important to consider that this position also comes with serious responsibilities that you need to uphold. More specifically, here are the duties that come with being a flight attendant for Azul Brazilian Airlines. 
Greeting onboard passengers and assisting them to their assigned seats

Listening to pre-flight briefings

Making sure that the cabin is sanitary at all times

Conducting pre-flight checks to make sure the cabin is prepared for takeoff

De-escalating disruptive situations that may happen during the flight

Preparing passengers for landing and takeoff

Serving food and beverages to passengers

Demonstrating the use of safety equipment 

Presenting the safety procedures of the airline

Responding to concerns and questions by the passengers and calming those who are upset or worried during flight turbulence

Ensuring passengers' security in emergency situations

Delivering first aid when required if there is an emergency

Providing instructions to passengers, such as emergency evacuation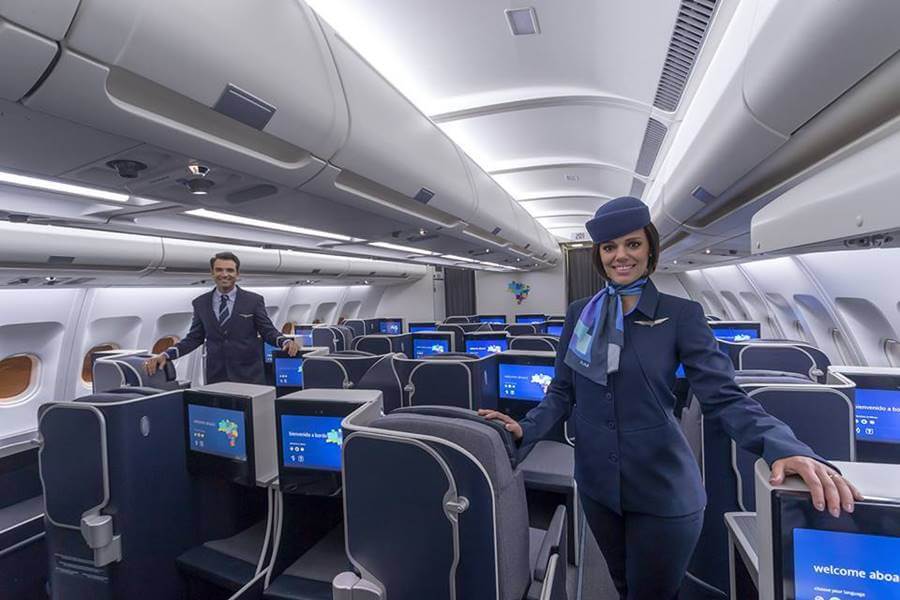 Qualifications
According to TripAdvisor Travelers, Azul Brazilian Airlines was recognized as the third-best airline company in 2017. It has remained at the top of its game as South America's best low-cost carrier for consecutive years as well. This is due to its superior customer experience made possible by skilled flight attendants. The company is selective in hiring recruits to maintain its reputation and growth. 
Before applying as a flight attendant for Azul Brazilian Airlines, here are the qualifications you need to meet first. 
Minimum 18 years old

Should have at least two years of experience in the aviation field

Should be available, prepared, and flexible to work in all shifts

Should be fluent in Portuguese in English, both in oral and written language

Should be able to have leadership skills for the job

Should be able to work efficiently even under pressure

Should be able to work well within teams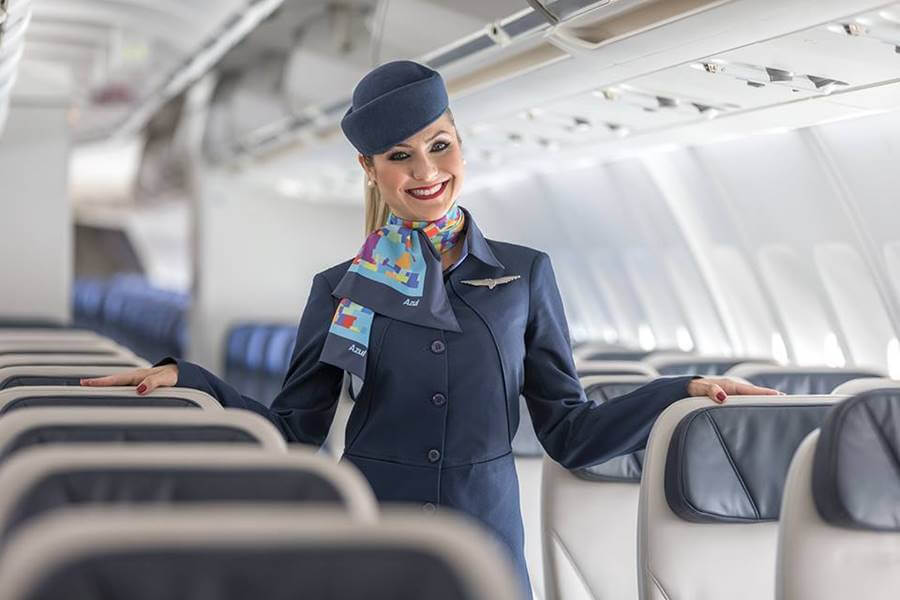 Document Requirements to Prepare
If you think you're willing to take on a flight attendant's responsibilities and have successfully met the company's set requirements, it's now time to start preparing the necessary documents for your application. This includes:
Updated CV/Resume 

Updated Application form

Valid passport for more than 6 months

Proficiency in English at ICAO Level 4 or preferably higher

High school diploma or GED equivalent 
Where to Apply for a Job for Azul Brazilian Airlines Online
If you're interested in being part of the cabin crew team of Azul Brazilian Airlines, listed below is a detailed guide on how you can begin applying for the company. You can begin by visiting the airline company's official website or careers page here and then look for job vacancies in your chosen position. 
You can also check the company's official social media accounts to stay updated with news or announcements regarding the recruitment and hiring process.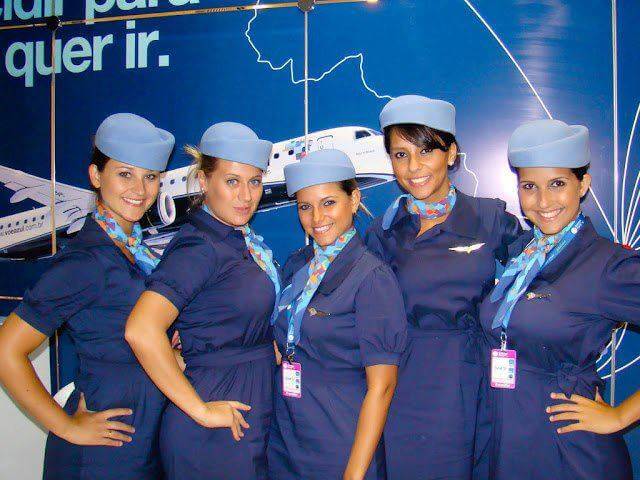 How to Become a Cabin Crew for Azul Brazilian Airlines
Below are step by step guide to follow on your way to becoming a flight attendant for Azul Brazilian:
Step 1: Go to the company's Careers page.
The first step is to visit Azul Brazilian Airline's Career page. Browse for available job vacancies in your preferred job position. For easier access, you can also click go directly at https://www.voeazul.com.br/en/about-azul/careers. Upon clicking here, you will be redirected to a page where you need to fill in all the necessary details regarding your application.
Step 2: Fill in the online application form.
The application form will be flashed on your screen. Here, you'll be required to input important information such as your name, phone number, and email. You'll also need to attach the required documents, like a resume or add your LinkedIn profile (if available) so that the company can reach you easily. 
Step 3: Wait for your interview.
Once you submit your application online, it will take a few days for the company to evaluate your application/resume and get back to you. If you're successful, you'll proceed to the next stage of the hiring process, which is the interview, and the recruiters will tell you what you need to do from here on. 
Interested applicants may also send their resumes directly to the company's email address, which is careers@voeazul.com.br. If you don't prefer to do it online, it might help to check the company's social media channels should they post announcements regarding open-day hiring events near your location.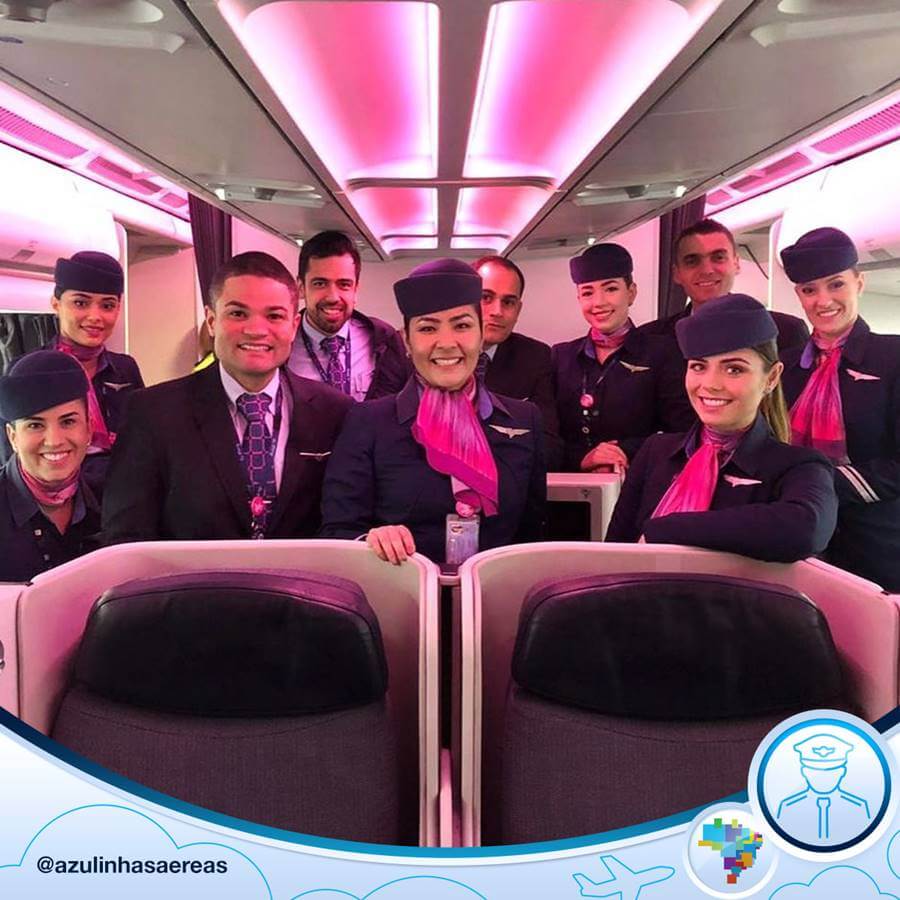 Monthly Salary of an Azul Brazilian Airlines Flight Attendant
The estimated salary for a flight attendant working under Azul Brazilian Airlines is around $63,242 per year, with $44 795 being the approximate base pay. This salary can still increase with the inclusion of tips, bonuses, commissions, and profit sharing. There are also a few benefits that come alongside the salary, such as travel incentives, discounts, and more. 
Video: Ladies in Pink – Azul Airlines
This video by Just Planes interviews different female flight attendant employees of Azul Airlines and their experiences in working for the company. The flight attendants stated how Azul is an inclusive company as it's always getting its employees actively participating and involved in various programs. More than that, they also showed appreciation with regard to how the company treats its employees and flight attendants, allowing them to grow and hone their skills further.
Moreover, they also stated that the company takes pride in the capabilities of their flight attendants and makes sure to compensate them as much as possible. The video offered a great insight into what you might typically expect in Azul Airlines' working environment should you get recruited as part of their team. 
Photos: Azul Brazilian Airlines Flight Attendant Photos
Check out these photos of Azul Brazilian Airlines' Flight Attendants in uniform. As you can see, the uniform is meant to be stylish and functional at the same time. It also helps preserve the individual's and the company's image of professionalism and excellent attention to detail.
Frequently Asked Questions
Some common questions applicants have when they apply for cabin crew for Azul Brazilian Airlines are listed below. Find out if you meet the basic requirements in working for the company.
1. Why work at Azul Brazilian Airlines?
Azul Airlines emphasizes the importance of collaboration and teamwork. As a continually growing company, the airline constantly needs skilled employees and recruits to add to its ever-growing global team, where you get plenty of opportunities to grow your skills and talent. Azul airlines also make sure that employees are taken care of with fair compensation and benefits. 
2. How to apply to Azul airlines?
You can either apply online through its Careers page by sending in an online application. This can also be sent via their email at careers@voeazul.com.br. You can also apply via open-day hiring events if they ever announce one at your location. 
3. What makes a good flight attendant?
A good flight attendant should be both a problem solver and a quick thinker since plenty of unexpected occurrences happen during flights. They should also have great communication skills in talking to passengers and other crew members.
4. What are the duties of an Azul Brazilian Airlines flight attendant?
As a flight attendant at Azul Airlines, you need to be responsible for many things, such as assisting passengers during onboarding, making pre-flight checks, offering beverages and food to passengers, and responding to their concerns or queries during the flight. 
5. Where is the main headquarters of Azul Brazilian Airlines?
The main headquarters of Azul Airlines is located in Barueri, which is a suburb of Sao Paulo. 
6. What is the usual schedule of a cabin crew or flight attendant?
The schedule of flight attendants is typically from 9 to 20 days in one month, although this varies from airline to airline. 
7. Can you apply as a flight attendant without any experience?
Azul Brazilian Airlines strongly recommends having prior experience as one of their qualifications, specifically a minimum of two years. 
8. What skills do I need to have to become a flight attendant at Azul Brazilian Airlines?
You need to have great decision-making skills, interpersonal skills, and communication skills to become an efficient flight attendant. 
9. How much do flight attendants of Azul Airlines get paid yearly?
According to Glassdoor, Azul Brazilian Airlines flight attendants get paid almost $63,242 per year. 
10. What is the minimum age to apply as a flight attendant?
Most companies usually require applicants to be at least 18 years old to be eligible for application.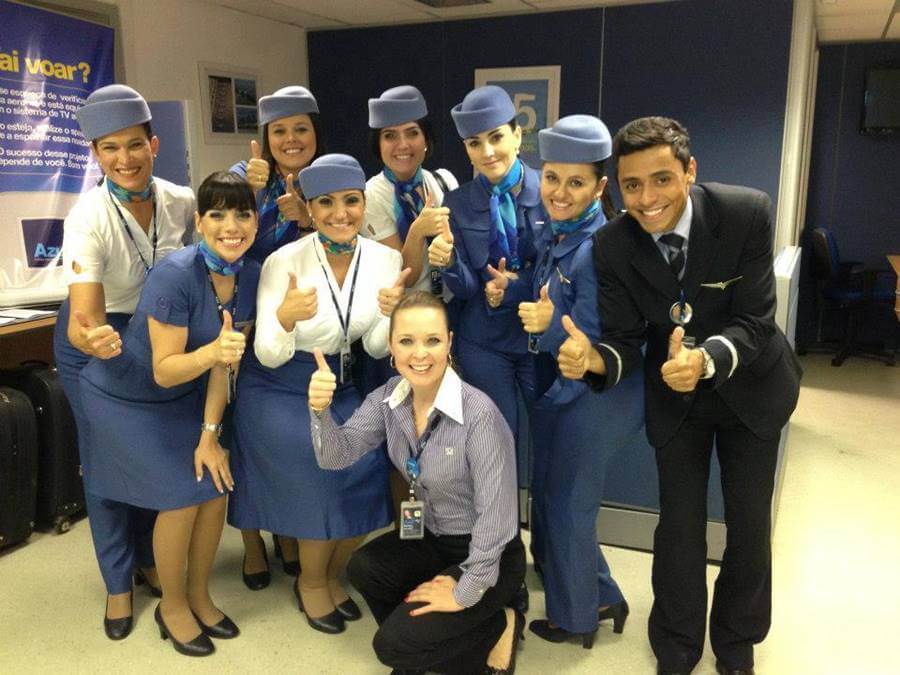 Summary
Azul Brazilian Airlines is Brazil's low-cost airline carrier offering non-stop services to underserved areas of the country at affordable prices. Since it was established in 2008, the company has been continuously growing and expanding to service other parts of the globe, including the United States, Europe, and South America. Azul Brazilian Airlines is reputable for being the third-best airline worldwide in 2017 and gained recognition for its services and cost-effective flights.
Moreover, the company also values its employees and ensures that it offers great opportunities for career growth. This guide will help walk you through the steps in applying as a cabin crew for Azul Brazilian Airlines so that you can achieve your dreams of being a professional flight attendant right away.
Contact Information
AZUL BRAZILIAN AIRLINES 
Address: (of main headquarters) Barueri, Brazil
Telephone Number: +55 11 4003 3255
Website: https://www.voeazul.com.br/en/home
Facebook: https://www.facebook.com/AzulBrazilianAirlines
Instagram: https://www.instagram.com/azulinhasaereas
Twitter: https://twitter.com/azulinhasaereas