Becoming a flight attendant is a rewarding job. Although it may have its sets of challenges, getting paid while traveling the world as part of your job is truly an amazing experience. So, if you're on the lookout for flight attendant job opportunities, LATAM Airlines is currently looking for skilled and motivated individuals who want to join their growing cabin crew family.
Also Read: London Layover Guide: Best Things to Do in 24 Hours
Do you believe you have what it takes to become a flight attendant? If you want to apply at LATAM Airlines, this article will guide you through the qualifications, requirements, and expected responsibilities of a LATAM Airlines cabin crew. This article will also talk about LATAM's application process for aspiring cabin crew members, ensuring you can prepare well for your application.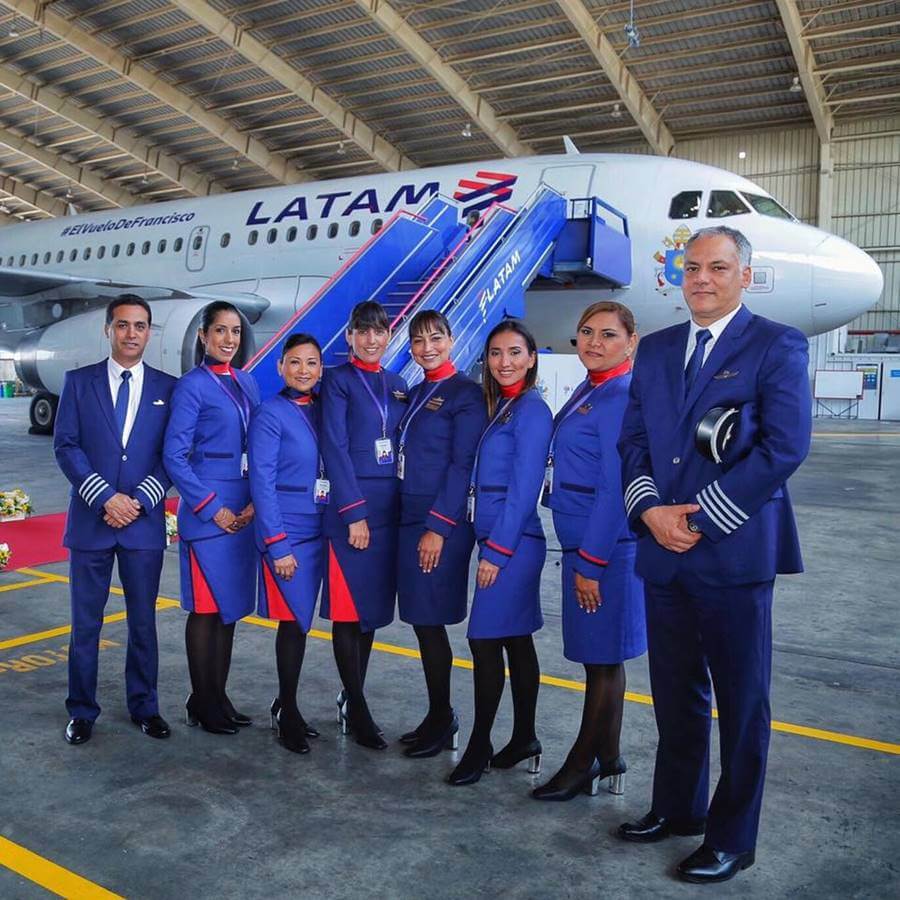 Overview of LATAM
LATAM Airlines is considered the biggest airline company in Latin America. The airline was founded in 2012 and was born through the association of the National Airline of Chile (LAN) and Taxi Aéreo Marilia (TAM). Currently, the airline serves more than 137 destinations located in 24 countries.
The company's headquarters is located in Santiago, Chile. LATAM has hubs located in LATAM's main hubs are located in Santiago de Chile, Lima, São Paulo, and Bogotá. The airline also has subsidiaries in Paraguay, Ecuador, Peru, Colombia, and Brazil. In 2020, LATAM was recognized as the Best Cabin Service in South America.
Responsibilities
As a flight attendant of LATAM airlines, you are tasked with the following duties below:
Inspecting safety equipment to ensure they're working as intended
Preparing and distributing meals and drinks to guests onboard
Assisting passengers with their luggage and ensuring they are seated properly for the flight
Performing safety demonstrations before flight take-off
Prioritizing safety above all by ensuring compliance with safety regulations on board the aircraft in accordance with the company's and corresponding authority's standards
Taking care of all passengers' needs and looking after your colleagues at all times
Have a good understanding of your position's procedures and protocols in order to promote the company's continuous growth and improvement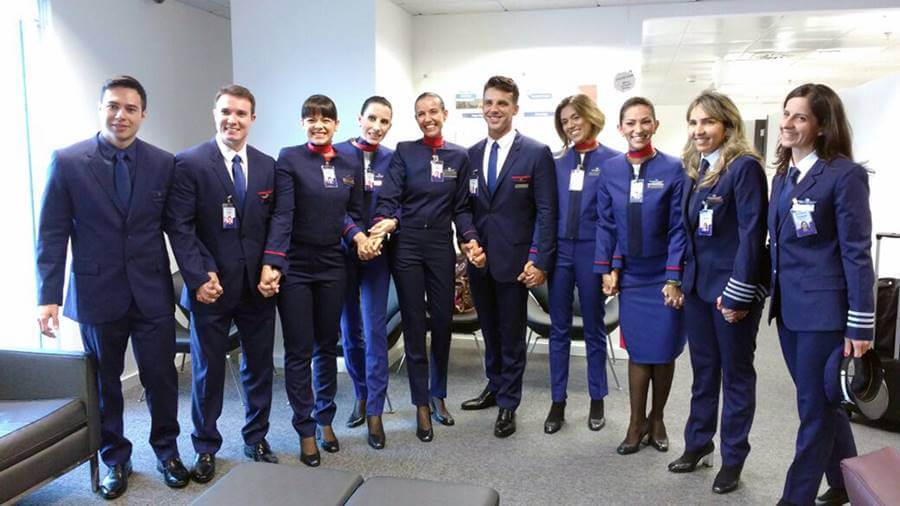 Qualifications
Are you interested in becoming part of LATAM's cabin crew team? If you are, here are the qualifications you must meet:
Must have a valid passport
Ideally, a graduate or currently a student of any college degree or technical study
Having a valid flight license and experience as a cabin crew member is a plus
Knowing how to speak English and Portuguese is also a plus
Upon selection, must be willing to complete a two-month theoretical-practical training course (selected applicants must pass this course before becoming part of LATAM's cabin crew team)
Must be able to swim (training course will include survival drills in both land and water)
Definitive residence documentation to live in Santiago, Chile (if applying as a foreign applicant)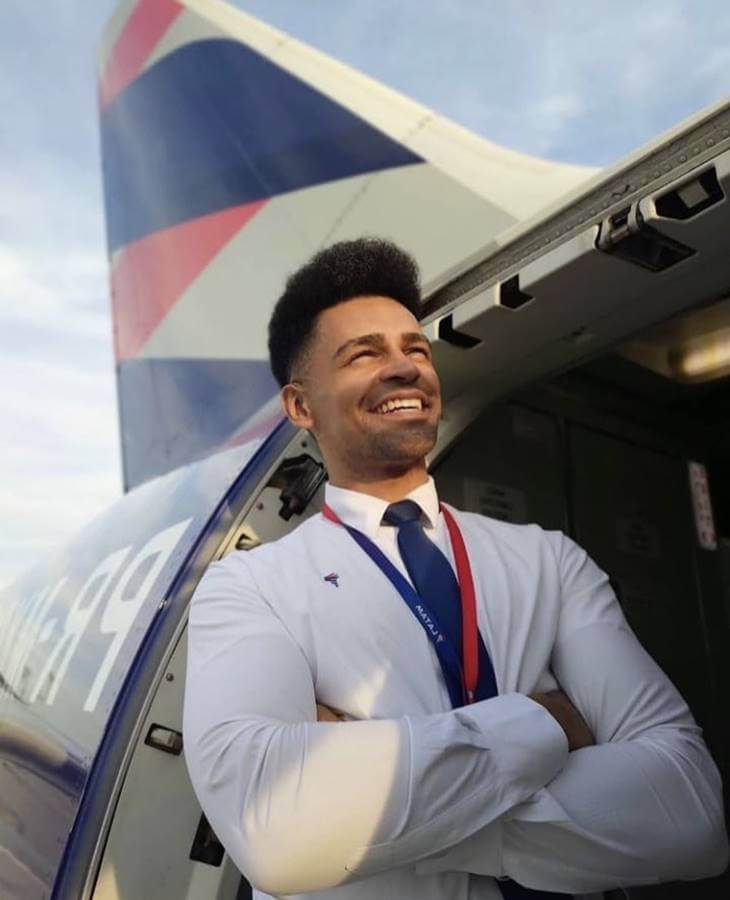 Document Requirements to Prepare
LATAM's application process is done online. The airline company often posts applications through its official LinkedIn account or its official job portal on its official website. Since the applications are held online, make sure to prepare physical and digital copies of the following:
Your updated CV
Your valid passport
Your educational certificates and documents
Your valid flight license (for applicants with prior cabin crew experience)
Your definitive residence documentation to live in Santiago, Chile (for foreign applicants)
Where to Apply for a Job for LATAM Online
To ensure that you stay updated on everything about LATAM, we suggest you take frequent visits to their website. On their careers page, it can be easier for you to track should there be any changes regarding your application process, document requirements, and much more.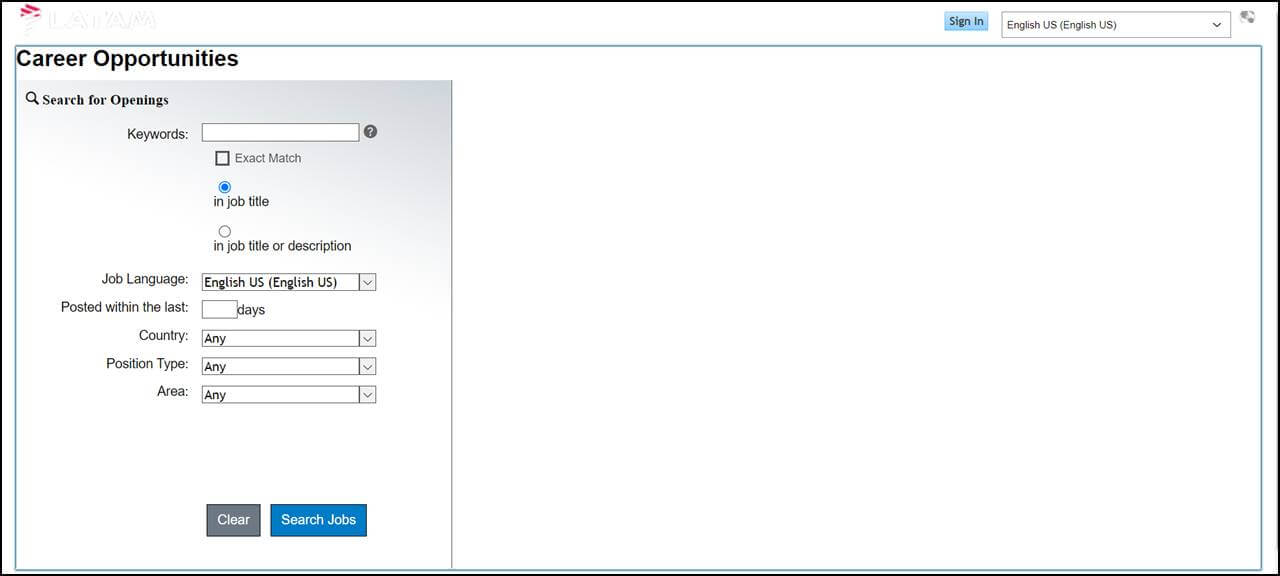 As previously mentioned above, LATAM posts their job openings on their LinkedIn account or their job portal found on their website. You can visit their post of vacancies through their LinkedIn here: https://www.linkedin.com/company/latam_airlines/jobs
How to Become a Cabin Crew for LATAM
Here is the complete step-by-step application process to apply as a flight attendant at LATAM:
Step 1: Compile all the required documents
You will have to submit your flight attendant application at LATAM online. Therefore, you must have digital and physical copies of the documents, including your CV, valid passport, educational certificates, flight license, and other required documentation. Once you're sure that you have compiled all the necessary documents, you can now fill out your online application form.
Step 2: Apply through LATAM Airlines' Job Portal or LinkedIn Account
The next step is to fill out an online job form. LATAM Airlines will post their job vacancies on their LinkedIn account or their official job portal on their website.
If you're applying through LinkedIn, you must create a LinkedIn account. You must also sign up to create an account at LATAM's job portal to submit your application for the flight attendant job opening posted there.
You can use the search function to filter out the available job vacancies on either platform. Look for the job position that says "CABIN CREW" and click on that to begin filling out your online application form. Don't forget to attach your CV and double-check your details before submitting your form.
Step 3: Wait for a response and proceed to the next rounds of evaluation
Once you've submitted your form, you can now wait for a response from the recruitment company to find out if you'll proceed to the next steps of the selection process. The selection process entails a few rounds, which will include interviews, evaluation of your skills and appearance, medical assessments, and the like.
During the interview process, you will also be asked questions related to the company. So make sure to do your research about the airline for your interview.
 Step 4: Complete the training course
If you pass all the evaluation rounds, you will now undergo a two-month training course provided by the airline. The training course consists of classes that will improve an individual's skills for the job, such as:
Aeronautical Regulations
Aircraft Qualification
General Emergencies
Dangerous Goods
Onboard Service
Besides holding theoretical subjects, practical classes will also be held in order to help the applicants apply what they have learned from these classes. You must successfully pass the training course to become part of LATAM's cabin crew team.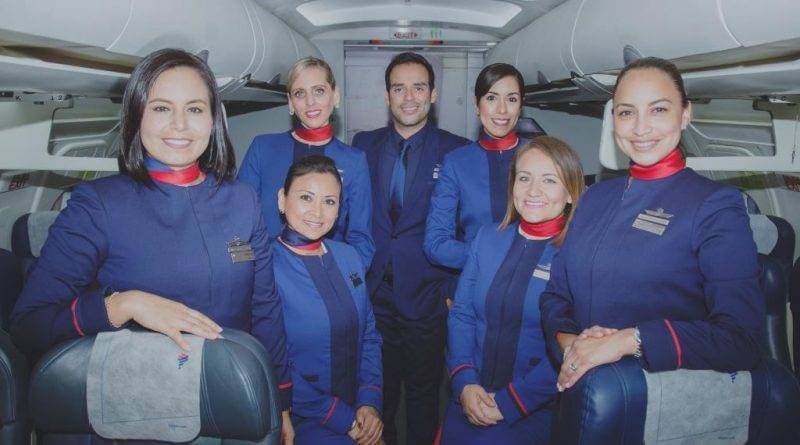 Salary and Benefits of a LATAM Flight Attendant
According to GlassDoor, the average monthly salary of a LATAM flight attendant is R$6,187. And as a cabin crew member of LATAM Airlines, you are also entitled to receive the following benefits below:
Become part of an attractive, global, and multicultural industry
Become part of an airline company that is dedicated to South America's diversity and long-term growth
Work in a dynamic environment that constantly changes and provides new challenges
Have access to broad career development options
Receive free tickets to all LATAM destinations inside and outside of Chile (from your seventh month as a flight attendant at LATAM)
Receive health insurance from the airline company
Video: New LATAM Security Measures
This video, which is published on LATAM's official YouTube channel, shows the new security measures mandated by LATAM. In the five-minute video, Enrique Rosende, the Vice President of Security at LATAM, discusses the new security measures made to ensure the safety of all passengers and collaborators.
These new measures include restructuring the airline's operations, adopting new hygiene measures, wearing personal protective equipment, the mandatory wearing of face masks, and the like.
Photos: LATAM Flight Attendant Photos
Check out these photos of LATAM's Flight Attendants in uniform. As you can see, the uniform is meant to be stylish and functional at the same time. It also helps preserve the individual's and the company's image of professionalism and excellent attention to detail.
Frequently Asked Questions
Here are some common questions you might have regarding LATAM's application process below:
1. Are foreigners allowed to apply as flight attendants at LATAM?
Foreigners are allowed to apply as flight attendants in LATAM as long as they have obtained or are in the process of obtaining the definitive residence documentation to live in Santiago, Chile.
2. Do I need to know how to swim to join LATAM's cabin crew team?
Yes, applicants must know how to swim if they wish to join LATAM's cabin crew team. During the training course, you will be asked to do both land and water drills, so you will be required to swim.
3. Do I need to be proficient in English to apply as a LATAM cabin crew?
Knowing how to speak English is not a requirement to apply as a LATAM cabin crew. However, it is considered a plus to your application. In addition, knowing how to speak Portuguese is also a plus.
4. What is the minimum educational requirement at LATAM for its cabin crew members?
Although LATAM Airlines is accepting high school graduates for its flight attendant position, those who have finished or are currently doing university or technical studies are preferred.
5. Do I need to be a holder of a valid flight license to apply at LATAM Airlines as a cabin crew?
No, you don't have to own a valid flight license to apply as a LATAM flight attendant. However, it is considered a bonus if you are a holder of one.
6. Do I need to have in-flight experience or experience in customer service to apply as a cabin crew at LATAM?
No, you don't have to have in-flight experience or experience in customer service to apply as a cabin crew at LATAM. However, it's considered a plus if you have them.
7. Where can I apply as a flight attendant for LATAM Airlines?
You can look for cabin crew job vacancies on LATAM's official website and clicking on "WORK WITH US" at the bottom right corner of the homepage. Alternatively, you can visit their official LinkedIn account.
8. How long is the flight attendant training course in LATAM Airlines?
The flight attendant training course in LATAM airlines lasts for two months.
9. What are the classes involved in LATAM's cabin crew training course?
LATAM's cabin crew training course includes theoretical and practical courses. It will include subjects such as Aeronautical Regulations, Aircraft Qualification, General Emergencies, Dangerous Goods, and On-Board Service.
10. Where do LATAM flight attendants stay upon working for the airline company?
The place of work will be at Santiago Airport. Therefore, you will be living in Santiago, Chile, upon working for LATAM Airlines.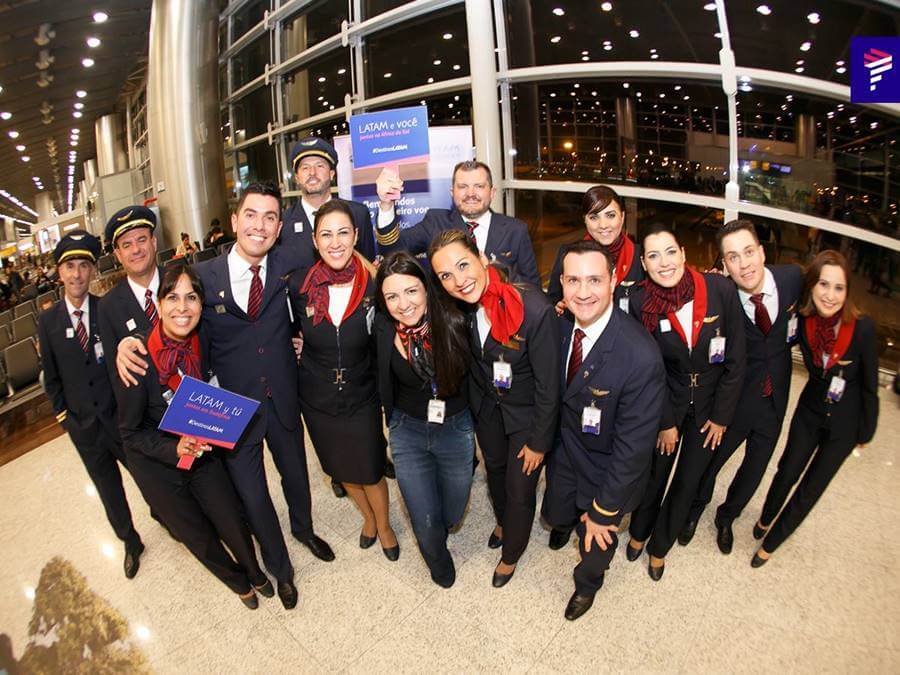 Summary
Both Chilean and foreign applicants who meet the flight attendant qualifications at LATAM are welcome to apply. The application is held online, and applicants who pass all evaluation rounds are required to accomplish LATAM's two-month training program before joining LATAM's cabin crew family.
If you meet the qualifications and are interested in applying, don't think twice and send your application now. And by taking note of everything listed in this guide, you should be well-prepared for your flight attendant application. Good luck with your cabin crew journey!
Contact Information
LATAM AIRLINE GROUP S.A.
Address: Avenida Presidente Riesco 5711, Santiago
Website: https://www.latamairlines.com/us/en
Facebook: https://www.facebook.com/LATAMAirlines/?brand_redir=112677442099386 
Instagram: https://www.instagram.com/latamairlines/ 
Twitter: https://twitter.com/LATAMAirlinesUS
YouTube: https://www.youtube.com/user/LANAirlinesUSA 
LinkedIn: https://www.linkedin.com/company/latam_airlines