Royal Air Philippines began operations as an air charter service on August 22, 2002. The charter service was expanded with new management in 2017. After two decades as an air charter company, Royal Air began commercial operations in 2018. It began commercial operations and successfully launched its first flight from Clark to Caticlan and vice versa. Royal Air is dedicated to expanding its domestic and international routes in order to become the country's fastest-growing airline, with the goal of connecting the Philippines to more locations.
Also Read: 15 Must-Have Qualities of Cabin Crews
To become a flight attendant for Royal Air, there are several requirements you need to comply with to get qualified. The requirements for becoming a Flight Attendant have changed over the years and vary from airline to airline, which can easily confuse aspiring Cabin Crew. So now, here are the precise details about Royal Air's Flight Attendant requirements.

List of Requirements and Qualifications to Become a Royal Air Philippines Cabin Crew
You must be at least 5'3 in height.
Candidates must have a high school diploma.
Preferably below 27 years old.
Must be able to communicate in the English language.
Other requirements include good communication skills and the absence of visible tattoos, scars, or birthmarks.
Ability to swim.
No eyeglasses.
Be able to remain calm under pressure.
Have exceptional interpersonal and organizational skills.
Their weight and height must also be proportionate.
Check if you don't have a fear of heights. Flight attendants are required to evacuate an airplane quickly in an emergency, so they must be comfortable with heights.
A tidy, well-groomed appearance is required for the actual professional presentation.
You must be in good physical and mental health.
Must be willing to get tested for drugs and any related illegal substances.
Responsibilities:
Performs duties that demand standing, walking, stooping, kneeling, reaching, lifting, stretching, and bending in aircraft aisles and galleys for up to 14 hours or more. Such responsibilities can be compounded by unpredictability and, at times, air turbulence.
Moveable carts are pushed or pulled. Frequently required to employ up to 25 pounds of effort. to move goods such as beverage stowage containers by lifting, pushing, or pulling. It is occasionally necessary to utilize 25 to 55 pounds. Some of these pushing, pulling, or lifting forces must be done with.
Displays a professional image, including a neat, well-groomed appearance in accordance with the Flight Attendant Uniform Appearance Standards. Punctuality and consistent attendance are required functions of the work.
Must be able to talk clearly, concisely, and loudly enough to be heard in an emergency. Fluency in speaking, reading, writing, and understanding English.
Serve food and beverages at the designated time.
Assist and demonstrate safety to all passengers on board.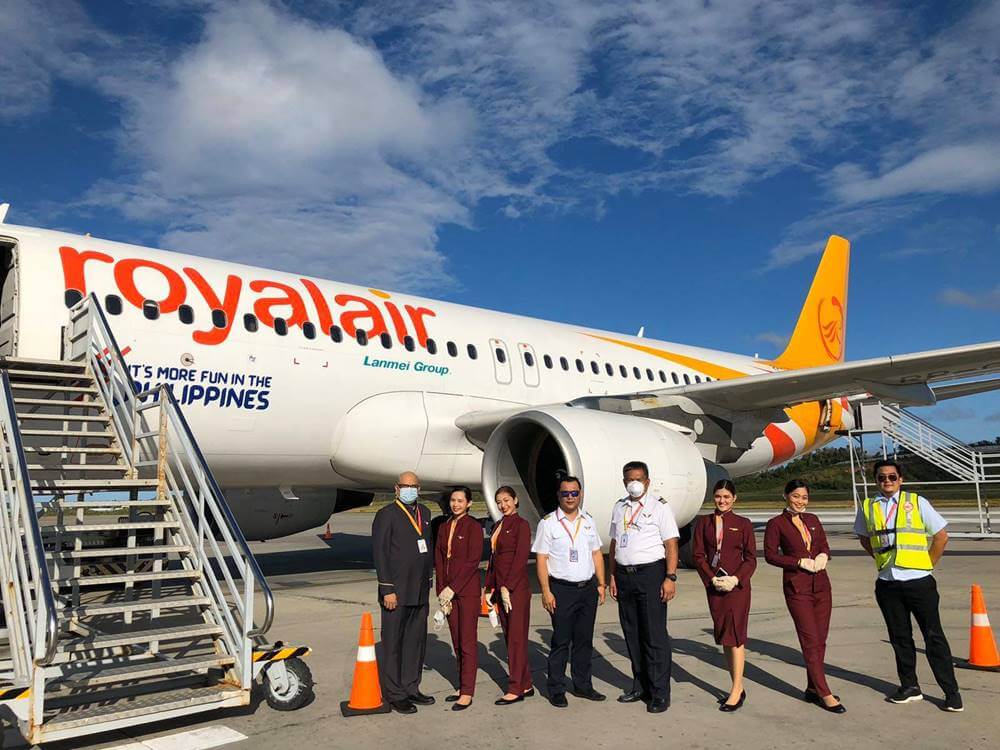 Application Process
Step 1: Go to Royal Air's official website https://flyroyalair.com/ or go directly to their Facebook page here for walk-in application schedules. You can go here: https://www.facebook.com/flyroyalair
Step 2: When applying for a flight attendant position, the first thing you need to do is update your resume and make it look professional. You can get disqualified or accepted after the recruitment team read your CV or Resume. So before sending it, make sure to check for possible errors.
Step 3: Make sure to follow every detail of the application process. Possible documents they might ask such as a CV, Diploma, Copy of Passport, or Certifications must be prepared.
Step 4: After submitting your application, wait for their recruitment team to contact you or send a notification through email or call. The hiring process may take some time.
Step 5: When scheduled for an interview, make sure to wear professional attire, full makeup, and a neat appearance.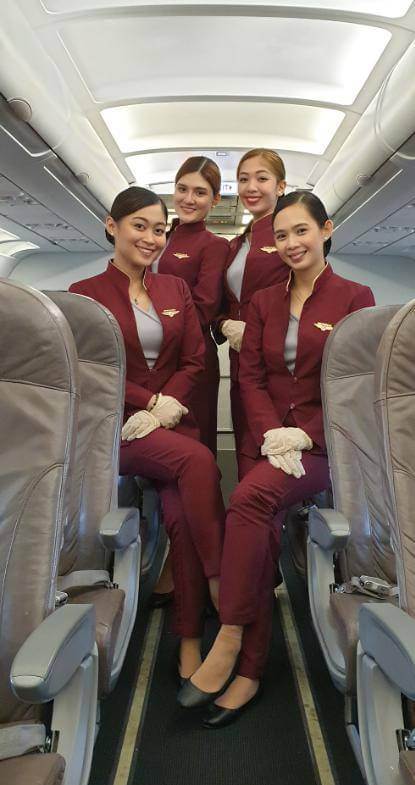 Salary and Benefits
The average flight attendant's gross compensation in the Philippines is P546,166 or P263 per hour. They also receive an average bonus of P14,528. Wage estimates are based on salary survey data from employers and anonymous employees in the Philippines.
Video: Royal Air Philippines is hiring for Cabin Crew / Flight Attendant Walk-in recruitment event 2022
Since Royal Air isn't very detailed on its website, there are only a few public details about the company regarding its recruitment process. But, this video from YouTube will give you the exact hint on how they select Cabin Crew applicants.
Photos: Royal Air Philippines Cabin Crew Uniforms
Check out these pictures of Royal Air Philippines crews so you can see what they look like in uniforms:
Frequently Asked Questions
The following are some of the common questions asked about Royal Air Philippines:
1. What edge does Royal Air Philippines look for aspiring Flight Attendants?
Experience in hospitality, individualized customer service, patient care, or a similar job is required. Experience in a position that ensures the safety and/or care of others.
2. Where is the exact location of Royal Air in the Philippines?
Royal Air's main office is located at Clark International Airport 2, Clark Freeport Zone Philippines, and has a satellite office in Ninoy Aquino Ave, Paranaque City, Metro Manila Philippines.
3. What should I wear for my interview?
Women should wear closed-toed shoes, a knee-high skirt, and a corporate top. Men should wear a suit and tie with dress shoes. Remember to dress smartly and professionally.
4. How long does the job application process take?
This procedure normally takes three weeks or more. For walk-in application expect the selection process to be faster.
5. Does Royal Air Philippines pay Flight Attendants when undergoing a training program?
Training details will be discussed in person or through email. You will see from there if there is compensation.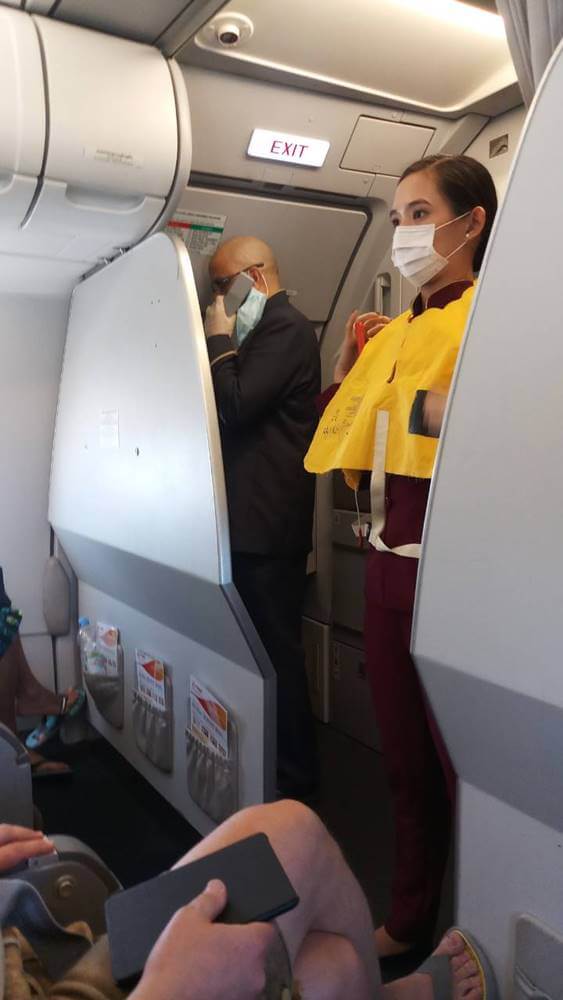 Summary
Royal Air Philippines is known to have a warm, passionate, and genuine approach to travel. The airline wants to weave stories of people coming together and making aspirations come true. As it continues to expand in the air transport business, they leave a promise that will strive to provide our passengers with an excellent flying experience by providing creative and superior service. If you want to become a part of this low-cost airline in the Philippines, make sure to have all the requirements and abilities above.