Flybondi is an Argentina low-cost airline operated by FB Lneas Aéreas S.A. The airline has the oldest Boeing 737-800 aircraft that is still active in operations from bases in Buenos Aires and Córdoba. The privately held airline began operations in 2018 when inexpensive airlines were first permitted to operate in Argentina. This launch increased competition for the country's main carrier, Aerolineas Argentinas.
Also Read: New York Layover Guide: Best Things to Do in 24 Hours
In 2022 FB Lineas Aereas, based in Buenos Aires, spend its profits to increase its fleet making more opportunities for new Flight Attendants. One of the missions of Flybondi is to provide a safe and friendly flight to every guest they serve. The airline is known for being fair in every aspect, especially when it comes to hiring employees. If you want to join their fleet, here is your simple guide.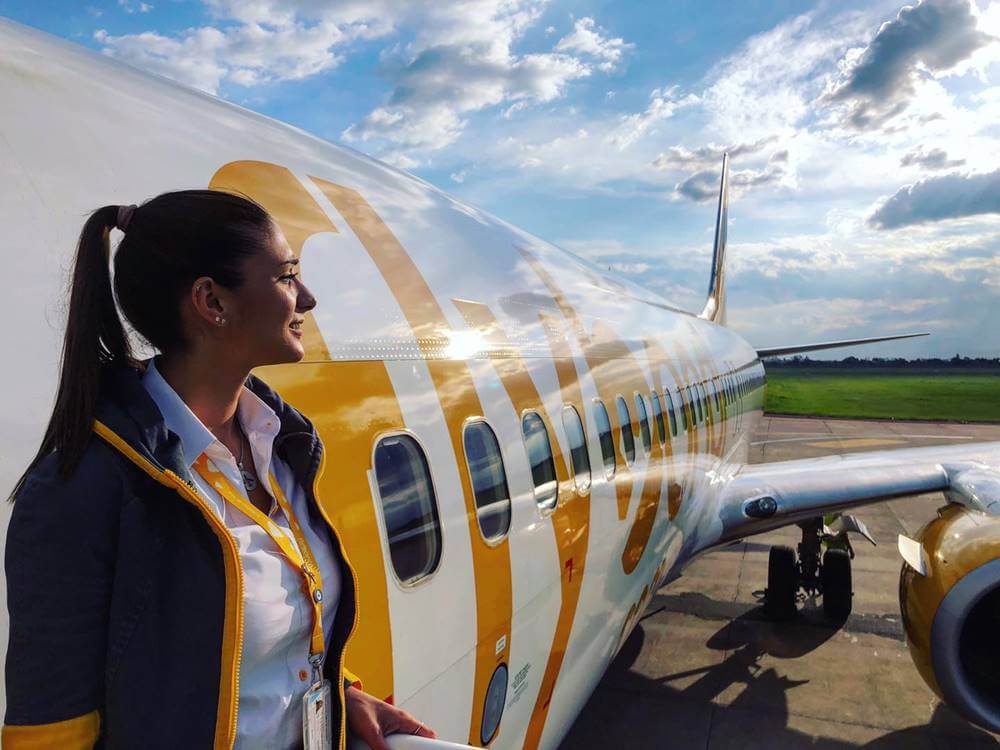 List of Requirements and Qualifications to Become a Flybondi Cabin Crew
You must be a passport holder without any restrictions.
Possess a high school diploma.
Authorized to work legally in Argentina.
Must be able to correct eyesight to 20/40.
Must be able to swim.
Sufficient physical and mental stamina to carry out the duties entrusted to flight attendants.
Ability to perform effectively under pressure.
Willing to undergo medical examinations, especially drug tests.
Responsibilities:
      Guide and assist travelers to ensure their safety and comfort.
      Make an inspection before take-off.
      Greet passengers and communicate in a very professional way.
      Assist passengers in finding their seats.
      Serve food and refreshments.
      Respond to customer requests.
      Demo safety devices and instruct passengers on how to use them.
      Cabins must be monitored, managed, and protected.
      When an incident occurs, assist customers and flight personnel.
      Assist travelers with special needs, such as children, the elderly, and people with disabilities.
      Compile and store flight reviews.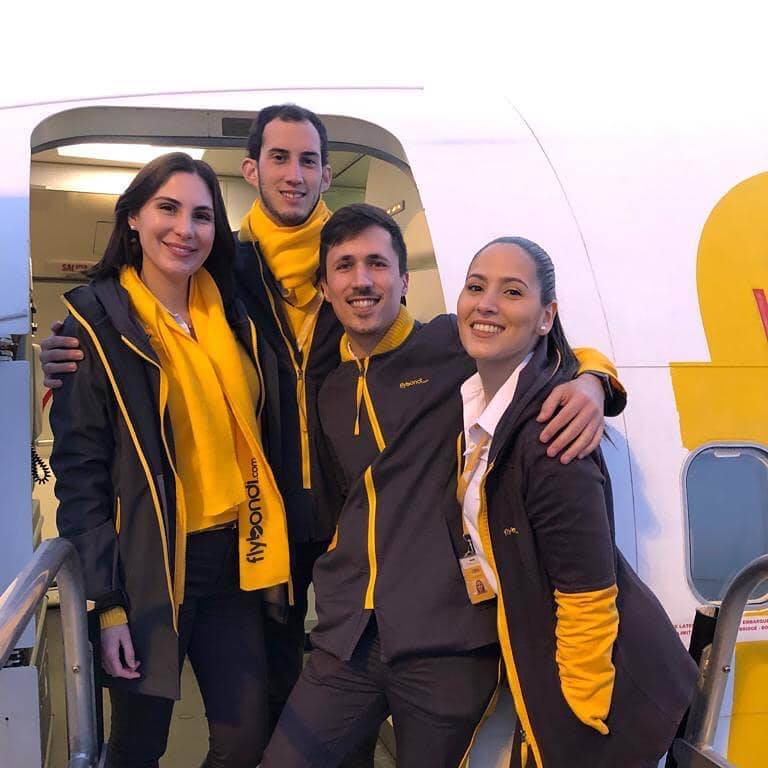 Application Process
Step 1: To get a job inside FlyBondi, you can go here: https://flybondi.com/ar
Check for possible updates regarding their job postings. You can also visit their Facebook Page: https://www.facebook.com/flybondi/ and also through their social media accounts for flight attendant job opening alerts.
Step 2: Go on the web pages and check if cabin crew positions are available. Once a job post is open, apply for the position. If a Flight Attendant vacancy is posted on the Facebook page, just follow the process in the hiring post.
Step 3: Prepare all the requirements or documentation needed for your application. Do not also forget to complete your online application with all the necessary information without errors.
Step 4: Once shortlisted, they will notify you through call or email. So, keep your lines up and always check for their message.
Step 5: You need to pass the initial interview so you can proceed to the training process.
Step 6: Complete the designated flight attendant training and you're good to go!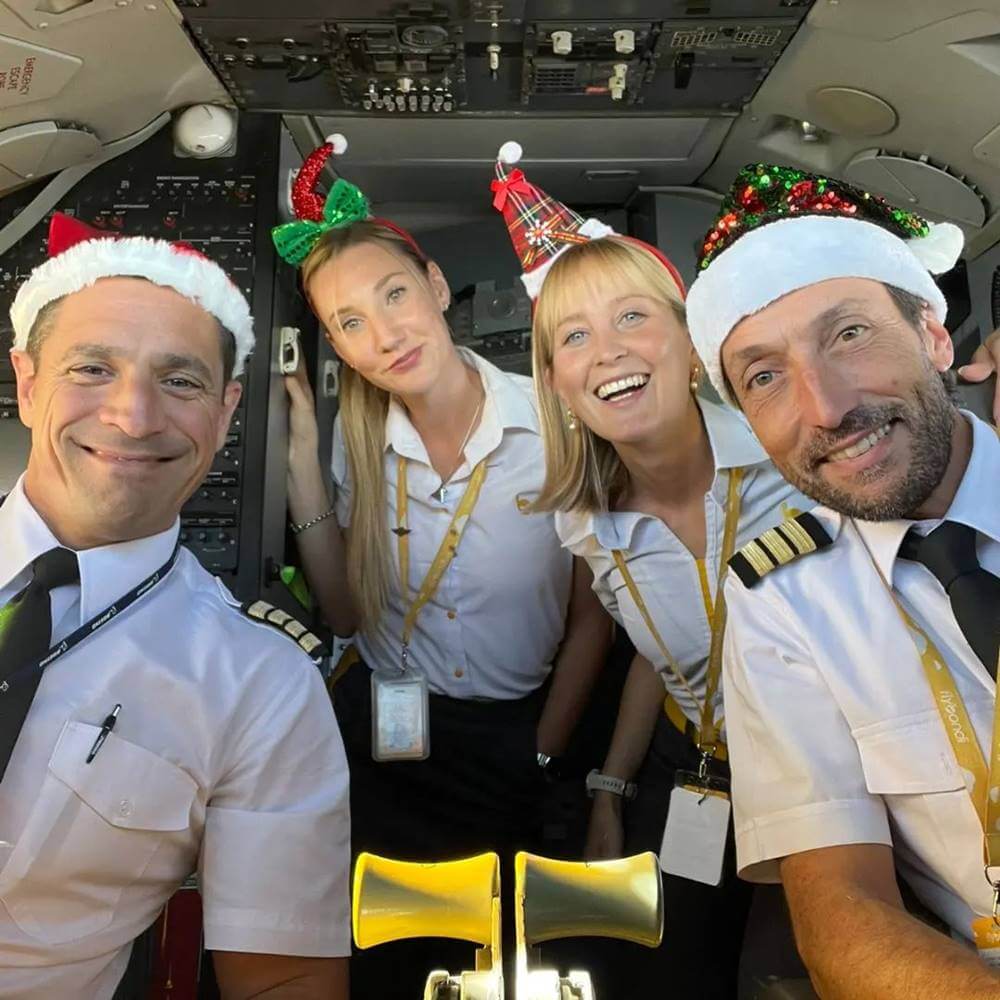 Salary and Benefits
The income of a flight attendant in Argentina is quite decent. The average monthly income is roughly 32,200 ARS, however, there are numerous benefits that come with employment.
In addition to your salary, you will receive the following benefits:
Free or discounted travel is referred to as discounted travel. Many airlines provide their employees with free or subsidized travel on their own and other carriers' flights. This might be a fantastic benefit for those who enjoy traveling. If you enjoy traveling, this bonus can be really valuable.
Health Insurance and Retirement Savings Plans: These advantages may differ depending on the airline for which you work.
Flight attendants frequently obtain free or reduced hotel accommodations during layovers. This can be a terrific method to save money on lodging while traveling.
Free Meal: Many airlines also provide flight attendants with additional advantages such as free meals and drinks, free or discounted rental car rates, and other reductions on travel-related expenses. Overall, working as a flight attendant in Argentina can be a terrific way to earn a good wage while enjoying some great advantages.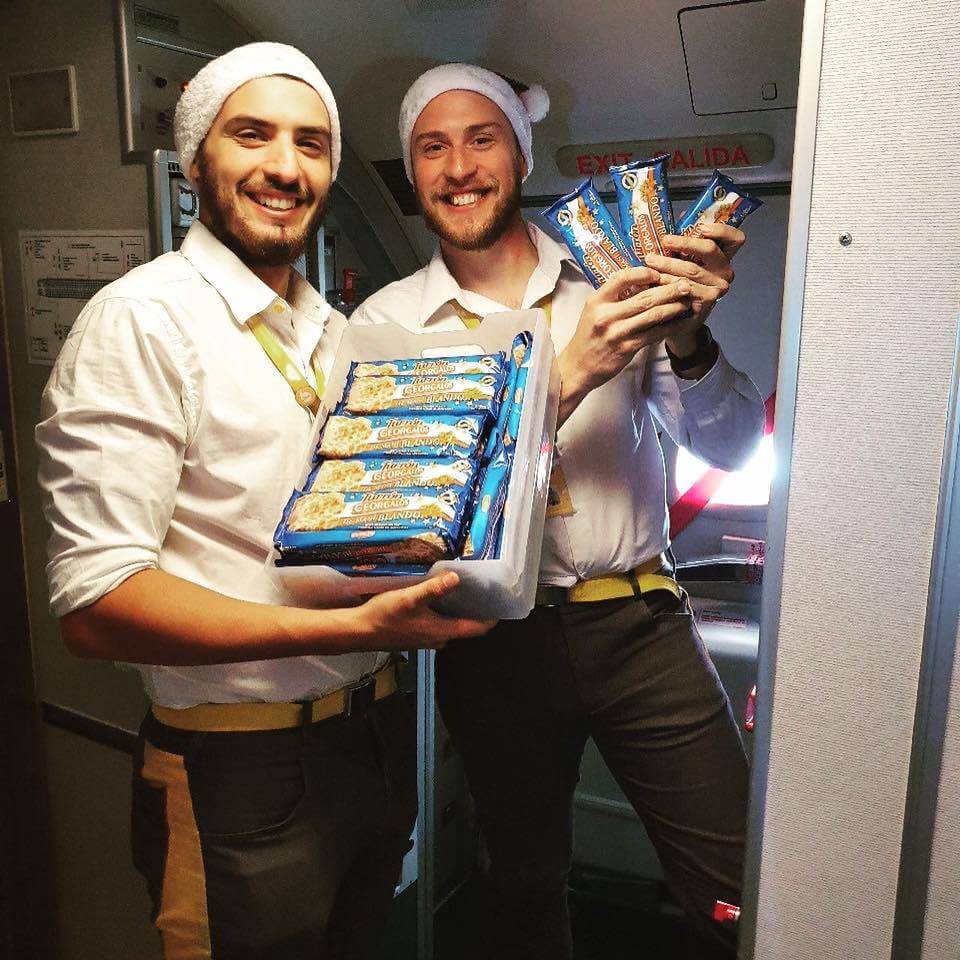 Video: Buenos Aires 🇦🇷🇧🇷 Rio de Janeiro – Flybondi – JUN2022 – low cost
This is a traveler's journey between the Ezeiza airport in Buenos Aires and the Galeao airport in Rio de Janeiro aboard a Boeing 737 800 from Flybondi, Argentina's first low-cost airline, which takes place up to two times every day. Want to see how Flybondi Flight Attendants deal with a passenger vlogger? See this video.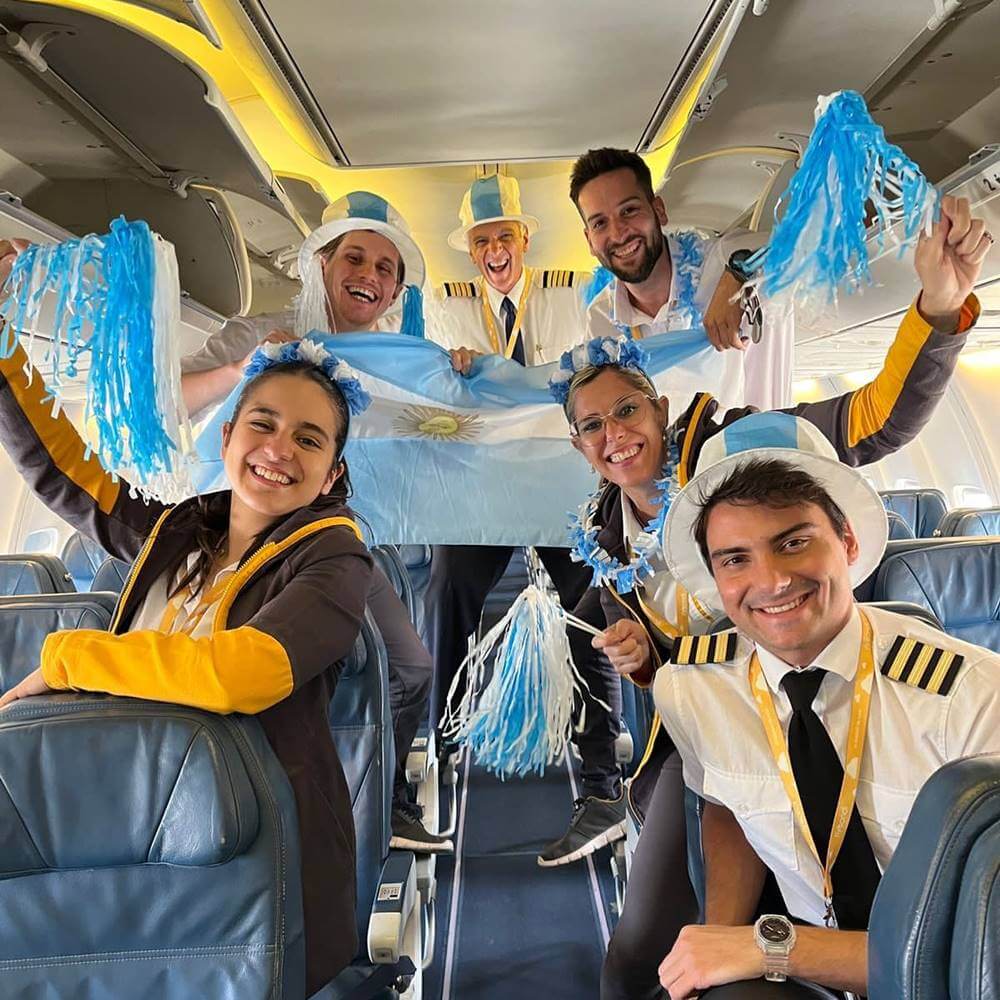 Photos: Flybondi Cabin Crew Uniforms
Check out these pictures of Flybondi crews so you can see what they look like in uniforms:
Frequently Asked Questions
The following are some of the common questions asked about Flybondi:
1. Where is Flybondi located?
FB Lineas Aereas or FLybondi is based in Buenos Aires, the capital of Argentina.
2. What should I wear on the assessment day?
Dress smart, and choose colors that are similar to the uniforms of FAs in that fleet.
3. My height is not proportionate with my weight. Can I still apply?
If your height is good but your weight doesn't match it, this may affect your qualification. Same as if your body weight is good, yet you're too tall or short for your weight. Physical appearance really matters for aviation companies.
4. I can't see job or career postings on their website. Where else can I find job opportunities?
You may go directly to their Facebook Page for job postings.
5. How long should I wait for the result of my application?
Flybondi will not give you a time frame just like most airlines. It could take days, weeks, or even months. Just be patient and use the waiting time as a moment to prepare for the interview and other possible requirements.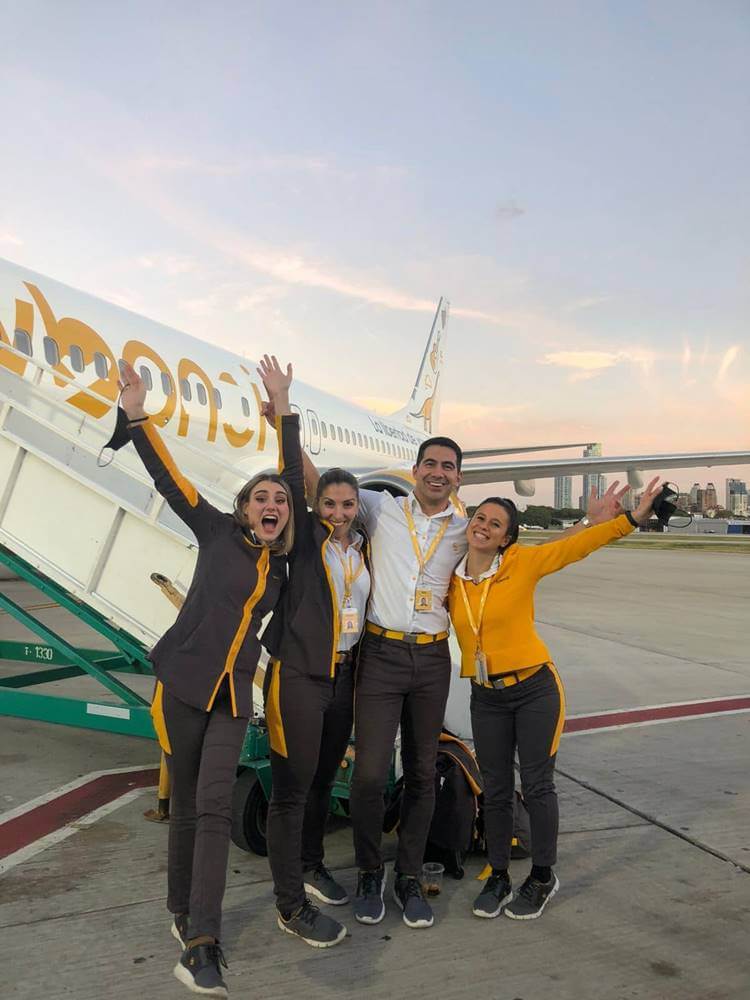 Summary
Flybondi is a solid company that keeps its word, it is aware of the impact of its actions. When looking for a company to work as a flight attendant, don't just search for a well-established airline, see their mission and how people see them. If the result seems to be close or similar, then the airline has one word. There is no perfect airline to choose from, you just need one that fits your qualifications and has promise and action.