According to Indeed, a Flight Attendant at Air North can earn an average monthly basic pay of CAD$2,107 ($1,575). This is based on the given average rate per hour which is CAD$21 ($28.10) by the Indeed Canada website. The above calculation was based on the per-hour rate provided by the famous job and salary review site, multiplied by the standard guarantee flying hours for new FAs, which is 75 hours. Please keep in mind that this rate is intended for starting flight attendants. FAs are still entitled to incentives, bonuses, and additional allowances.
Also Read: 328+ Flight Attendant Quotes, Sayings and Inspirational Messages
Joe Sparling and Tom Wood established Air North Charter and Training in 1977. The original intention of these two was to provide charter flights to the mining industry and flight training services—but it didn't take long for them to go beyond that vision. Since then, the airline added more planes to its fleet, including Boeing 737-400 and -500 jets and ATR 42 turboprops. Between 2013 and 2019, the airline expanded its network to include Kelowna, Yellowknife, Ottawa, Mayo, Victoria, and Watson Lake. More cities in Canada are expected to join the airline's network in the future.
Image: Air North
Air North Flight Attendant Cash Salary Breakdown
Basic Salary – According to Glassdoor, a new Flight Attendant at Air North can expect to earn an estimated amount of CAD$2,107 per month ($1,575). This computation is based on the average per-hour rate available on the Indeed Canada website, multiplied by 75 hours guarantee. New FAs can also earn an extra salary through bonuses, commissions, profit sharing, stock options, and tips are all possible forms of additional compensation.
Flying Pay – A new Flight Attendant at Air North can earn an estimated starting flying pay of  CAD$21 per hour ($28.10). The said starting rate may increase after a certain period of time mandated by the airline.
Layover Allowance – Currently, there are no publicized per diem pay rates for Air North Flight Attendants. The actual and precise rate will be discussed throughout the deployment process. The layover allowance or per diem pay is intended to cover the expenses of all your meals and other expenses during a stopover.
Image: Air North
Benefits
Also Read: Do Pregnant Flight Attendants Still Fly and Work on the Plane?
Image: Air North
Video: Airnorth 35 years
It's been three decades since Air North started in the air transport business. This video will help you familiarize every important detail about the company since it started. Air North may be a small Canadian airline, but it is believed to be one of the finest in the world when it comes to customer satisfaction. A lot of reviews for Air North are really commencing the airline and its staff.
Frequently Asked Questions
The following are some of the common questions asked about Air North:
1. Is Air North in partnership with other airlines?
Air North and Philippine Airlines are collaborating to conclude an interline agreement. The Yukon Government applauds Air North's efforts to establish an interline agreement with Philippine Airlines, which will deepen links between the Yukon and the Philippines.
2. What type of airline is Air North?
Air North Charter and Training Ltd., doing business as Air North, Yukon's Airline, is a Canadian airline headquartered in Whitehorse, Yukon. It runs regular passenger and cargo flights.
3. Is this a good airline to pursue a career if I expect good benefits?
This airline has an excellent reputation; there is no cause to be concerned. Though this is just a small airline in Canada, you will definitely get a decent salary and a pleasant working environment. The airline has been tested for decades and a lot of feedback is commenced from both the people and the airline.
4. Does Cargo Flight operated by Air North needs FA?
Yes, even on cargo flights, there are still some cases wherein an aircraft needs FA in a cargo plane. Flights of less than eight hours though only require a Captain and First Officer.
5. How much is the average per hour of a Flight Attendant in Air North?
According to Indeed Canada, the average per-hour rate for a Flight Attendant at Air North is CAD$28.10 ($21).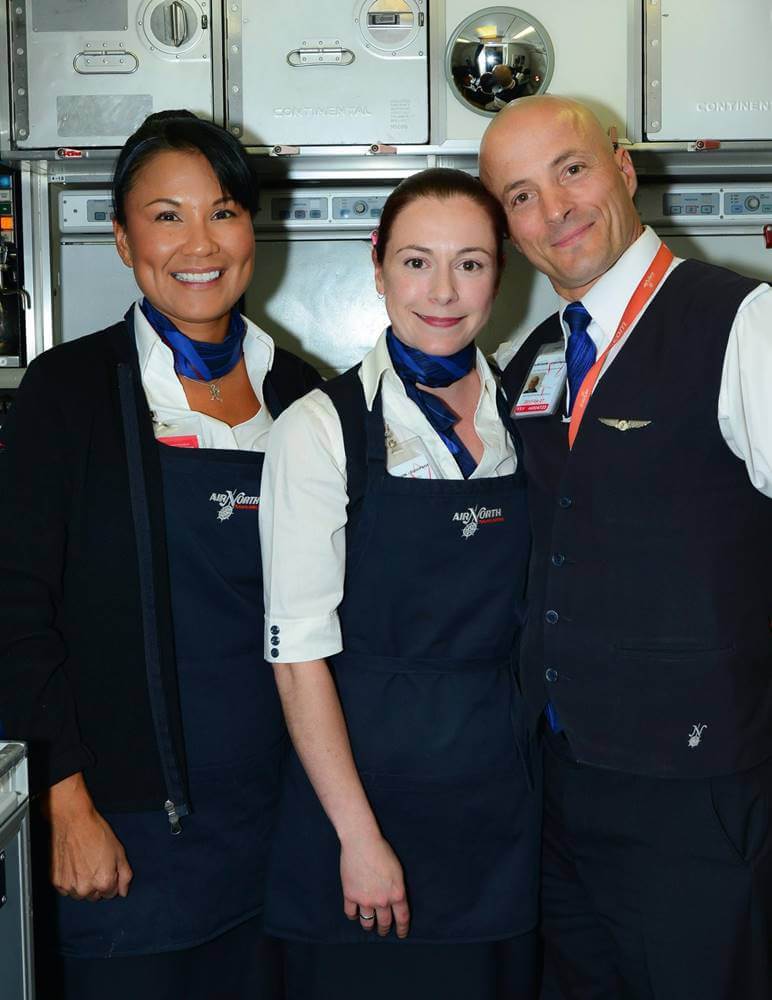 Summary
Working as a Flight Attendant for Air North is an excellent career option with many benefits. The airline offers competitive salaries and great medical benefits such as supplemental training, health insurance, life insurance, long-term disability insurance and 401(k) retirement plans. Not only will you get to travel the world for free but also enjoy discounts on airfare when bringing your family or friends along. With over 35 years of experience in the aviation industry providing exceptional service to their customers, there's no doubt that Air North has earned its reputation as one of the best airlines in Canada.