Is being a flight attendant the job of your dreams? Pursuing a flying career is a rewarding job that comes with plenty of perks, so it's important that you apply for an airline company that will not only put your existing skills to use but also offers you a great working environment and experience.
Also Read: London Layover Guide: Best Things to Do in 24 Hours
JetSmart is an airline under Indigo Partners that has over 20 years of experience developing Ultra Low-Cost airlines around the world. The company is managed by a top-notch team hailing from different countries, providing passengers with quality customer service and flights. JetSmart is hiring skilled job candidates to fill its cabin crew positions, so don't hesitate to sign up for the role if you're up for it!

Overview of JetSmart
Also stylized as JetSMART, JetSmart Airlines SpA is an ultra-low-cost carrier in South America founded by the US investment fund Indigo partners, which is the same firm also controlling other known low-cost airlines such as Hungary's Wizz Air, Frontier Airlines, and Mexico's Volaris.
JetSmart was founded in 2017 and kickstarted its operations on July 25 of the same year with a flight service from Santiago to Calama. The airline company's main headquarters is currently located at the Arturo Merino Benitez International Airport, which services Santiago, Chile. Besides this, JetSmart airline also manages and owns JetSmart Argentina, a subsidiary airline that has a base situated at Aeroparque Jorge Newbery in Buenos Aires.
The airline company remains dedicated to connecting people by offering affordable flights through its Ultra Low-Fare travel and remains committed to its vision of linking the millions of people within South America. Its low and ordinary fare allows more passengers to travel conveniently without being required to pay additional fees for extra perks or benefits. The airline also operates using the A320 airbus fleet, guaranteeing passengers a more comfortable and relaxing flight experience.
Responsibilities
It's important to note that the Cabin Crew is the face of the airline, which means that you basically represent the company's values, mission, and vision. Although high profile and fulfilling, the flight attendant position also requires you to carry out different roles, which are crucial in flight and on the ground. Knowing the responsibilities of a flight attendant under JetSmart will help you be more efficient in performing these duties and tasks. These include the following:
Ensure passengers' satisfaction by attending to their concerns and queries
Check the cabin before take-off to ensure compliance with the airline's safety rules and regulations
Greet travelers on board and direct them to their assigned seats
Demonstrate how to use safety equipment
Monitor the cabin throughout the entire duration of the flight
Respond to in-flight emergencies and administer first-aid when necessary
Attend to passengers with special needs, such as unaccompanied minors, elders, and persons with disabilities
Prepare clear and accurate reports detailing significant happenings or issues during the flight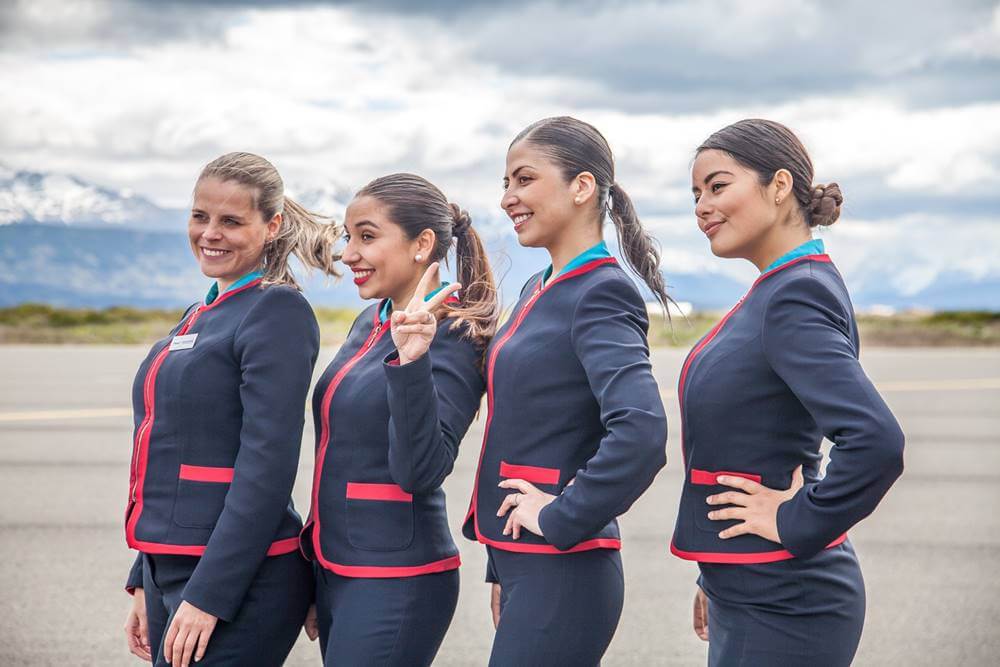 Qualifications
Although JetSmart is far from other huge and luxurious airlines worldwide, there's no doubt in the company's commitment to providing pure and excellent customer service to its passengers at every chance it gets. For this reason, the airline has a set of standards that job candidates need to comply with to be considered for hiring and employment.
These qualifications also give the company increased confidence in employees' capabilities, ensuring that you can perform your responsibilities diligently and productively. Here are some of them:
Must not have any health-related issues or concerns
Must have finished high school or GED as the minimum attainment for education
Must have excellent communication skills
Must not have any piercing on the face; only one piercing in the earlobe is allowable
Can adjust to different flight and airline situations
Must be willing to work anytime in different situations
Must have the willingness to be relocated depending on how close to the operations base they prefer to live
Must have the ability to resolve problems and look into operational incidents during flights
Must have completed flight attendant training
Must be a team player and have the capacity to work well with other cabin crew on security and safety issues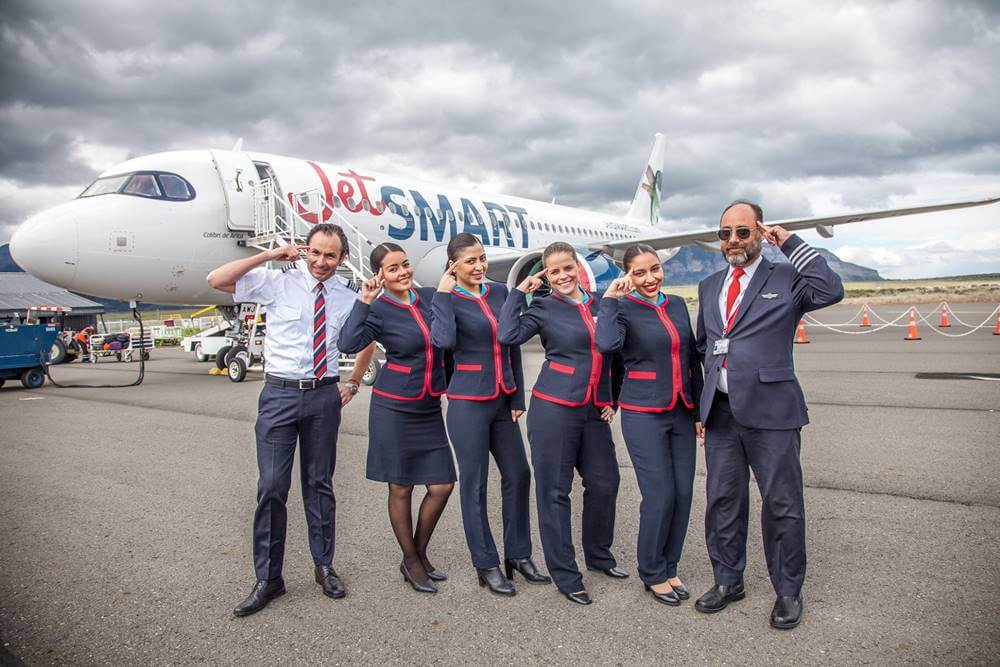 Document Requirements to Prepare
If you're already aware of the responsibilities that come with being a flight attendant, as well as the qualifications you need to comply with, you can now proceed to prepare the necessary documents for your application. These include the following:
Updated CV or resume
Recent photo of the job candidate
Cover letter
Diploma or proof of educational attainment
Valid passport
Where to Apply for a Job for JetSmart Online
You can apply for a job at JetSmart by submitting your application online. To do this, you need to go to the airline's official website at www.jetsmart.com or directly through its Job Offers page here: https://jetsmart.com/us/en/postula/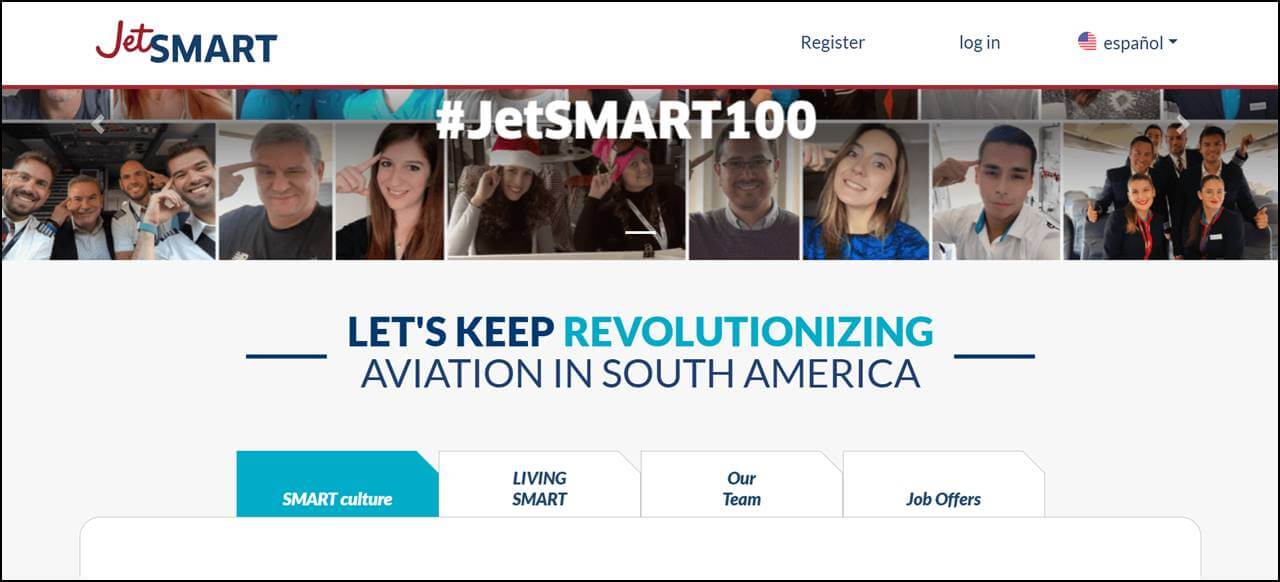 How to Become a Cabin Crew for JetSmart
Here is the step-by-step process to apply as a cabin crew for JetSmart:
Step 1: Visit JetSmart's official site.
Go to the official website of JetSmart at www.jetsmart.com, where you will be redirected to the home page of the airline company site. Scroll to the bottom and look for the 'WORK WITH US' option, and click on it. Otherwise, you can simply go directly to its Job offers page by clicking here: https://jetsmart.com/us/en/postula/
Step 2: Fill in the necessary details.
Once you're on the Job offers page, you'll be asked to fill in a form. The form asks for basic information like your name, the country you're applying for, email, telephone number, and the job position you want to apply for as well.
Step 3: Upload your CV.
Once you've filled in the required details, upload your CV or resume in pdf format. Make sure that it doesn't exceed over 3MB. Click "I accept the Terms and Conditions and then send".
Step 4. Wait until the company notifies you.
Once you've sent your form, the company will email you a list of vacancies in the job position you chose to apply for. Make sure to follow through with the next steps according to their instructions.
Monthly Salary a JetSmart Flight Attendant
The estimated salary of a JetSmart cabin crew or flight attendant is around 1 260 000 CLP. This can range from 653 000 CLP to at least 1 920 000. The salary also includes other perks and benefits, such as free travel opportunities, employee discounts, free food and food reimbursement, health insurance, dental insurance, and life insurance, as well as retirement benefits and saving plans.
Video: Flying Experience with JetSmart
This video by JetSmart shows the usual responsibilities of cabin crew during flights. It primarily shows how the airline company takes care of its passengers to offer them a comfortable flight experience, such as serving food and drinks and frequent sanitation of the cabin. Watching this video will help offer interested job candidates an insight into what working in the company will look like, as well as the standards they uphold.
Photos: JetSmart Flight Attendant Photos
Check out these photos of JetSmart's Flight Attendants in uniform. As you can see, the uniform is meant to be stylish and functional at the same time. It also helps preserve the individual's and the company's image of professionalism and excellent attention to detail.
Frequently Asked Questions
Have some questions about JetSmart's cabin crew qualifications and hiring process? Here are some commonly asked questions and their corresponding answers below:
1. How can I apply for Jet Smart?
To apply, you need to visit JetSmart's official website and fill in the required details for your application.
2. Do JetSmart flight attendants get salary benefits as well?
Yes. Apart from the competitive salary, flight attendants also get other perks such as discounts, food reimbursement, health and dental insurance, as well as free travel opportunities.
3. What are the necessary skills needed to be a JetSmart cabin crew?
As a cabin crew for JetSmart, you need to possess great interpersonal and communication skills. You must also know how to promptly deal with certain emergencies and address difficult passengers
4. Where is JetSmart's primary base of operations located?
JetSmart's headquarters is located at the Arturo Merino Benitez International Airport in Santiago, Chile.
5. What is a JetSmart's flight attendant schedule look like?
Flight attendants' schedules vary depending on the airline they work for, although you must be willing to work various shifts once in a while and be flexible enough to show up to work at different times.
6. What are the documents I need to prepare for my application to JetSmart?
You will need to prepare several documents, such as your updated CV or resume, passport, photo, and proof of education.
7. Is a college degree required to apply as a flight attendant for JetSmart?
A college degree isn't necessarily required for you to apply, although this is a strong advantage. The airline only needs a high school diploma or a GED equivalent as a minimum educational attainment.
8. Does JetSmart impose strict grooming standards?
JetSmart adheres to strict grooming regulations, especially when it comes to piercings, since face piercings are not allowed. However, one piercing on the earlobe is tolerable.
9. What are my responsibilities as a JetSmart cabin crew?
As a cabin crew for JetSmart, you are tasked with ensuring the passengers' security and comfort and responding to their needs and concerns during flight. You are also responsible for assisting those with special needs and monitoring the cabin.
10. What is the average monthly salary of a JetSmart flight attendant?
There isn't any information about the exact monthly salary that JetSmart offers its flight attendants, though you can expect a range of 653 000 CLP to at least 1 920 000.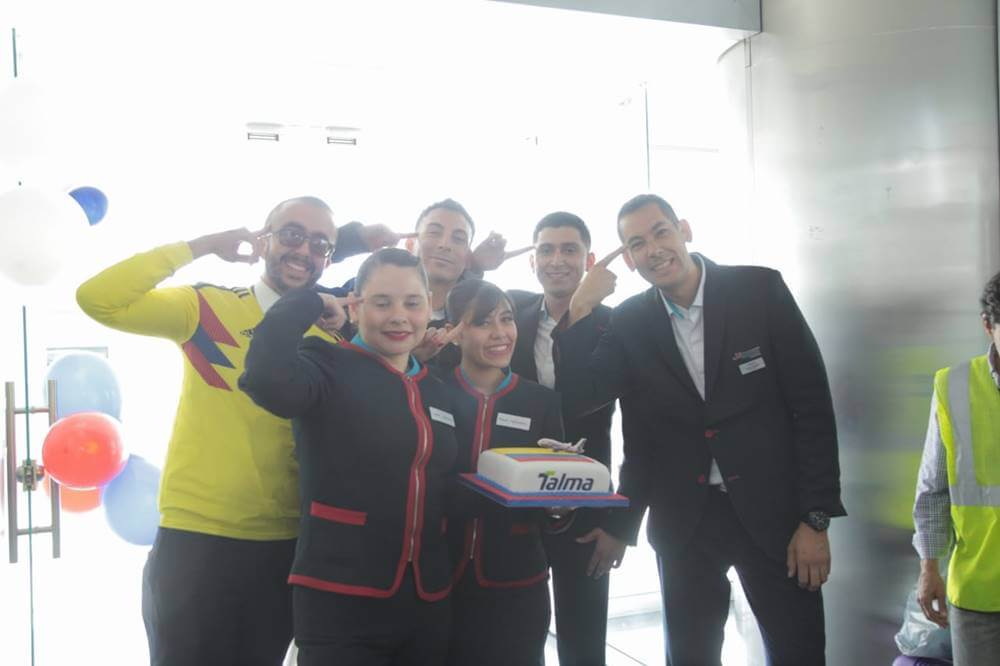 Summary
JetSmart is driven by its goal to connect people by offering low-cost and hassle-free flights for everyone, allowing people to fly more, even by paying less. Its Airbus A320 fleet also guarantees optimal performance and convenient and comfortable flights for its passengers as they reach their desired destinations.
If you want to pursue your dreams of becoming a flight attendant, JetSmart offers plenty of opportunities for you to grow and develop your skills while traveling to different parts of the world. So, what are you waiting for? Submit your application now!
Contact Information
JETSMART
Address: (of main headquarters) Santiago, Chile
Telephone Number: 600 -600-1311
Website: https://www.jetsmart.com/
Facebook: https://www.facebook.com/JetSMARTChile/ 
Instagram: https://www.instagram.com/jetsmart_chile/?hl=en 
Twitter: https://twitter.com/vuelajetsmart?lang=en