Eastern Airways Flight Attendants make an estimated salary of £25 per hour ($30) or roughly £1,808 per month ($2,229). This salary range is based on the salaryexplorer.com's estimated minimum annual pay for Flight Attendants in the United Kingdom. Your earnings as an FA will not be limited to this because generous business benefits, such as Health Insurance and Travel Perks begin on the first day of employment.
Also Read: 524+ Flight Attendant Captions for Instagram
Eastern Airways is a humbleBritish airline headquartered at Humberside Airport in Kirmington, North Lincolnshire, England. The airline provides domestic, international, and private charter services. The scheduled route network transports around 800,000 passengers each year. It has crew bases in Aberdeen, Humberside, Newquay, and Southampton. It is licensed by the United Kingdom Civil Aviation Authority and authorized by the IOSA to transport people, freight, and mail on aircraft with 20 or more seats.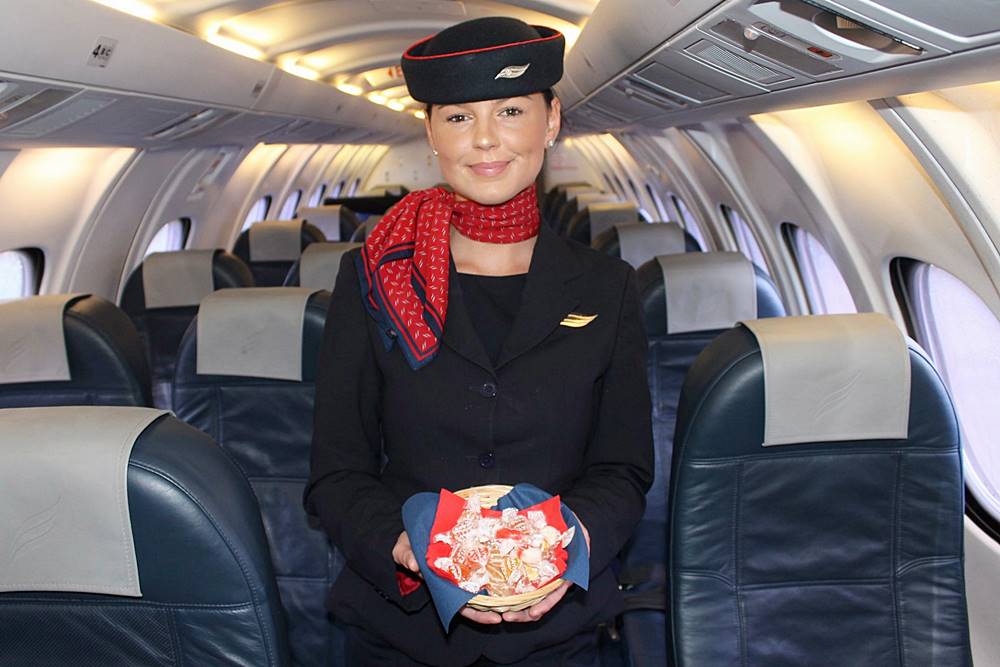 Eastern Airways Flight Attendant Cash Salary Breakdown
Basic Salary –  A Flight Attendant at Eastern Airways can expect to earn an estimated basic pay of £1,808 per month ($2,229). This is based on the given annual pay for beginners released by salaryexplorer.com through its website.  FAs in the said airline can also earn an extra salary through special flights, bonuses, commissions, profit sharing, stock options, and tips are all possible forms of additional compensation.
Flying Pay – Based on the given minimum basic yearly pay for new Flight Attendants on salaryexplorer.com's website, a newbie can earn an estimated starting wage of £25 per hour  ($30). The rate per hour offer is usually discussed during orientation, you can also find the actual offer at the job posting on their website.
Layover Allowance – Currently, there are no publicized per diem pay range for Eastern Airways Flight Attendants. If the airline has layovers at several locations, the cabin staff is compensated for the nights spent away from home. This varies based on the location. The layover payout is intended to cover the expenses of all your meals and other expenses during the stopover.
Also Read: How to Become a Flight Attendant without Experience (Fresh Grads)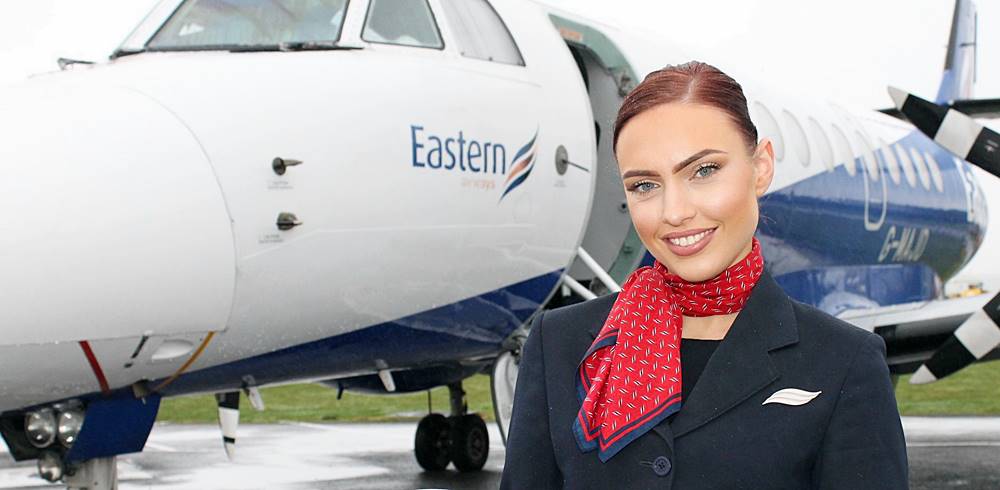 Benefits
Joining the Eastern Airways comes with numerous benefits such as:
Private Health Care Coverage
Healthcare and dependent care with flexible spending accounts
Company pension contributions
Excellent rates on medical plan perks
Minimum of 22 days of ordinary vacation
Dental Insurance
Insurance for life and accidental death and dismemberment
Disability for an extended period of time
Discounts for industry on air travel, vehicle rentals, hotels, cruises, and other business establishments discounts
Program for Employee Assistance
Travel Benefits and perks
Retirement plan with corporate match and contributions (401(k))
Video: EASTERN AIRWAYS' NEWEST ROUTE! – Humberside to Esbjerg (INCLUDES WELCOME EVENT & PRESS CONFERENCE!)
Salary range and additional pay of Flight Attendants depend on route on assignment and type of flight. Eastern Airways just introduced its newest route between Humberside, UK and Esbjerg, Denmark and this can give new opportunities for FAs. Eastern Airways announced the beginning of this new route in 2022, primarily to serve the burgeoning renewable energy sectors in the Humber and Esbjerg regions. There is a growing desire to connect the two regions, so maybe this route will be a huge success bringing out more opportunities for aspiring FAs.
Also Read: How to Apply Eastern Airways Cabin Crew Hiring
Frequently Asked Questions
The following are some of the common questions asked about Eastern Airways:
1. Where does Eastern Airways fly?
Eastern Airways flies to many domestic and international destinations including Aberdeen, Bergen, Birmingham, Cardiff, Durham Tees Valley, East Midlands, Humberside, Paris Orly, Norwich, Rodez, Newcastle, Leeds Bradford, Southampton, Stavanger, Stornoway, Wick John O' Groats and Norwegian associations.
2. What factors affect salary?
Flight attendant pay varies depending on the airline for which he or she works. Mainline carriers, such as Delta, American, or United Airlines, typically pay greater starting salaries to flight attendants. Smaller airlines such as Mesa, PSA, and GoJet pay slightly less. While those who are assigned to private jets tend to earn more.
Flight attendants starting salaries are referred to are based on estimated hours per month. The estimated hours for starting FAs range from 70-80 hours per calendar month, with starting compensation usually ranging from $17-30 per hour- depending on the airline and other criteria. Flight attendants are paid for the total amount of hours even if they are on call (reserve status) or do not complete the flight hours for the month.
3. What type of airline is Eastern Airways?
Eastern Airways is a leading provider of private charter flights. It offers customized private charter services designed to provide flexible, comfortable, and cost-effective solutions for all needs.
4. How much is the possible earning per month as a starting FA?
Eastern Airways' Flight Attendants make an estimated salary of £25 per hour ($30). or roughly£1,808 per month ($2,229). This salary range is based on the salaryexplorer.com's website.
5. Why does per diem pay matter to Flight Attendants?
Flight attendants may be able to pick up more flight hours, increasing their earning potential. When working away from their base station, flight attendants are also paid an hourly food allowance known as a per diem (Latin for "per day"). In addition to the fixed hourly wage, per diem is paid around the clock (even when you are asleep!). Per diem fees for layovers range usually ranges from $1.50 to $2.60 per hour, depending on the carrier and whether the working aircraft is domestic or international.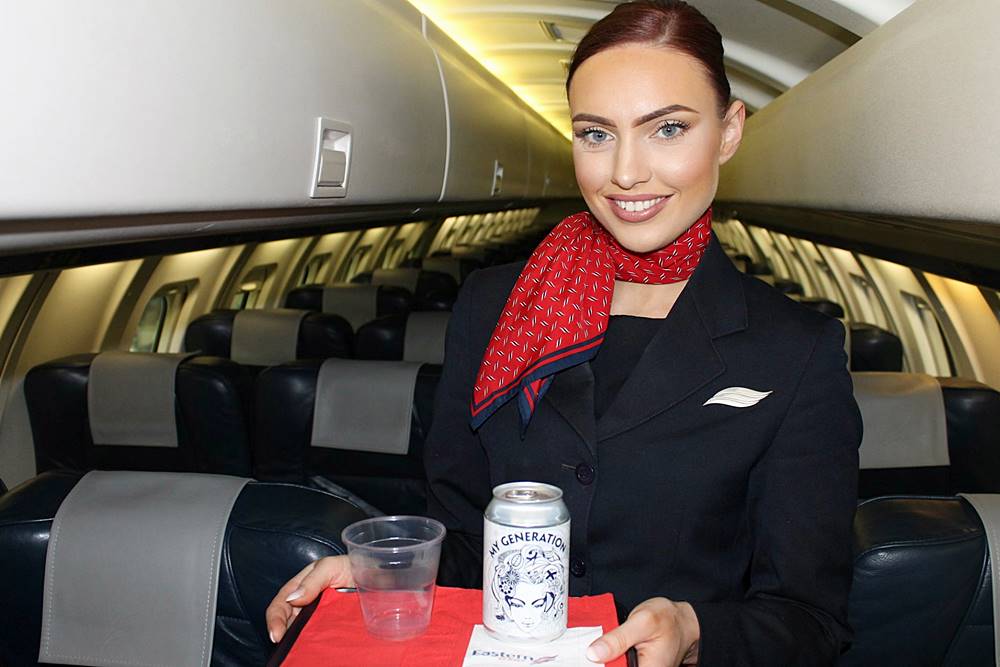 Summary
Eastern Airways offers a range of benefits to their Flight Attendants that include travel discounts and employee assistance programs. The salary range for FAs is based on the type of flight they are assigned to and can range from $17-30 per hour. In addition, FAs also receive a per diem fee when away from their base station which can add up quickly over time.
Aspiring Flight Attendants should take advantage of this opportunity with Eastern Airways as it provides an excellent way to make money while experiencing different cultures around the world!