Avianca Airlines is the flag carrier of Colombia and is headquartered in Bogota. The airlines offer a wide range of flight options to travelers all over the world. From economical fares, to exclusive discounts and special promotions, Avianca Airlines strives to make air travel as affordable, comfortable and convenient as possible. Passengers can choose from flights within Colombia, international destinations throughout Central and South America and beyond. With an extensive network of routes connecting Avianca to many major cities around the world, travelers can easily find a flight that best fits their needs and budget.
Also Read: New York Layover Guide: Best Things to Do in 24 Hours
Avianca is expanding to cater to the global demand for air travel. The airline seeks out dedicated and skilled employees to add to its team to help them achieve its goal of being one of the leading airlines worldwide. If you're up for this offer, here's an in-depth guideline about what steps you need to follow when applying as a cabin crew for Avianca Airlines. To make sure you increase your chances of getting hired for the job, it would help to read each information presented thoroughly and keep in mind some tips and things to remember throughout the process. 
Overview of Avianca
Avianca, also known as Avianca S.A., is a Spanish acronym for Aerovias del Continete Americano S.A., which directly translates to 'Airways of the American Continent.' It's a Colombian-based airline and has been the country's flag carrier since the 5th of December in 1919 when it was initially registered as the name SCADTA. The company currently has its headquarters in Barranquilla, Brazil, with main hubs at the El Dorado International Airport and global headquarters in Bogota. 
Avianca is also recognized as the biggest airline within Colombia and the second biggest in Latin America, second only to Latam and Chile. Since SCADTA, it's also known as the second oldest extent airline in the world just after KLM , and has just celebrated its centennial anniversary in December 2019. To date, it services up to 63 destinations globally with a fleet size of 100. 
Avianca has bagged numerous recognitions and awards throughout its decades of operation due to its quality service and excellent operations. In 2019, it earned the title of the 7th Most Sustainable Airline title and the APEX Award in 2021 as a five-star airline for four years back to back. The company also holds a Diamond certification in recognition for its superior health protocols, and is among the top 10 most sustainable airlines in the world according to the Dow Jones Global Sustainability Index.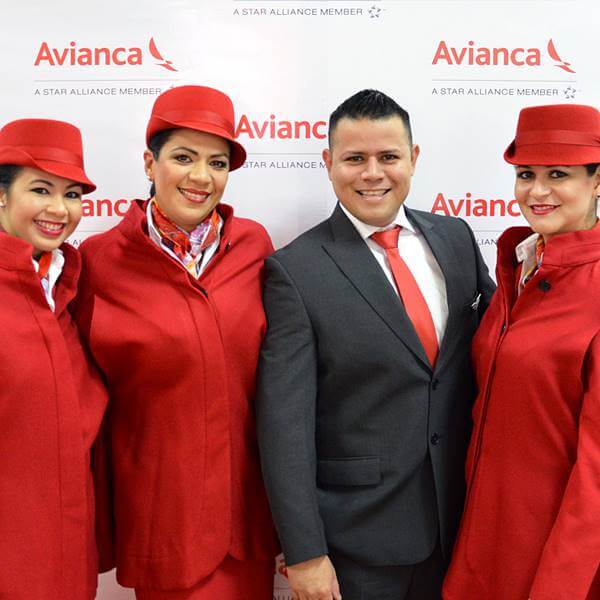 Responsibilities
Being a flight attendant comes with serious duties and responsibilities that you need to carry out on a daily basis. As flight attendants mainly represent the company's image, it's important that you first educate yourself about what you need to do once hired for the job. From greeting passengers, to ensuring the passengers' safety and security at all times, a flight attendant has plenty of things to take care of during flight. These also include the following:
Ensure passengers' safety and comfort while traveling 

Direct passengers to their respective seats

Respond to passenger's concerns and questions

Conduct pre-flight and post-flight checks 

Serve snacks, food, and beverages to passengers

Constantly monitor all safety conditions and emergency 

Render additional assistance to passengers who are disabled or those who have special needs

Comfort and reassure onboard passengers during incidents of aircraft turbulence

Administer medical care and first aid in case of emergencies

Provide instruction like emergency evacuation procedures to in-flight passengers

Demonstrate how to use safety and emergency equipment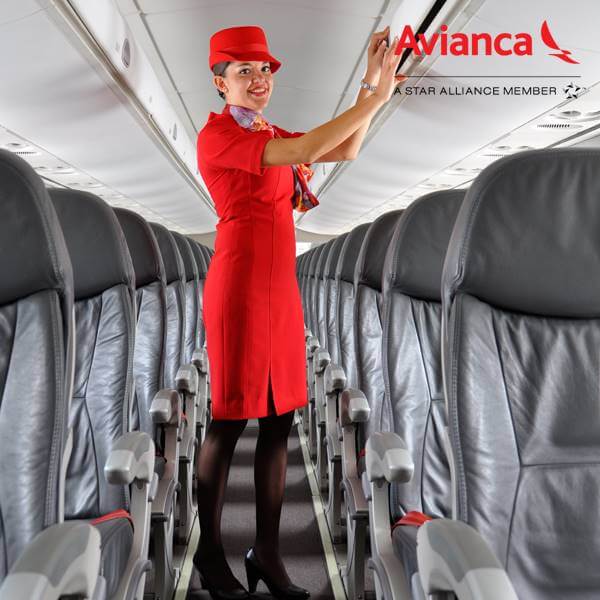 Qualifications
Since there are plenty of responsibilities that come with being a flight attendant, airline companies make it a point to establish eligibility criteria and qualifications to ensure that only the best employees get recruited or hired. This helps filter the best job candidates for the position and ensure that they are the ones who are most capable of executing their duties well. 
That said, there are the qualifications that Avianca is looking for in a flight attendant:
At least 18 years of age 

Proportionate height-to-weight ratio

Must be willing to undergo training

Must be willing to undergo a thorough background check

Must be proficient in English and Spanish, both in oral and written

Must know how to swim

Must not have any visible tattoos while wearing uniform

Must have a high school diploma or GED equivalent; a college degree is preferable

Correctable vision to 20/40

Must adhere to grooming standards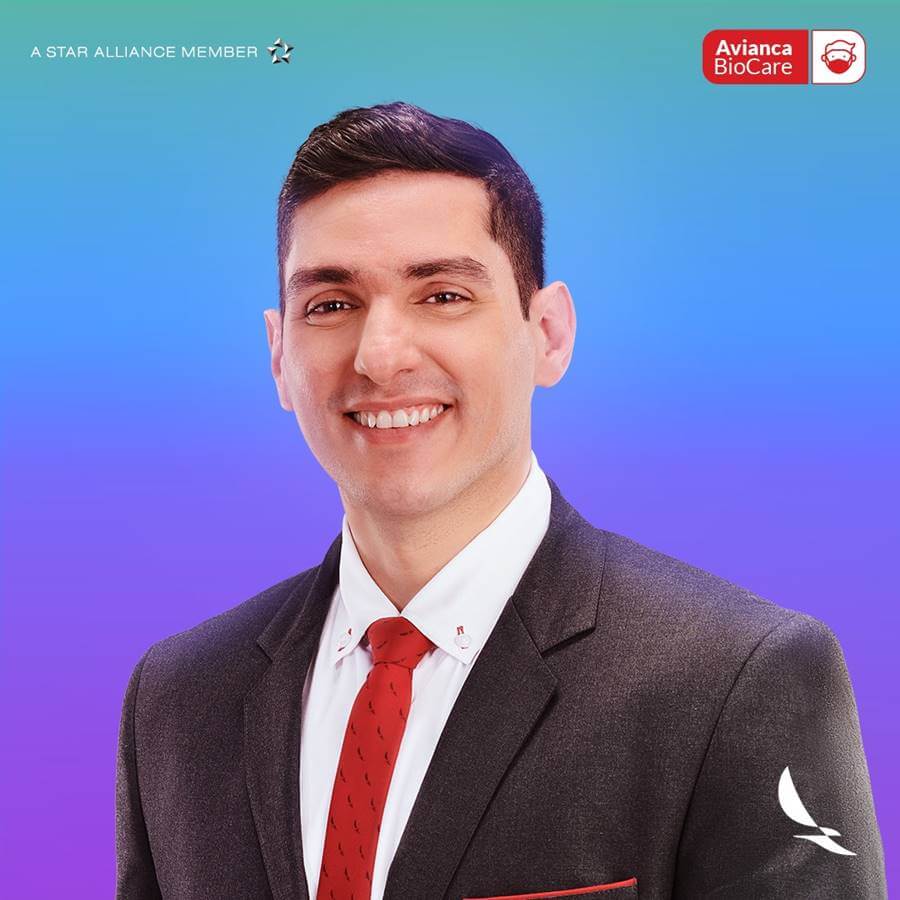 Document Requirements to Prepare
If you think that you're up for the responsibilities of a cabin crew and can meet the qualifications, then you can prepare the required documents for the position. It's best to sort these out as easily as possible so that there won't be any delays in your application. 
Here are the things that you'll need:
Updated CV/resume

Accomplished application form

Valid passport

Proof of educational attainment
Where to Apply for a Job for Avianca Online
Avianca offers an online application that you can easily access by visiting its official website and Careers page here. Upon visiting the jobs website, search for the job category you wish to apply for (Cabin Crew) and see if there are available job vacancies there.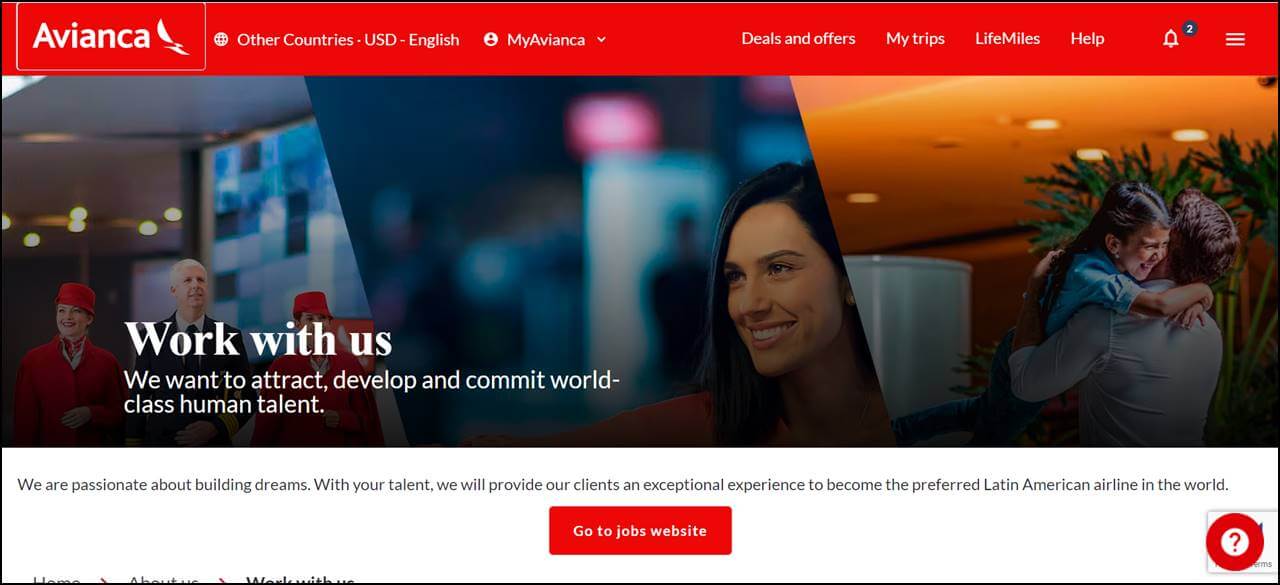 Otherwise, you can also input your email address in the empty bar so that you can get notifications for new job postings. You can also opt to follow Avianca's social media accounts for announcements, updates, and the latest news about their hiring process.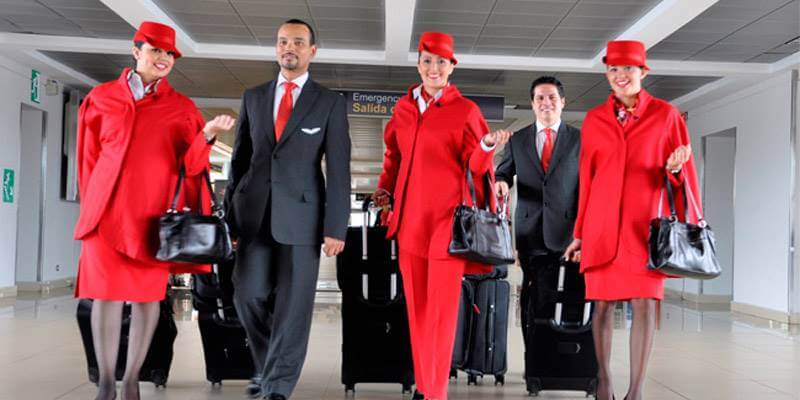 How to Become a Cabin Crew for Avianca
Below are step by step guide to follow on your way to becoming a flight attendant for Avianca:
Step 1: Go to Avianca's Career Page.
Visit Avianca Airline's Career page at https://jobs.avianca.com/. You will be redirected to a screen with plenty of categories to choose from, such as Customer Service, Pilots, Administration, Operations, Engineering and Maintenance, and Cabin Crew. Choose Cabin Crew to look for available flight attendant job vacancies. 
Step 2: Enter your email address.
As of the moment, there are currently no job listings for cabin crew position. However, you should input your email address at the top of the page so the company can reach out to you and notify you for immediate job openings. From here, you can directly fill in an application form and attach your CV and resume alongside all the required documents to continue through the process. 
Step 3: Take the required tests.
After finishing, you will be asked to accomplish different tests such as an English Test, Integrity Test, and Competence test. This will be the first phase of the official hiring process, and will be used to gauge your skills and knowledge about your position. 
Step 4: Have the competence interview.
If you've passed the previous phase, you will now proceed to the next step in the process. The second phase involves having the competence interview. Here, you will be interviewed by the recruiters to determine your compatibility with the job you're applying for and to get to know your capabilities as a potential job candidate. 
Step 5. Take medical and doping tests.
The third phase involves the medical tests and doping to ensure you're physically fit and capable to withstand the rigors and duties required by the position. 
Step 6. Notification process and Start of Training Course.
Once you've successfully passed the previous phases, you will move to the notification process, where your training will begin. This will test your skills in customer service and how you will act in real-life situations via simulations. If hired, you will also undergo a contract signing process, securing your position. 
Monthly Salary of an Avianca Flight Attendant
The average monthly salary for a flight attendant at Avianca airlines is $3341, with the hourly rate being $22. However, this can still increase up to $4441 with the inclusion of bonuses and tips, among others.  Per year, Avianca can expect a salary as high as $76 883. 
This also includes other benefits and compensation such as life and health insurance, allowances, accommodation, hotel discounts, and other perks.
Video: Avianca Airlines HONEST Flight Review | 8 Flights in the Last Year | BEST Airline?
The video is a vlog made by Chews to Explore on YouTube, and is mainly a review of Avianca Airlines. The vlog discussed the quality of air service delivered by Avianca Airlines, and how it offers quality service at an affordable cost to passengers.
The person in the video also narrated how he already flew with Avianca Airlines for eight times now and that it's one of the best airline companies that offer great flight experience overall. As an aspiring flight attendant, the vlog might help give you insight into the company's inner workings and how passengers generally view the service that Avianca renders. 
Photos: Avianca Flight Attendant Photos
Check out these photos of Avianca's Flight Attendants in uniform. As you can see, the uniform is meant to be stylish and functional at the same time. It also helps preserve the individual's and the company's image of professionalism and excellent attention to detail.
Frequently Asked Questions
Some common questions applicants have when they apply for cabin crew for Avianca are listed below. Find out if you meet the basic requirements in working for the company.
1. How old do I have to be to apply as a flight attendant for Avianca?
You need to be at least 18 years old to apply as a cabin crew for Avianca Airlines.
2. What skills do I need to have as a flight attendant under Avianca Airlines?
Flight attendants should be adept at handling emergency situations, plus they also need to have great communication skills as they will be handling customers' concerns frequently. 
3. What are my responsibilities as a cabin crew of Avianca?
As a flight attendant of Avianca, you're tasked with the duty of ensuring the passengers' comfort and security, on top of accommodating them during the flight by serving snacks and beverages. 
4. Do I need to be a college graduate to be eligible?
Most airlines usually need a high school diploma as proof of educational attainment, though having a college degree is considered a plus in your application. 
5. Is work experience a must before applying?
Avianca Airlines doesn't seem to require having work experience to apply, although it's strongly recommended. Those who have prior work experience tend to have their applications prioritized more. 
6. How much is the hourly rate for an Avianca flight attendant?
An Avianca flight attendant earns around $22 per hour, and almost $3341 monthly. 
7. Are there benefits included with the salary?
Yes. Avianca offers salary benefits such as life and health insurance, award tickets for family and friends, hotel discounts, allowances, and more. 
8. What documents do I need to prepare?
To apply, you'll need to prepare your updated resume or CV, a valid passport, and proof of your education, among others.
9. Does Avianca conduct background checks?
Yes, you'll need to pass the company's background check during the application process. This helps verify your identity as an applicant.
10. What can you expect during Avianca's interview phase?
You can easily prepare for the interview questions by reading various articles on flight attendant interview processes or through videos on YouTube.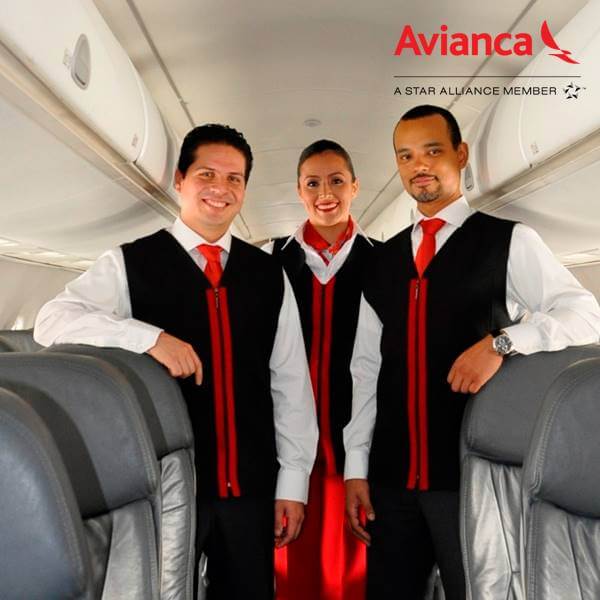 Summary
Avianca is the most extensive airline in Colombia and Latin America. It also operates one of the most comprehensive destination networks in Latin America. To date, the company remains strong with its 106 aircraft fleet and ever-growing team of employees. 
If you want to be part of Avianca's team of professional flight attendants, make sure to follow all the steps listed on this guide. Send in your application now!
Contact Information
AVIANCA
Address: (of main headquarters): Barranquilla, Colombia
Telephone Number: 1(844) 801-3540
Website: https://www.avianca.com
Facebook: https://www.facebook.com/AviancaGloba
Instagram: https://www.instagram.com/avianca
Twitter: https://twitter.com/Avianca