The in-flight wifi revolution came as a response to passenger demand to stay connected while flying. It began as a luxury feature reserved for the first and business class, but today, it has become a standard service for most airlines globally. Inflight Wi-Fi services can provide passengers with an enjoyable way to stay connected while in the air. With so many airlines now offering airline WiFi, there is no reason not to take advantage of this convenient service and enjoy some quality time online while flying.
As a flight attendant blogger like myself, it's really helpful for me to stay connected while in the air. I can check my emails, update my blog, and even plan activities for when I land or post pictures of my journey to social media.
The future of inflight WiFi is bright and promises to offer passengers an even greater experience than before. With improved speeds and better service plans offered by airlines, passengers will be able to enjoy their flights more than ever before. As technology continues to evolve, so too will the internet capabilities onboard an aircraft.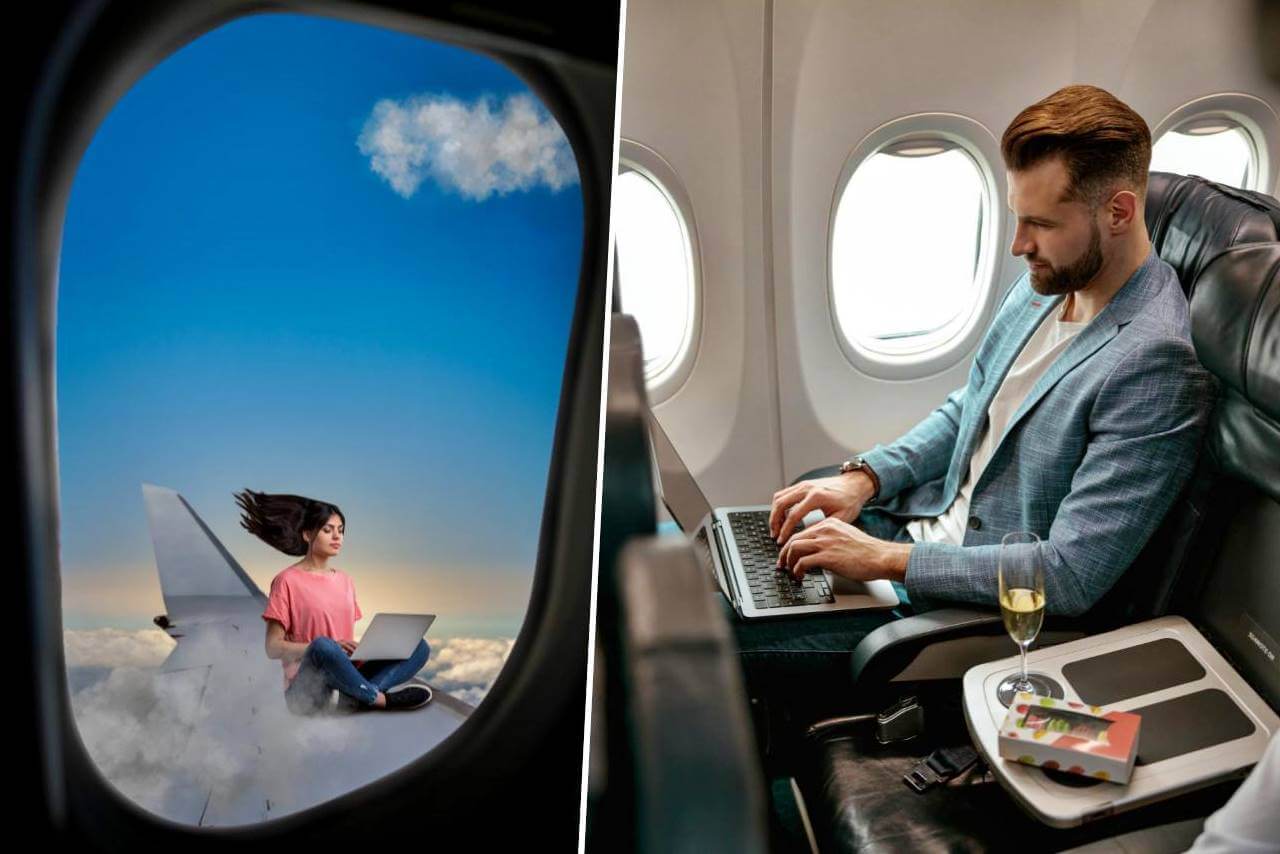 What is inflight wifi?
The inflight wifi is an onboard internet connection that allows passengers to connect to the internet while flying. The wifi network is created either by satellite or air-to-ground communication technology, and passengers can access the network through their electronic devices such as smartphones, tablets, and laptops.
Airline wifi services first started appearing around 2001 and have since become increasingly popular in the past decade. Business travelers use it to stay on top of their work or to check the stock market in real-time, while leisure travelers take advantage of the connection for entertainment and to pass the time.
The technology has continued to evolve with time, going from slow and unreliable connection speeds to faster speeds now available on some airlines.
Features and Benefits of Inflight Wifi
Inflight wifi provides passengers with a convenient way to stay connected while in the air. You can check emails, connect to social media, stream movies, and music, or do some online shopping without having to worry about being disconnected from the world. Some airlines offer satellite-based internet access which allows for higher speeds than traditional air-to-ground connections.
Features
Internet access for passengers during flight
Live TV and streaming services
Access for multiple devices
Benefits
Improved productivity (business travellers can work)
Entertainment options (streaming movies, TV shows, music, games)
Real-time information (flight status, news, sports, weather updates)
Ultimately, WiFi helps keep passengers entertained and occupied during long flights. Instead of getting bored or feeling frustrated on a flight where there's nothing else to do, passengers can now stay connected and productive by surfing the web or catching up on emails and do work-tasks onboard.
Cons of Using Inflight WiFi
Although inflight WiFi is a great service, there are still some drawbacks. For one, the speeds can still be slow compared to broadband speeds on the ground. Aside from this, in-flight wifi can often be expensive and usually requires you to purchase an access plan from your airline or a third-party provider. Finally, it's important to note that internet signals may be weaker at certain stages of the flight due to interference or weather conditions.
Slower speeds than broadband on the ground
Can be expensive to purchase an access plan from airline or third party provider
Wi-Fi signals may be weaker at certain stages of flight due to interference or weather conditions
The cons listed above are mostly due to the stability and speed of the WiFi, but as technology progresses, these issues are likely to be addressed in the near future.
Reasons Why Inflight WiFi is On-Demand
The demand for inflight WiFi has significantly increased in recent years, and here are some reasons why:
Stay Connected: Passengers can stay connected with the digital world, their friends, and even their businesses while on a flight. They can send and respond to emails, browse social media, and access any necessary documents or cloud-based files.
Increase Productivity: For many business travelers, time is of the essence. Inflight WiFi offers them the opportunity to complete urgent tasks, stay on top of their updates, and be productive while on the go.
Entertainment: Passengers can access the internet, stream movies, listen to music, and browse the web for social media, and stay entertained during long flights.
Real-time Information: In-flight WiFi allows you to check flight status, gate changes, and general travel news while in the air.
Competitive Edge: For airlines, having this an added competitive advantage over other carriers. Passengers are likely to choose an airline that offers WiFi connectivity, which is why airlines like Delta, American, and United offer fast and free inflight WiFi.
Revenue Generation: Inflight WiFi can also generate revenue for airlines through the sale of access packages, seat upgrades, and advertising. It's a new avenue for airlines to boost their revenue and enhance the customer experience.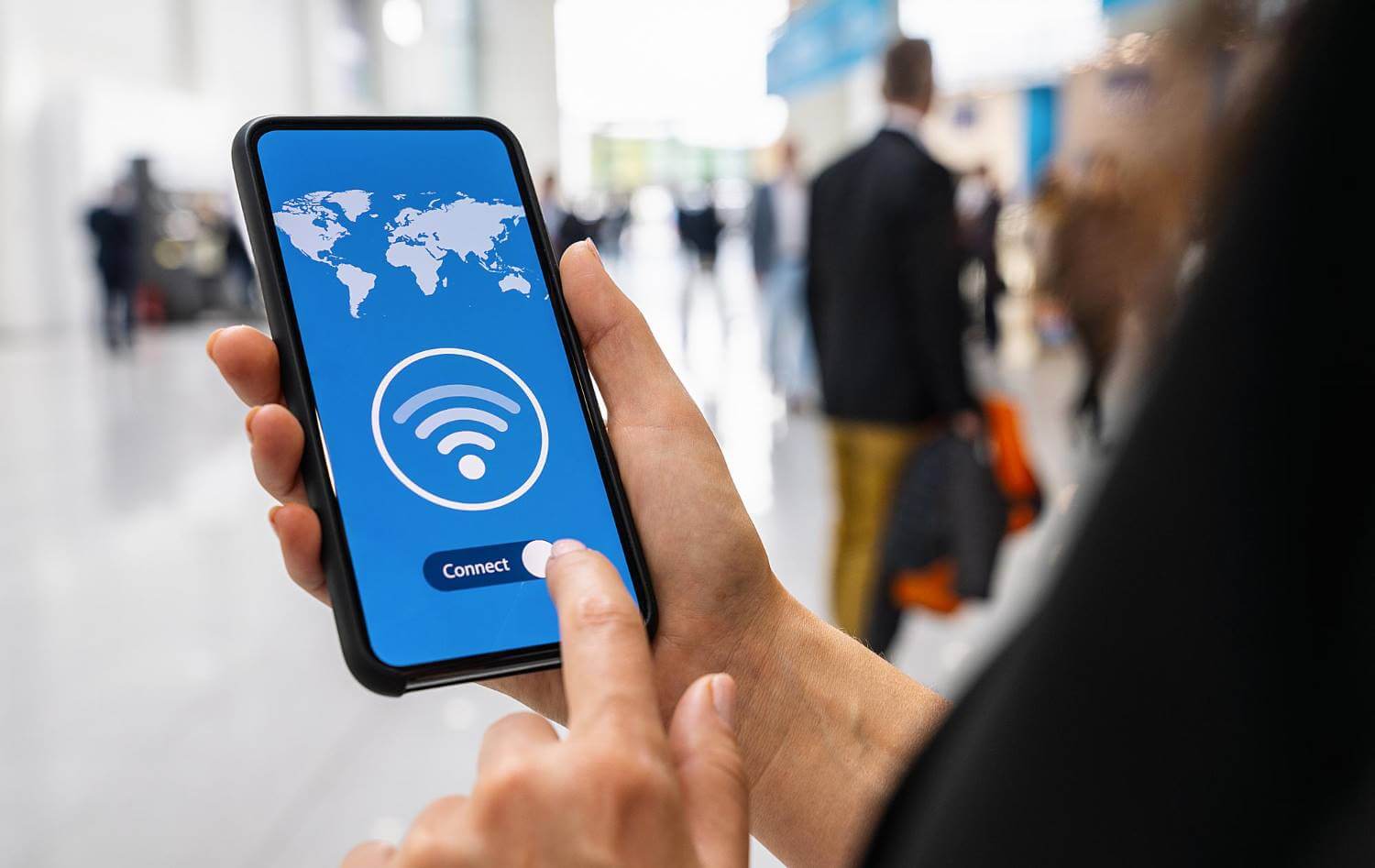 List of Inflight Wifi Names from International airlines
Note that these WiFi names may vary depending on the updates from each specific airline. Please check with the flight attendant or cabin crew staff upon boarding to know the exact WiFi name for your flight.
Delta: DeltaWifi
American Airlines: AAInflight
United Airlines: UnitedWiFi
Emirates: OnAir
Etihad Airways: WiFly
Qatar Airways: Oryx One
Lufthansa: FlyNet
Singapore Airlines: SIA-Connect
Virgin Atlantic: Virgin Atlantic Wi-Fi
Air New Zealand: AirNZ WiFi
Qantas: Qantas Free Wi-Fi
Japan Airlines: JAL Wi-Fi
Aer Lingus: Aer Lingus WiFi
Air France: AF CONNECT
KLM: KLM WiFi
Swiss International Airlines: Swiss WiFi
Turkish Airlines: Turkish Airlines Wi-Fi
It's important to note that while most airlines now offer inflight Wi-Fi, the name of the Wi-Fi network may vary depending on the airline and the type of aircraft that you're on.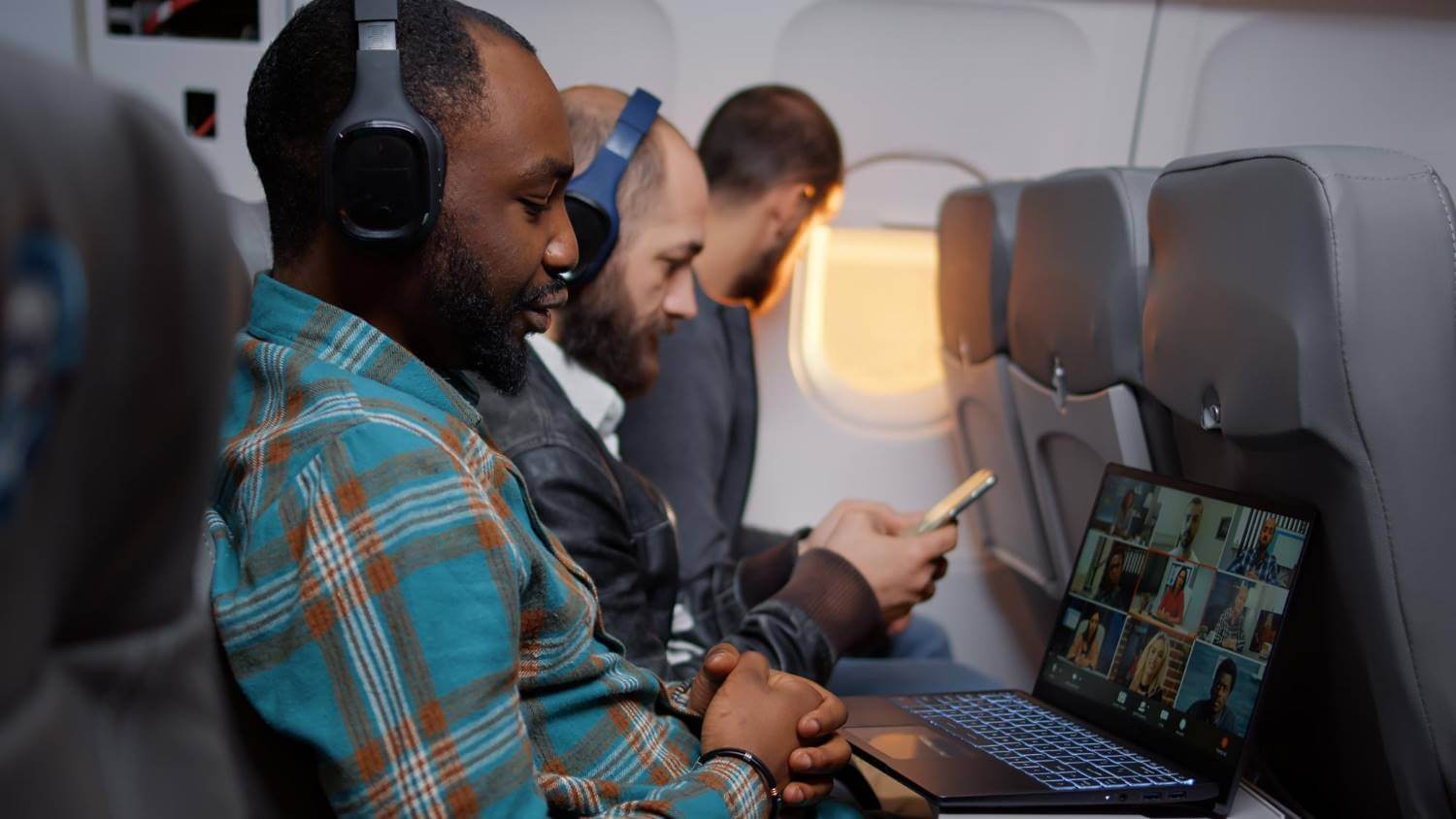 Subscription Plans
Some airlines offer in-flight wifi subscriptions for travelers who require access to the internet more frequently.
Examples of subscription plans from different airlines
Delta: On Delta Airlines flights equipped with Gogo, a monthly pass costs $49.95, while a 24-hour pass costs $16.
American Airlines: Monthly subscriptions for domestic flights cost $49.95, while one hour of wifi access costs $10-12.
United Airlines: Monthly subscriptions for United Wi-Fi cost $49.99, and a two-hour plan for domestic flights can be purchased for $7.99.
JetBlue: JetBlue offers a free basic Wi-Fi connectivity plan for all passengers, while an upgraded plan with faster speeds can be purchased for $9 an hour.
Southwest Airlines: You can purchase wifi on domestic flights starting at $8 a day, and a monthly subscription price ranges from $49.99 to $59.99.
Alaska Airlines: Starting at just $15, Alaska Airlines offers a monthly subscription plan, enabling passengers to enjoy unlimited inflight WiFi services.
Lufthansa: Lufthansa offers WiFi on almost all of its long-haul routes. Passengers can choose between a 1-hour pass ($9), a 4-hour pass ($14), a full-flight pass ($21), or a monthly subscription (starting at $37).
Air Canada: Air Canada offers satellite-based onboard WiFi on select North American flights and throughout its entire fleet of 777 aircraft. Passengers can purchase a daily pass for $9.50, a monthly pass for $59.95, or pay for the duration of their flight.
Emirates: Emirates offers two hours of free inflight WiFi, while additional time can be purchased at a cost of $1 for 500MB or $5 for 20MBs.
Etihad Airways: Etihad Airways offers free 30 minutes of onboard WiFi in all cabins. For longer connection times, passengers can choose from a range of packages.
Qantas: Qantas offers a monthly subscription plan starting at AUD $25 for a domestic economy package.
Please be advised that the prices on these WiFi packages may change without prior notice. Always check with your airline for the latest prices and packages available. Certain aircrafts may not be equipped with onboard internet services. Please refer to your airline's website for more information on in-flight Wi-Fi services prior to boarding your flight.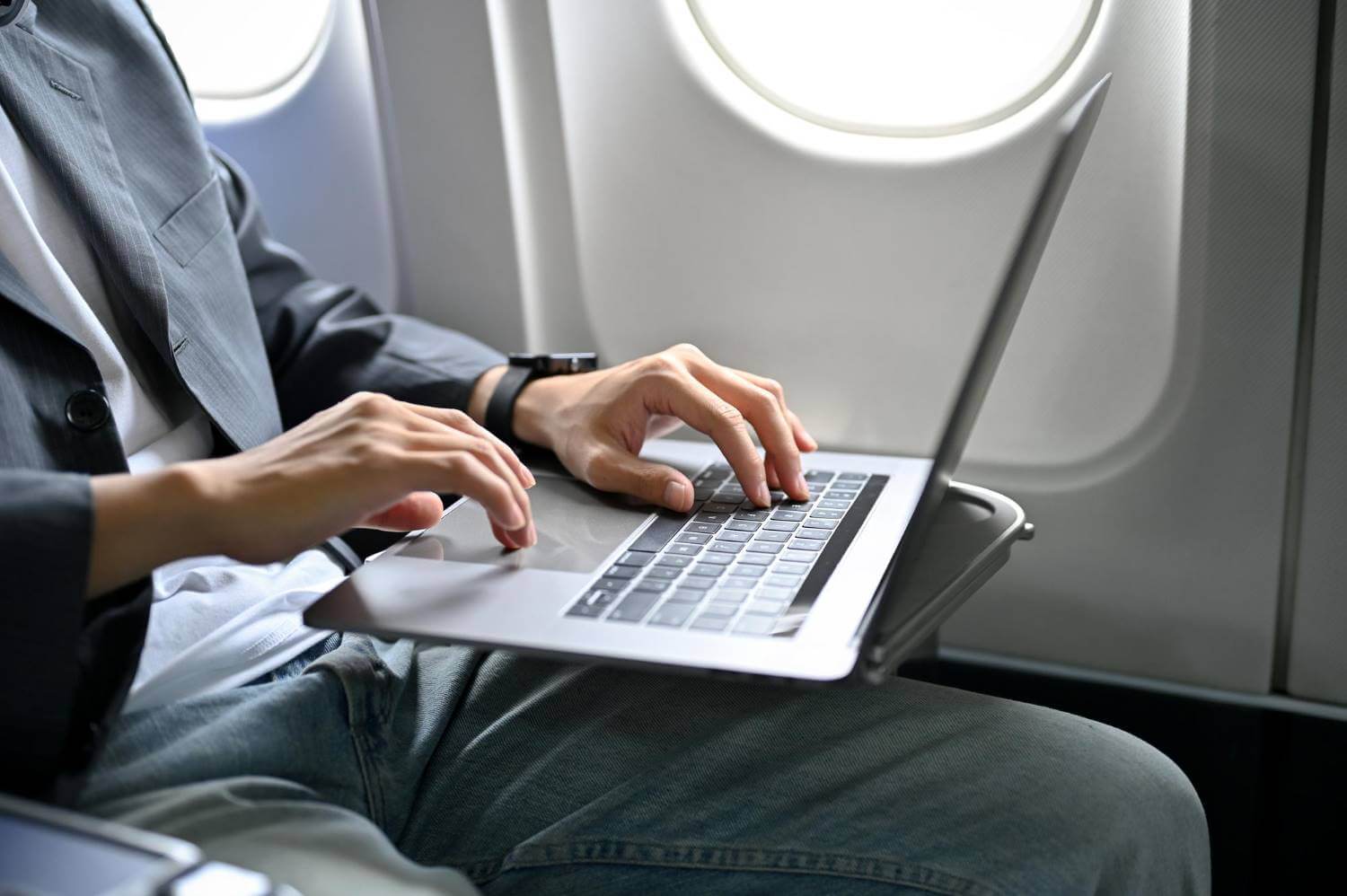 How to Connect to Inflight WiFi on the Plane
Connecting to onboard WiFi is a relatively easy process. Follow these steps:
Ensure that your electronic devices are set to airplane mode.
Connect to the onboard WiFi network.
Open your browser, choose a payment plan, and enter your payment information.
Start browsing the internet or streaming videos and music.
Remember to disconnect from the inflight WiFi network before you reach your destination. This will help ensure that you don't get charged for any additional data usage.
The above steps are basically a general overview of the procedures when connecting to inflight WiFi. Always make sure to follow your airline's specific instructions as they may vary depending on the type of aircraft you are on.
Video: How does WiFi on Airplanes Work?
Check out this video by Captain Joe on YouTube which features an informative explanation of how WiFi works on airplanes. It's essential viewing for anyone who wants to learn more about how their inflight internet connection works. Enjoy!
Inflight wifi is becoming more and more common, providing passengers with a convenient way to stay connected when they're up in the air. With a reliable service from one of the major airlines, you can access news, sports scores, entertainment content, and much more while traveling over land or sea. You can even work on presentations or send emails to family and friends. The availability of inflight Wi-Fi depends on the airline you're flying with, so make sure to check before your flight if you plan on using it.
The Future of Flying
In-flight WiFi is already a common service and will continue to become more accessible globally as airlines transition from air-to-ground technology to satellite connection, which is faster and more reliable.
With airlines now seeking ways to differentiate themselves from competitors in terms of entertainment options, we can expect to see more features such as on-demand movies, live TV streaming services, virtual reality headsets, and much more. Ultimately, the future of flying looks promising as airlines strive to provide passengers with an enjoyable onboard experience.
Overall, inflight Wi-Fi is here to stay and will only keep improving over the years. It provides a great way to stay connected while in the air and adds an extra level of convenience for passengers. Although there are some drawbacks, the onboard internet is still a great service that helps make long flights more bearable and enjoyable.
Frequently Asked Questions
1. Is inflight wifi available on all flights?
Although most airlines now offer onboard wifi, it's not yet available on all flights.
2. Is inflight wifi free?
Some airlines offer free wifi to passengers depending on the ticket class, route and by frequent flyer status.
3. Can I stream videos with inflight wifi?
Yes. Most airline wifi providers might have restrictions that block heavy usage and high-bandwidth streaming for better service.
4. What is the range of onboard wifi networks?
The range of most inflight wifi networks can vary depending on the technology used, but they generally cover up to 500 miles.
5. Is inflight wifi safe?
Yes. All major airlines use secure encryption to protect their onboard networks from unauthorized access and malicious activity.
6. How do I know if my flight has onboard internet wifi?
Most airlines will list onboard Wi-Fi on their website. You can check with your airline prior to boarding or ask a crew member at the gate.
7. What type of payment methods do inflight wifi providers accept?
Most airline wifi providers will accept major credit cards, PayPal and some airlines may even offer a specific in-flight Wi-Fi package for their passengers.
8. What if I need help connecting to airline wifi?
If you experience technical difficulties or have any questions, contact the airline or onboard crew member for assistance.
9. Are there any restrictions for aircraft wifi services?
Yes. Some airlines may have restrictions on streaming, downloading or uploading large files due to limited bandwidth or other considerations. Please refer to the airline's website for more information.
10. Can I use my personal hotspot to access airplane wifi?
No. Most airlines do not allow passengers to connect their own devices to their onboard Wi-Fi networks for security reasons.
11. Do flight attendants have access to free inflight wifi?
Yes but only for work-related activities! Most airlines provide flight attendants with free airline wifi access as part of their job such as ensuring the passenger manifest (list of names of people on the flight) is correct and up to date, or submitting reports they need to file during the flight. Usually, the cabin crew have an official device to use to access these internet-related work tasks and they are handled by those with higher-position such as a supervisor or purser. Again, this is only for work-related duties! If flight attendants access the internet wifi for personal use, they have to have their own subscription themselves and pay for it.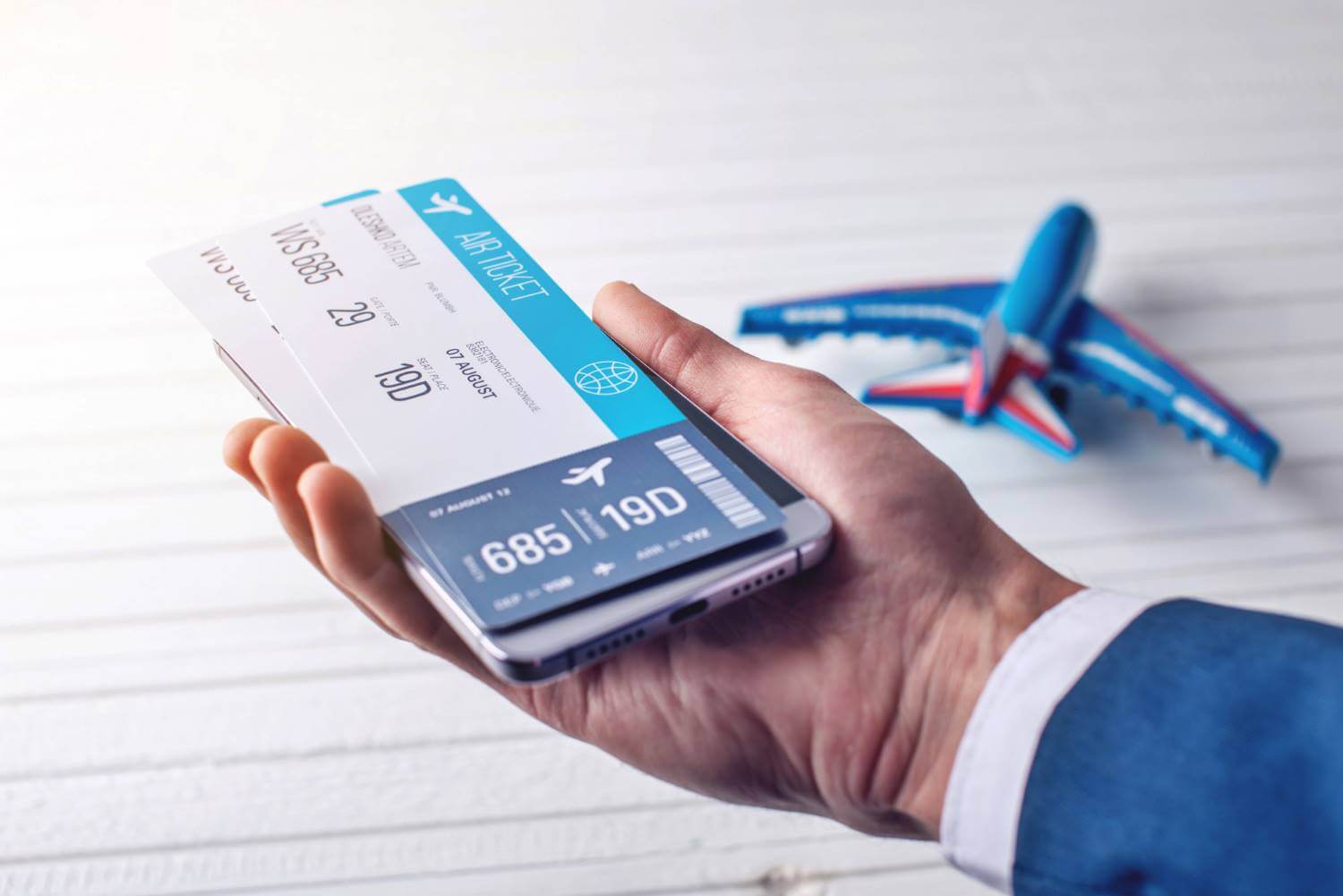 Summary
Having wifi onboard is revolutionary. Passengers can work, stream media, and receive real-time information. Multiple airlines now offer inflight wifi and subscription plans that provide frequent flyers with unlimited Internet access.
Connecting to onboard wifi is a straightforward process. While questions arise about the usage and difficulties with bandwidth, airlines continue to improve their internet services.