Being a flight attendant might be one of the most interesting career paths to take, especially since you have the luxury of traveling to new destinations, experiencing different cultures, and meeting new people. Even so, being a flight attendant also requires a lot of work since you need to adapt to changing schedules and adhere to strict regulations set by the airline company.
Also Read: 9-Day Trip to Greece: Athens, Santorini, and Milos
If you're on the lookout for flight attendant career opportunities, you might want to check out the job vacancies offered by Swoop. Swoop is a Canadian, WestJet-owned ULCC or ultra-low-cost carrier. Swoop aims to deliver affordable and stress-free flights for Canadians by employing the best ambassadors for the company, ensuring that passengers experience a comfortable and convenient flight toward their destination. Continue reading to find out how to become a flight attendant for Swoop.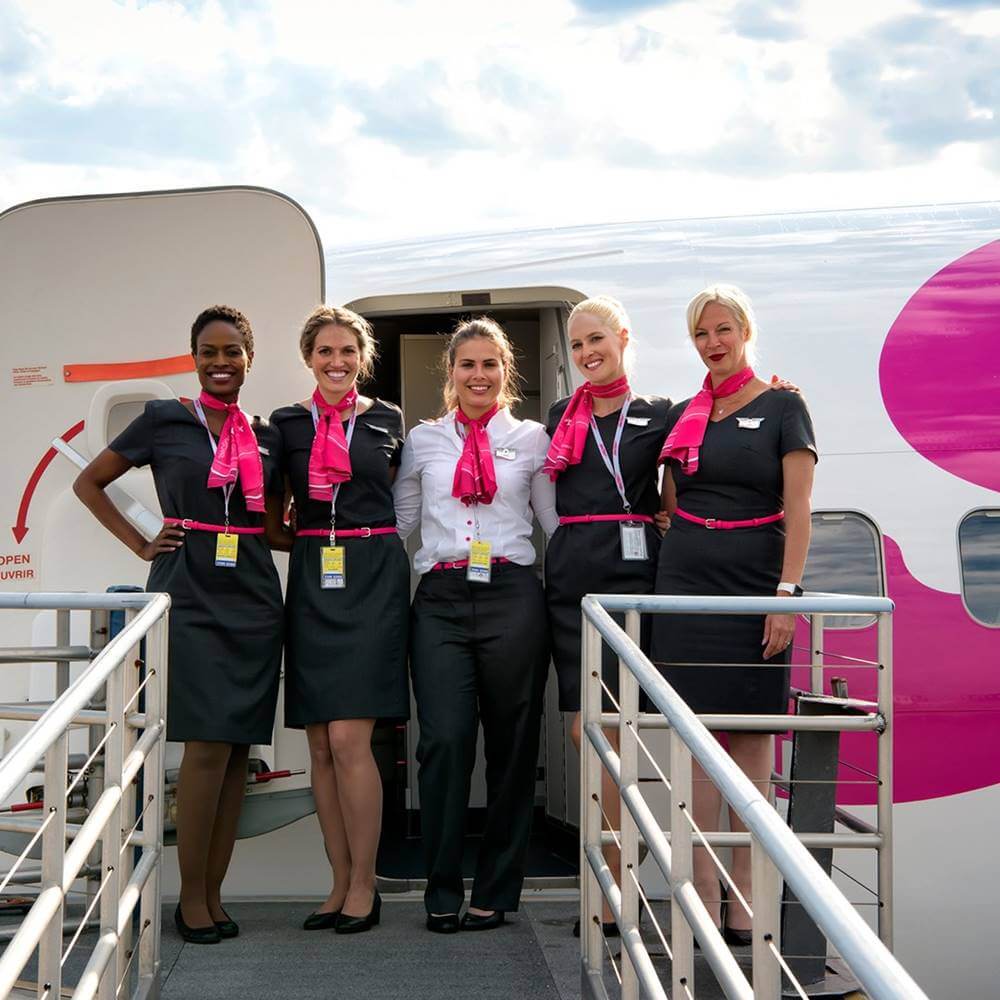 Overview of Swoop Airlines
Swoop is an airline company based in Canada that is dedicated to becoming one of the most reliable partners for Canadians who want to experience low-cost and hassle-free flights. Currently headquartered in Calgary, the airline company was also named after the aim of WestJet to "swoop" or penetrate into the Canadian market with a brand new business model. It was officially established in September 2017 and began operating flights in June 2018.
Swoop's route network is made up of destinations across the Caribbean and North America. It mainly focuses on point-to-point flying and does not provide connections. As a ULCC, Swoop commits itself to its mission of making air travel more accessible and affordable to its passengers. Safety is also the airline's primary concern, and it doesn't compromise where it's concerned. Swoop operates a modern fleet of Boeing 737-800 NG aircraft, with each guaranteed to be safe, reliable, and fuel-efficient.
To ensure it remains consistent with offering excellent service to its passengers, the airline is constantly searching for passionate and talented individuals to add to its growing team of trained professionals.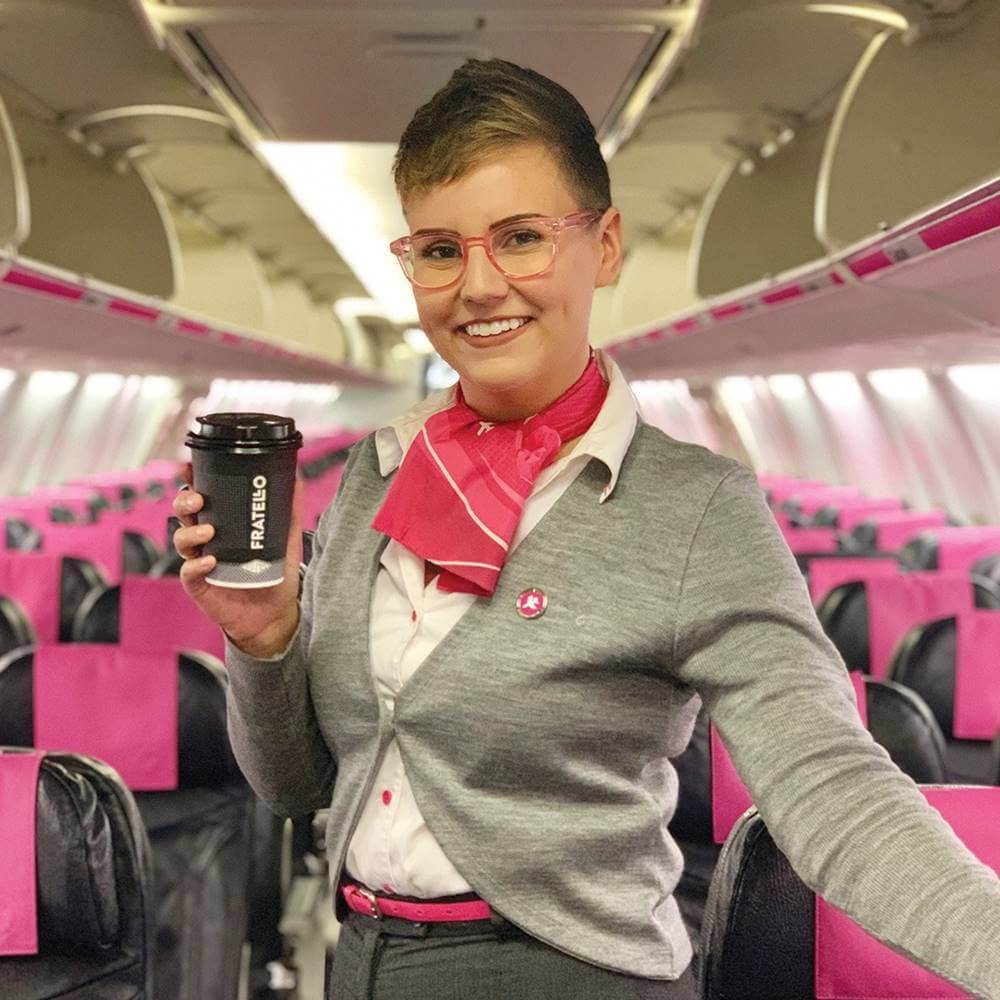 Responsibilities
As the official ambassadors and airline company representatives, flight attendants are tasked with serious responsibilities that they must always uphold. Being aware of your responsibilities and duties as a flight attendant will help you better deliver quality customer services to in-flight passengers.
Here are the responsibilities of a Swoop flight attendant:
Enforce and adhere to all Standard Operating Procedures to ensure compliance with the company's regulatory standards.
Ensure and uphold exceptional traveler service standards, both on the ground and in flight.
Assist and attend to travelers' needs and concerns.
Complete sales and service in accordance with Swoop standards.
Assist with the stowage of carry-on luggage and items.
Manage uncomfortable and challenging situations effectively.
Adhere to uniform and appearance standards as prescribed under the policy of the company.
Follow procedures to properly operate emergency and safety equipment such as evacuation slides, oxygen. systems, fire extinguishers, galley equipment, lighting systems, and communication equipment.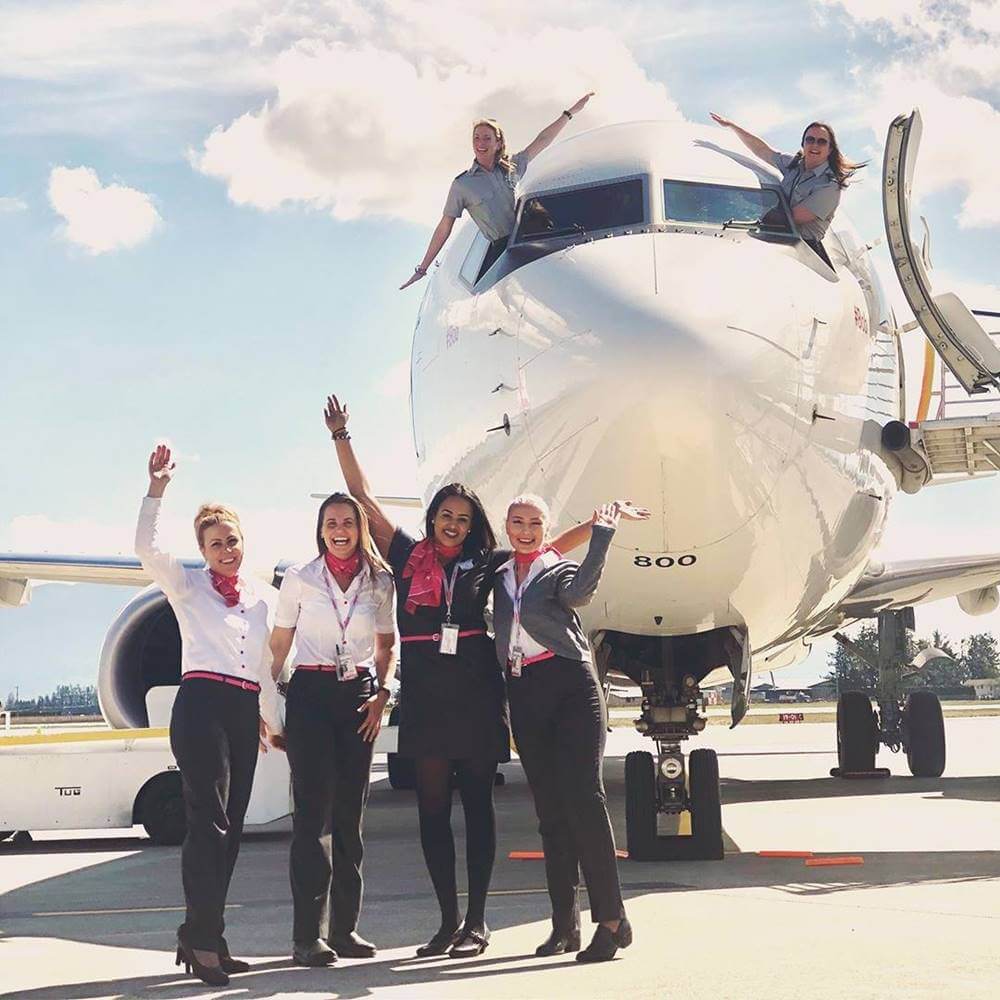 Qualifications
Swoop Flight attendants mainly act as the face of the company, ensuring a remarkable experience for every customer and passenger. Whether on or off duty, Swoop flight attendants serve as the airline's representatives. For this reason, it's important that flight attendants consistently deliver exceptional customer service and make sure everyone on board has a stress-free and safe travel experience.
Flight attendants are entrusted with passengers' security and safety, making it important for Swoop to hire only the best, most suited, and most passionate individuals for the job position.
Here are the core qualifications you need to pass to become a Swoop flight attendant:
Must be at least 19 years of age or older
Must have a current valid passport or a Canadian Permanent Resident card
Must be able to reach 204 cm high without shoes
Must be able to communicate proficiently in English, both spoken and written
1-2 years of experience in customer service is not required but is considered an asset
Must be able to travel internationally
Must be able to lift 50 pounds from floor to waist and 22 pounds overhead
Must be willing to work any hour of the day and any day of the week or year
Must pass the four-week training program for Swoop flight attendants
Must be able to solve problems and make quick, efficient decisions in the interest of the traveler, crew, or everyone's safety
Must pass a Swoop pre-employment medical
Must be ready to travel away from home for extended periods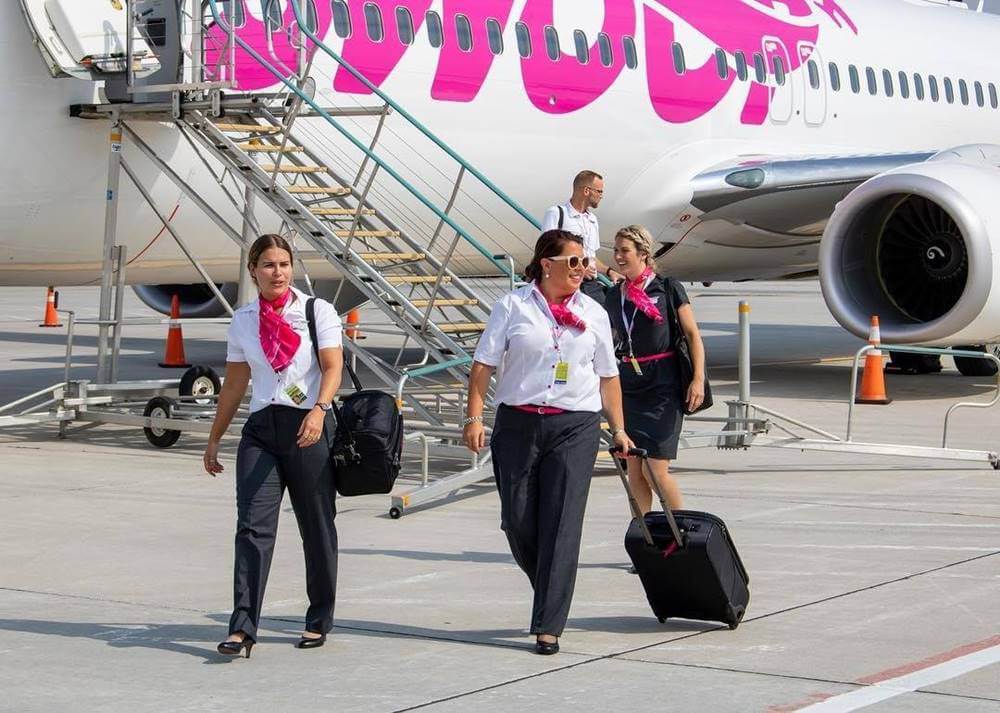 Document Requirements to Prepare
Documents are an important part of a job application, especially since they help recruiters gain insight into your skills as a potential job candidate, as well as your skills and work experiences. After you've thoroughly read the qualifications and responsibilities of a flight attendant, make sure to prepare the following as you submit your written application:
Updated Resume/CV
Valid passport or Canadian Permanent resident card
High school diploma or equivalent
Airport Restricted Area Identification Card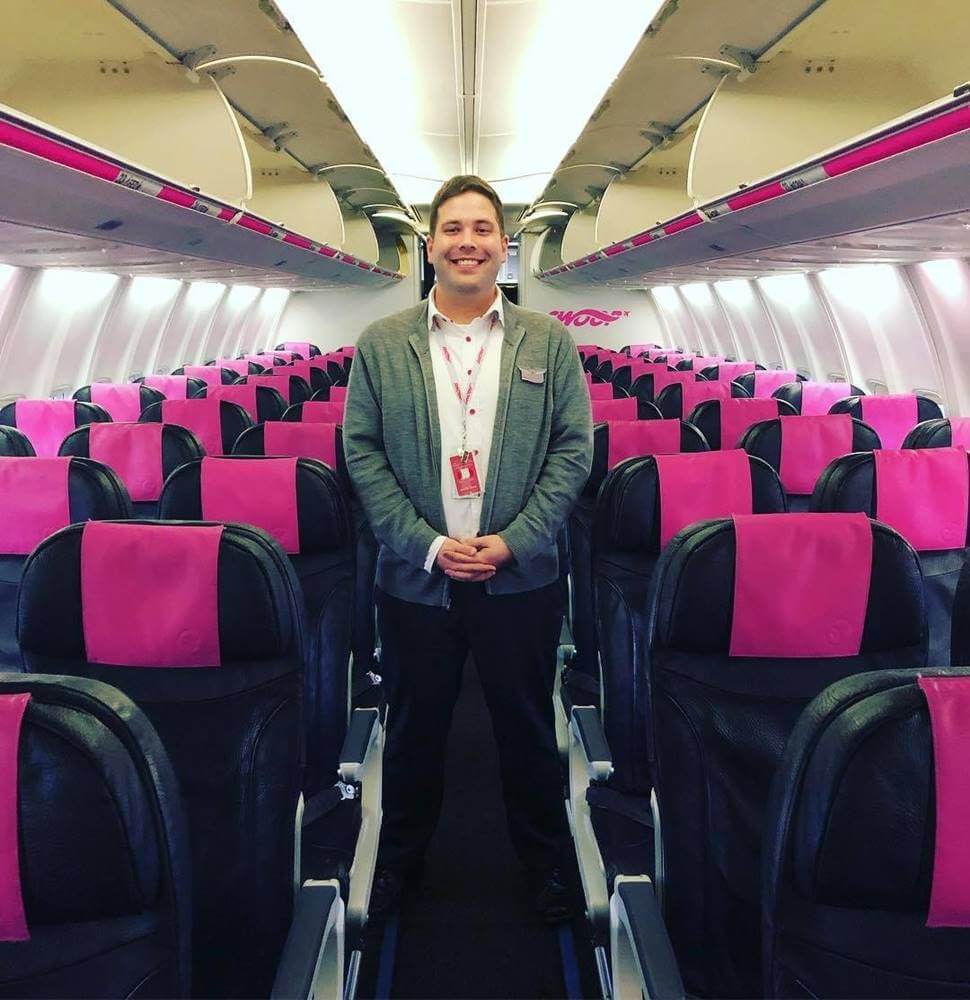 Where to Apply for a Job at Swoop Airlines
To apply for a job for Swoop, visit the airline company's official website at https://www.flyswoop.com/ and click on the 'JOBS' section located at the bottom part of the page. This will take you to Swoop's Career Page, where you can search and see a list of available career opportunities that the airline currently offers.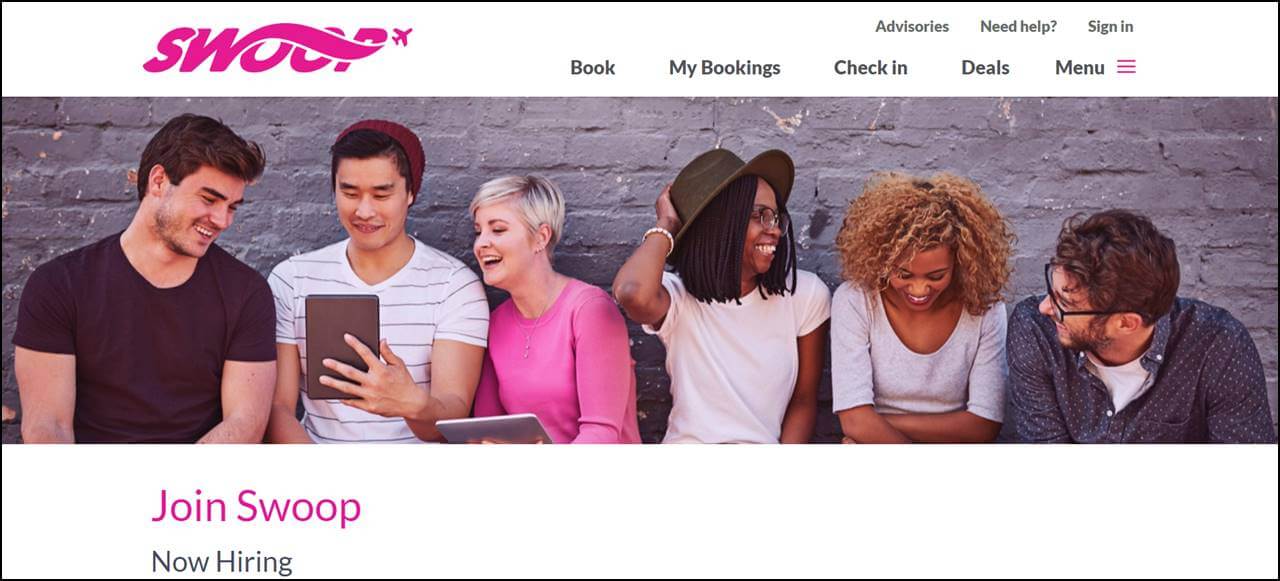 It would also help to keep track of the airline company's social media channels to keep updated on announcements regarding the hiring process or if there are any open-day hiring events near your vicinity.
How to Become a Cabin Crew for Swoop Airlines
Below are step by step guide to follow on your way to becoming a flight attendant for Swoop Airlines:
Step 1: Visit the official website of Swoop Airlines
Before anything else, go to the official website of Swoop at www.flyswoop.com. Scroll to the bottom of the page and click on "JOBS," which is located under the "ABOUT SWOOP" section. This redirects you to the airline company's official Career Page.
Step 2: Click "SEARCH JOBS" and look for "FLIGHT ATTENDANTS"
Once you're on Swoop's Career page, click "SEARCH JOBS." This will take you to a new page with a list of available job vacancies you can apply for. Look for your desired job position (Flight attendant) and click on it.
Step 3: Read the job description and other essential information about the job and click "APPLY"
Make sure to read through all the necessary details about the job, including the responsibilities, qualifications, and conditions of employment. If you agree that this is right job for you, click "APPLY."
Step 4: Fill in the application form and submit it
Upon selecting apply, you are presented with three choices: Autofill with Resume, Apply Manually and Use My Last Application. Regardless, you will need to fill in an online application form where you will also upload all the necessary files, such as your resume and CV.
Step 5: Wait until the company reaches out to you
After submitting, all you need to do is to wait until the company contacts you for further notice and informs you of the next steps in your application. You can use this time to read about the company and research on possible interview questions and answers.
Step 6: Interview
Once contacted, you may be asked join an assessment, then possibly for an interview as well. This can day can be long so it is best to wear clothing that is both professional and comfortable.
After passing all stages of the recruitment process, you will then be invited to join the training program which can last up to 2 months. This is the final stage to pass before you take your first flight as a Swoop Flight Attendant.
Monthly Salary of a Swoop Flight Attendant
A Swoop flight attendant can earn around $4,725 monthly, although this can increase depending on your flying schedule. Most flight attendants are estimated to earn between $1,918 to $5,213 on average per month, based on the hours spent in the air.
The salary will also be inclusive of flexible group benefits, flight privileges, a company-matched savings plan, and various career growth and development opportunities.
Video: Flying Canada's 'Ultra-Low Fare' Airline Swoop is Worth It If You Find A Deal
This video by Narcity shows a review by its Editor-in-Chief, Ali Millington, about her overall experience with the airline company. Ali documents her entire travel experience, from booking the flight, riding the plane, and finally arriving at her destination.
Ali recounts that Swoop remains true to its mission of offering affordable flights for everyone, but she was pleasantly surprised by the high quality of service and how convenient the entire process was as well. Ali also shared that the staff was also accommodating and friendly, which made her flight more comfortable.
Photos: Swoop Airlines Flight Attendant Photos
Check out these photos of Swoop Airlines Flight Attendants in uniform:
Frequently Asked Questions
Some common questions applicants have when they apply for flight attendant for Swoop Airlines are listed below. Find out if you meet the basic requirements in working for the company.
1. What is the minimum age requirement to apply as a flight attendant for Swoop?
You need to be at least 19 years old to apply as a flight attendant for Swoop.
2. How much does a Swoop flight attendant earn monthly?
On average, a Swoop flight attendant usually earns around $4,725 monthly, though this can still increase depending on your schedule or performance.
3. What documents do I need to prepare alongside my Swoop flight attendant application?
You need to prepare your updated CV/resume, valid passport, high school diploma, and an Airport Restricted Area Identification card alongside your application.
4. Is there a height requirement to apply as a flight attendant for Swoop?
There isn't any height requirement to apply, although part of the qualifications states that you must be able to reach 204 cm without shoes.
5. What are the skills I need to have to be eligible to apply as a Swoop flight attendant?
As a Swoop flight attendant, you must have great communication and interpersonal skills and be able to handle emergency situations professionally and calmly.
6. How long does Swoop's flight attendant training program last?
Swoop's flight attendant training program lasts for four weeks, whereas no absence from training will be allowed.
7. What is the minimum education requirement for the flight attendant application?
Applicants should at least be high school graduates and present proof of education before applying.
8. Does Swoop require prior work experience from interested applicants?
Prior work experience isn't required, but very much preferred by the company.
9. What are the benefits of working as a flight attendant in Swoop?
By working for the company, you get access to flexible group benefits, flight privileges, a company-matched savings plan, a solid base salary, and plenty of opportunities for career growth and development.
10. Is there a pre-employment drug and alcohol screening test by Swoop?
A pre-employment drug and alcohol screening test are mandatory when you apply as a flight attendant for Swoop to ensure each employee's health and well-being.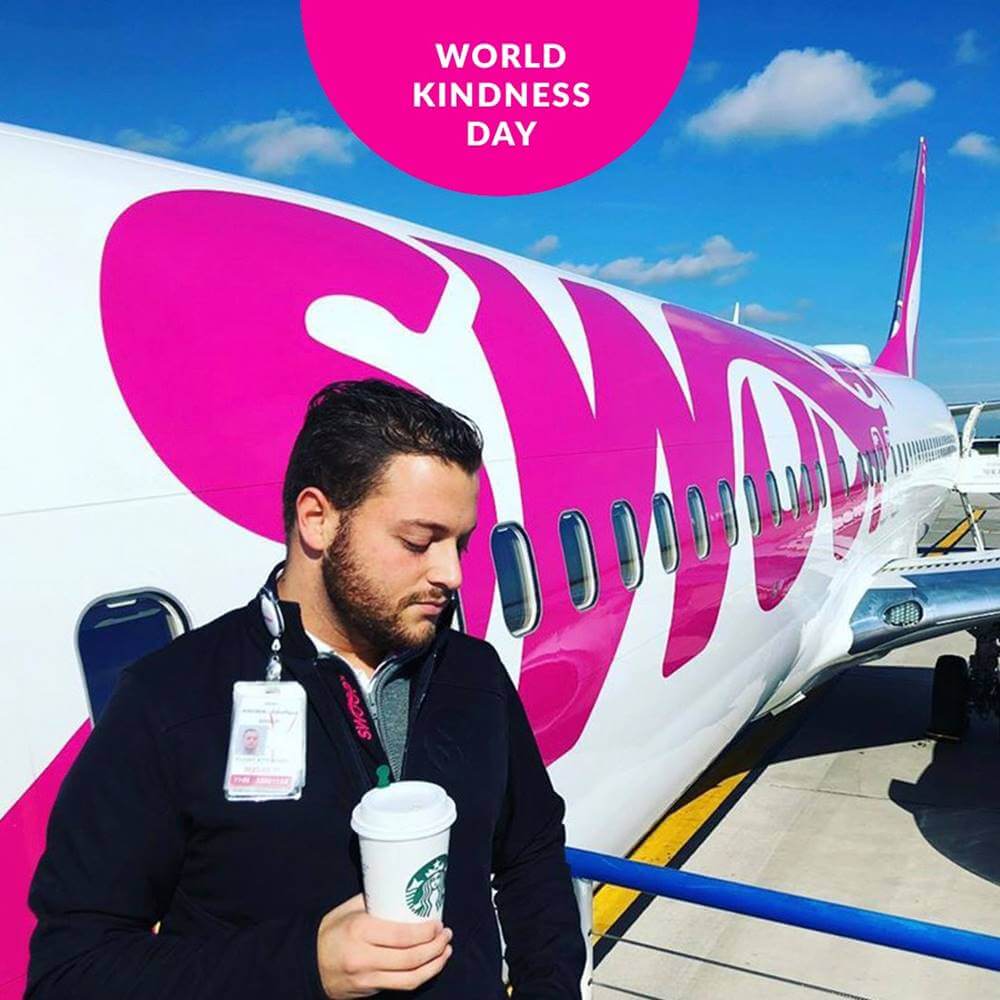 Summary
As a flight attendant, you will be tasked with providing excellent customer service to in-flight passengers while making sure they feel comfortable and safe throughout. If you're someone who enjoys accommodating and being of service to other people, you're on the right track. Having the dedication to uphold your responsibilities as a flight attendant and being passionate about the work will be a great advantage in your application journey.
Although Swoop might be a small airline company, it's recognized by many Canadians as a reliable airline that offers low-cost and comfortable flights to passengers. As an employee under Swoop, you also get to receive a competitive and solid base salary alongside complemented perks.
Contact Information
SWOOP AIRLINES 
Address: (of main headquarters) Calgary, Alberta, Canada
Telephone Number: 1-587-441-1001
Website: https://www.flyswoop.com/
Facebook: https://www.facebook.com/FlySwoop/ 
Instagram: https://www.instagram.com/flyswoop/?hl=en 
Twitter: https://twitter.com/FlySwoop